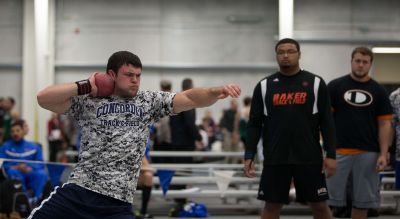 Highly-ranked Bulldogs continue fine outdoor season at own mid-week challenge
By Taylor Mueller
SEWARD, Neb. – Just four days removed from their most recent track meet, the Bulldogs hosted the first ever Concordia Mid-Week challenge as they attempt to achieve and improve conference-qualifying times and marks. The small meet featured three schools, including conference rival Nebraska Wesleyan and the University of Nebraska-Lincoln.
Among the top performances on the night was junior Kim Wood who raced to a first-place finish in 2:15 in the 800 meter run while Sophomore Karissa Segelke took first in the 100 meter hurdles with a time of 15.84.
Launching the javelin for a first-place finish was sophomore Katricia Svoboda who marked up at 132'03." Fellow thrower Kali Robb notched first in the discus with a toss of 148'11."
Standing out for the men was senior Taiheem Pleasant who took first in the 200 meter dash in 22.18. Junior Trevor Bresson pulled away late in the 400 meter hurdles to take first in 55.17. Junior Josh Slechta edged out the competition by just an inch in the discus throw, taking first with a toss of 149'04" while freshman Ethan Hughes championed the javelin throw with a mark of 157'10."
Although the meet did not contain every single event, the majority of Concordia athletes will head to Nebraska Wesleyan on Thursday to compete in the Nebraska Wesleyan dual meet. Several athletes will also be making the trip to Des Moines, Iowa, for the prestigious Drake Relays to be held Thursday through Saturday.