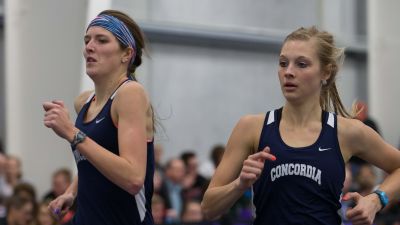 Here we goooo: new approach allows Schroeder to flourish as senior
By Jake Knabel, Director of Athletic Communications
"Here we goooo!" yelps Erika Schroeder each time she gets set to run another race. The battle cry symbolizes the shift that has taken place for the native of Davenport, Neb. Schroeder admits she has had bouts of negative mental thinking, lack of confidence and thoughts of giving up on cross country and track at various times in her career.
"Coach (Kregg Einspahr) kept working with me and one day at cross country practice he finally told me I needed to step it up and start being a leader," Schroeder said. "That put a whole new perspective on things for me. I realized how much I affected the team and how much the younger girls looked up to me. Ever since that day, I changed my attitude and it has all been great ever since."
The improved outlook has allowed Schroeder to flourish as a senior. She broke through with an automatic national qualifying time in the steeplechase on April 18 and back at the GPAC indoor championships she ran a leg for the Bulldog 4x800 meter relay that set a new meet record time. Now she's getting ready to finish her career at the 2015 NAIA Outdoor National Championships, held in Gulf Shores Ala., May 21-23.
The tall and lanky Schroeder is expected to be part of the team's 4x800 meter relay again at the national championships, a stage she has performed on two prior times. But never before has she been more confident or more sure of herself.
"Occasionally you have an athlete who keeps working at things and they don't always go smoothly in terms of huge improvements right away," Einspahr said back in April. "But if they stick with it, especially with the kind of foot speed Erika has, good things can happen. There's a little realization for her that this is the last go round of competing at the college level. Sometimes you see big breakthroughs in a senior year, which Erika has shown. I give her a lot of credit for sticking with it and staying focused and finally putting it all together."
It simply took time for Schroeder to find her way. She began her Concordia career as a volleyball player and track runner with no inkling of trying cross country – or being a distance runner. She soon realized track gave her the best opportunity to maximize her potential as an athlete so she stopped playing volleyball. She also found the mileage in cross country to be beneficial.
Still there were years that Schroeder referred to as 'rough.' Her focus came and went and there were times when competition felt more like a chore than a privilege.
"As Coach would say, I finally learned how to go out there and compete," Schroeder said. "I also learned that in order to be good, you need to learn how to have fun with the sport. I did not always have fun at practices and meets, especially my middle two years and that kept me from doing my best. Senior year I learned how to have fun with it and yet be focused. I learned to be thankful that God gave me the ability to run and the opportunity to run at the college level and I needed to make the most of it."
During an impressive senior year, Schroeder clocked in at under 11:15 in the 3,000 meter steeplechase and broke 2:20 in the 800 – something she didn't think possible when first embarking on her collegiate career.
But then again, her path to success has been a winding one. It seems only fitting that Schroeder's breakthrough individual performance came in a race that requires runners to leap barriers as well as a pool of water. Those barriers have not stopped a now determined Schroeder.
"Coach had been telling me since freshman year that I could make it to nationals in the steeplechase, but it wasn't until senior year that I realized he was right," Schroeder said. "It was definitely a great feeling to PR by 13 seconds and to reach a goal that I've had since freshman year, which was to qualify in an individual event. It was all kind of funny because freshman year coach tried telling me I'd be good at steeplechase and I thought there was no way I would ever run that race. I wasn't that crazy."
While not projected to finish highly at the national championships based on seeding, Schroeder and her 4x8 teammates believe they can surprise people with a placement on the All-America stand. No more negativity. Schroeder is performing at the highest level of her athletic career, and she's having a blast doing it.
"My trips to nationals will always be something that is remembered," Schroeder said. "A lot of good memories were made on these trips. Spending a whole week with my team is the best, especially when my roommates are Kim Wood and Emily Sievert. They are about as good at dancing and making me laugh as they are at running."
It's been a memorable senior season for Schroeder, who will put the final touches on her Bulldog career this week at the national championships. Here we goooo!