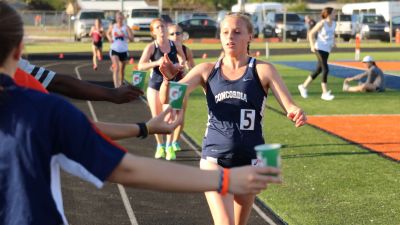 SIOUX CITY, Iowa – Other than perhaps Taylor Grove herself and head coach Matt Beisel, not many people foresaw a Bulldog winning the women's 10k race. Grove's persistence throughout her junior year paid off in the form of the first individual conference title for the Concordia University track and field programs on day one of the GPAC Outdoor Track and Field Championships hosted by Morningside College in Sioux City, Iowa.
By the conclusion of action on Friday (May 4), Beisel's teams sat in third place on the women's side (44 points) and in fourth place on the men's side (25.33 points). So much is yet to be decided.
"It's really hard to tell (how things will finish)," Beisel said. "There are so many events tomorrow that are going to come into play so it's impossible to predict."
Predicting Grove to out-leg the field in the 10,000 meters would have seemed like a stretch based upon her 10th place GPAC seeding entering the weekend, although Beisel would point out that the Billings, Mont., native really had yet to hit her stride. Already a national qualifier via her performance in the half marathon at the Drake Relays, Grove has now made it an especially memorable outdoor season.
A fourth-place finisher in the 10k at the 2017 GPAC outdoor championships, Grove can now boast her first career conference title. She finished Friday's race in a time of 40:54.85.
"I thought that all of her performances this season pointed to the fact that she had a really good shot to place top two or three," Beisel said. "In my mind – I didn't say it to her – but I thought she had a shot at first. She ran a perfectly smart race. She got to the three-mile mark and it was just her and the Morningside girl so I'm like, 'Taylor, if you feel good start making surges.' Then it became, oh my gosh, Taylor's going to win this thing."
Grove turned in one of 14 total all-conference (top eight finish) performances by the Bulldogs on Friday. The most fruitful singular event was the women's hammer throw where Carley Skorepa, Samantha Liermann, Johanna Ragland and Adrianna Shaw placed second, third, fourth and sixth, respectively. All four hit the 'A' standard national qualifying mark with Skorepa's toss of 172' 9" representing a personal best by more than seven feet. She came into the meet ranked 10th in the GPAC in the hammer.
Cody Williams (decathlon) and Jessica Deterding (heptathlon) are expected to contend for GPAC titles of their own. Williams amassed 3,323 points on Friday with half of the 10 events of the decathlon completed. He leads the field of seven competitors (teammate Blake Becher is in second). On the women's side, Deterding is in fourth (2,552), just behind teammate Kennedy Mogul (2,633), with three events left to be contested on Saturday.
Other event areas with multiple top-eight finishers from Concordia included the women's javelin (Jazzy Eickhoff, fifth, and Morgan De Jong, seventh), the men's pole vault (Simon Brummond, second, and Tucker Platt, fifth) and the men's hammer throw (Jacob Cornelio, fourth, and Ryan Sanchez, sixth).
Multi-event athletes will get started at 9 a.m. on Saturday. The rest of the meet will pick back up in the afternoon. The awards ceremony is slated to begin at 6 p.m. Based on the GPAC leaderboards, the Concordia women's 4x400 meter relay, Deterding (heptathlon), Leah Larson (triple jump) and Liermann (shot put) are favorites to win their respective events. Live results can be followed HERE.