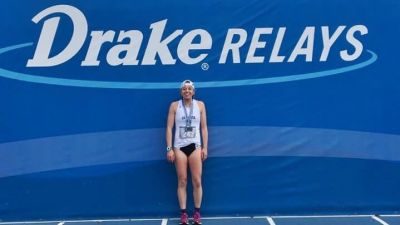 CRETE, Neb. – While competing in locations nearly 200 miles apart, junior Taylor Grove and freshman Tucker Platt turned in fresh automatic national qualifying performances. Their efforts were major highlights on a rare busy Sunday (April 22) of action for the Concordia University track and field programs. Grove ran the half marathon at the Drake Relays in Des Moines, Iowa, while her teammates were in Crete, Neb., for the Jim Dutcher Memorial hosted by Doane.
The Dutcher Memorial was essentially the fourth time out this outdoor season for the bulk of head coach Matt Beisel's athletes.
"Each meet that we have we have a few more performances that jump out and get us the national marks that we need and improve our seedings going into conference," Beisel said. "Last year we had a couple of meets during the outdoor season where a big percentage of our team just knocked it out of the park in every event area. We really haven't had that this year. Today it was the running events that really had a great day. We would love to have that all come together at conference."
Grove will be headed to the NAIA outdoor national championships for the second year in a row. The native of Billings, Mont., clocked a personal best of 1:28.07 in the half marathon. Grove ran the race early in the morning on Sunday after spending Saturday night in Des Moines. She has overcome unforeseen circumstances that held her out of cross country season.
Platt, who hails from Stromsburg, Neb., has improved immensely since beginning his college career. The freshman cleared 15' 5" in the pole vault, exactly meeting the 'A' standard in the event. Meanwhile, teammate Simon Brummond hit a 'B' mark by vaulting 15' 1." Four Bulldog men's pole vaulters cleared 14 feet on Sunday.
The Dutcher Memorial provided an opportunity for multi-event athletes. Concordia holds down the top two spots in the women's heptathlon (Kennedy Mogul and Jessica Deterding) and in the men's decathlon (Blake Becher and Cody Williams) with those competitions set to conclude on Monday. All four aforementioned Bulldogs have turned in a wealth of personal bests within specific events.
Among other noteworthy accomplishments on the women's side, freshman Mika Brees turned in a personal best in the 200 meters (25.96) and helped the 4x400 meter relay to a season best. In the 1,500 meter race, Rebekah Hinrichs and Alyssa Fye both recorded personal bests while placing second and fifth, respectively.
On the men's side, Josiah McAllister ran a season best in the 800 meters (1:55) and finished second. He also ran a 49.2 split for the 4x400 meter relay that finished fourth in 3:24.08. In the same 800 meter race, Thomas Taylor clocked a season best. Elsewhere, Nathan Elbert claimed a PR in the javelin (163' 1") and Jordan Lorenz made his debut in the 10,000 meters with a team season best of 34:19.71.
In the women's shot put, star Samantha Liermann put up a throw of 48' 9," just off her mark that leads the NAIA. Already qualified for nationals in the hammer throw, Jacob Cornelio continues to see the 'A' standard in the discus. He threw 151' 4" on Sunday.
The Dutcher Memorial will conclude on Monday with the remainder of the multi-events. They are scheduled to get started at 2 p.m. in Crete.