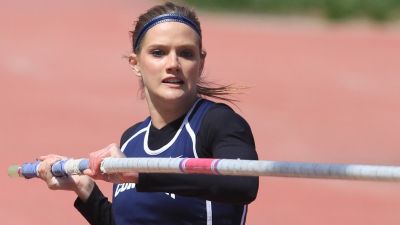 GPAC pole vault champion won't let disorder hold her back
By Jake Knabel, Director of Athletic Communications
Concordia's Cassie Starks keeps raising the bar higher. Literally. Despite having a rare disorder called hemophilia B, the senior from Haigler, Neb., has elevated herself to the level of GPAC champion, All-American and school record holder.
Her genetic disorder, shared by her father Rick, may prevent her blood from clotting normally and cause her to take longer to heal from injuries, but it hasn't prevented her from improving her personal best in the pole vault by a gargantuan four feet since arriving at Concordia.
"A very, very small amount of women get it," Bulldog pole vault coach Jason Berry said of Stark's disorder. "Of those women who get it, the number of them that are willing to risk competing in athletics is even smaller. What she's done, having a disorder that is not conducive for heavy training like this, is pretty amazing."
Injuries limited her in her first three seasons at Concordia, but healthy now as a senior, Starks has flourished. Already the program record holder in the indoor pole vault, she equaled the outdoor record by jumping 12' 6" in a first-place and NAIA-leading effort at the UNK Loper Invite on April 4.
A former sprinter, Starks brings speed and gracefulness to the runway. She's become one of the nation's top female vaulters, fueled by Berry's tutelage, a burning desire to be at her best and a passion for the sport that spawned when she began vaulting as a junior at Dundy County-Stratton High School in southwest Nebraska.
"It was kind of a random thing," Starks said. "I thought it looked fun so I wanted to try it. I ended up doing OK for our high school. I tied our high school's record, which was only 8' 6." It wasn't anything special, but I really enjoyed it. I came to Concordia mostly for sprints. Then Coach Berry got me more and more into it. I fell in love with the sport."
Stark's rise to GPAC champion could not have been foretold during missteps when even a tweaked ankle caused her to sit out for lengthy amounts of time. But she never let hemophilia stop her. This year she's found the right formula. She gets pre-meet infusion treatments designed to prevent injury and she always tapes her ankles at the advice of Berry.
Beyond her considerable athleticism, Starks possesses a work ethic that goes above and beyond as well as a keen attention to technical details vital to the success of any pole vaulter. According to the Mayo Clinic, "contact sports are not safe for people with hemophilia." While Starks may not have a linebacker trying to knock her into another dimension, her success depends upon plenty of physical toil – and she's not shying away.
"I haven't had to (pull back) a whole lot," Starks said. "The last three years injuries have definitely hindered me a lot because I've had to take maybe a month or more out. This year it really hasn't affected me nearly as much. I'm just staying healthy all around – eating well and taking care of my body as well as my mind. It has really impacted me positively."
Despite the disorder and her modest high school personal best, Starks quickly drew the attention of Berry. The veteran pole vault coach saw the potential for greatness and the need to adapt to the dynamics associated with Starks.
"It soon became obvious she was going to have huge success in the pole vault," Berry said. "It also became apparent that we had to treat her training a little different. We give her rest periods and keep her out of some meets. Her body needs the extra time to recover."
But you won't hear Starks complain about it. The biology major does not broadcast her condition. At the same time, she's comfortable in her own skin. Her increased willingness to talk about her disorder is part of her impressive growth both as a person and athlete.
Considering her high degree of toughness, Starks' success comes as little surprise to Berry.
"There are a lot of kids that come in with the desire to do well," Berry said. "Very few have the determination and the drive to actually do it. She came in with the desire. She had a few extra hills to climb over to make it happen, but she definitely had the determination and desire to do it. She's a tough cookie to work through everything she has."
And work is exactly what Starks plans to continue doing. She wants to eclipse 13 feet, shatter the school record, claim another GPAC title and bring home her second All-America plaque. If anyone ever said a person with hemophilia couldn't be a top-flight athlete, Starks didn't listen. She says others who have such a disorder, or something like it, can conquer it.
"I would tell them that you can do it," Starks said. "It sounds like a big obstacle to overcome, but actually being injured has really helped me. Having to sit out was how I learned more about the sport. Even if it doesn't seem like a benefit at the time, it still helps you in the long run. You just have to stay positive."
That positive attitude has been a necessity in the face of injury. Berry says a team full of athletes with her drive and competitive fire would be "amazing."
"I've coached some amazing vaulters," Berry said. "She sets herself apart in that she's a tenacious, driven competitor. You don't expect some high school kid coming in at 8' 6" to walk in here and end up getting the school record."