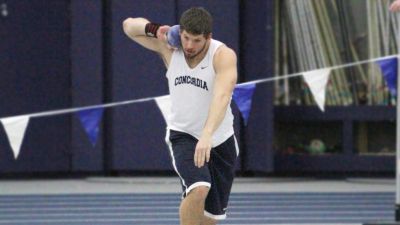 SEWARD, Neb. – Cody Boellstorff has been named the GPAC/Hauff Mid-America Sports Male Field Athlete of the Week announced by the league office Wednesday. This is Boellstorff's second weekly conference recognition. This marks the 10th Bulldog to receive the accolades in 2016.
Boellstorff leads the NAIA in the weight throw by over seven feet after improving his mark to 68' 9 ¼" at the Concordia Invite last week. The toss bested the junior's previous school record. At the Concordia Invite, Boellstorff also registered a throw of 51' 7" in the shot put which ranks 16th in the NAIA and is another NAIA qualifying mark.
Boellstorff and the Bulldogs will return to action this weekend at the GPAC Championships. The women's pentathlon and men's heptathlon will begin on Friday at the Fuhrer Field House in Crete, Neb. On Saturday, all the other events will begin at 1 p.m. at the Devaney Center in Lincoln, Neb. A full schedule can be found HERE.
2016 Concordia GPAC athletes of the week
Feb. 17 – Cody Boellstorf
Feb. 10 – Kim Wood
Feb. 3 -- *Cody Boellstorff, Stephanie Coley, CJ Muller
Jan. 27 -- *Zach Lurz
Jan. 20 – CJ Muller, Kali Robb, Jose Rojas, *Kim Wood