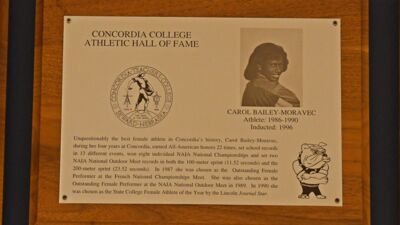 As Carol Bailey-Moravec thinks back on the journey that brought her to Nebraska, she is convinced that God had planned this all along. There was a time when young Carol, Jamaican born and a native of Warsop, Trelawny, believed the opportunity to earn a college scholarship in the United States had passed her by. It was clear from an early age that Carol possessed unique athletic abilities, but how and when would she be discovered by someone who could help make her dreams come true?
Then in 1986, Carol found herself sitting in an airport in St. Louis, Mo. Sight unseen, she had agreed to attend some place called Concordia College in Seward, Neb. Carol really had no idea what she was getting into. All eyes were on her, or so it seemed.
"In that little hub where I was sitting to come to Nebraska, I was the only person of color in that section," Carol said. "I felt like all eyes were on me. Maybe they weren't, but I felt a little self-conscious. Then when I got to Lincoln, it wasn't hard for Coach (John) Knight to pick me out. I went from St. Louis to Lincoln to Seward. I remember getting to Seward and thinking, 'When are we going to get to town?'"
Oh yes, this is the town. Carol was about to kick start a collegiate career that would lead to her induction into the NAIA Hall of Fame. More significantly, from a personal standpoint, Carol had found a place that she would come to call home. Now in 2021, she can laugh when asked about whether she would have envisioned herself marrying a fellow Concordia alum (Chris Moravec) and raising a family in nearby Lincoln.
That's where God's plan came in. As Carol tells the story, she often dealt with injuries at inopportune moments, missing out on chances to land a college scholarship at a powerhouse program. Said Carol, "I had interest from other schools, and then something would go wrong. I kind of gave up on the American dream to run track and field." That is until one summer during training when former Jamaican Olympic gold medalist Herb McKenley approached Carol. McKenley had a connection with a current Concordia student and learned that the college would be interested in Carol.
Not long after that conversation, Carol had finalized paperwork and enrolled at Concordia. By her graduation in 1990, she had earned 22 All-America awards, had broken 13 school records, won eight NAIA national titles (including four in row in the 100 meters) and set two NAIA national championship meet standards. Her four years in Seward (while coached by John Knight and Brian Stacey) were so incredible that the bio on her Concordia Athletic Hall of Fame plaque begins by referring to her as "unquestionably the best female athlete in Concordia's history."
Carol had become a local celebrity in Seward during the late 1980s. Said Bailey-Moravec, "The people in the town and the people on campus supported me. When I was in it, I really didn't think too much of it. To be the first female to win the 100 meters four years in a row was a big achievement, but the friends I made along the way and what I contributed to my teammates was very important to me."
Carol's incredible stretch of four-straight 100 meter NAIA outdoor national titles spanned from 1987 through 1990. To this day, no other NAIA women's athlete has duplicated that feat. So far ahead of her time, Carol would sometimes receive the baton as the final leg of a relay and then catch everyone while lifting her team to first-place finishes. At the 1989 outdoor national championship meet in Azusa, Calif., the Concordia women placed as the NAIA runner up. Of course, Bailey-Moravec led the way with her titles in the 100 and 200 meter events. She could also jump. She remains the school record holder in the indoor and outdoor long jump.
Said Carol, "The four years were a mixed bag of things here and there, but I choose to always remember the great times that I had and the opportunity that was given to me. It was a new opportunity to experience life. I thought some of the opportunities (to compete in America) had gone. I think God had this plan ahead of time that he would make me get injured and I'd end up at Concordia. He brought me there and I ended up being a big fish in a small pond."
Within that pond, Bailey-Moravec discovered what she really wanted out of life. She earned degrees in Physical Education and Biology and settled into a life of faith, family, coaching and teaching. Carol has been both a mom and coach to son Vincent and daughter Nerissa (a volleyball player at University of Central Florida). From 2000 to 2003, Carol served as head girls' track coach at Lincoln Southeast and guided the team to four-straight Class A state championships.
Carol continues to teach and coach at Lincoln Southeast. Roots in Nebraska are now clearly established. "When you leave (your home country), you think you're going to go back," Carol said. "It was the last thing on my mind that this would happen. Staying here was not something I expected, but when you meet someone from Nebraska, it becomes pretty logical that's where you'll end up."
And so it is in Lincoln where Carol is giving back by helping others the way she had been helped in her formative years. That passion for coaching has never left her (she's coached since 1994). She's also happy to lend wisdom back to her alma mater. Back in February, she joined a panel of alums as part of a Black History Month discussion. Carol wanted to put forth a message encouraging people to rid themselves of preconceived notions by getting to know one another. She added that it's important to create opportunities for people of color to be more visible.
In terms of the track and field record books at Concordia, no name is more visible than "Carol Bailey." Deservedly so, Carol took her place in the school's Hall of Fame almost immediately when eligible. It had to be God's plan for her to have landed at Concordia College, located in that town lacking the high-rise buildings she had pictured. Considering all she's accomplished, and all that she stands for, Carol Bailey-Moravec has reserved status as a legendary Bulldog who will never be forgotten.