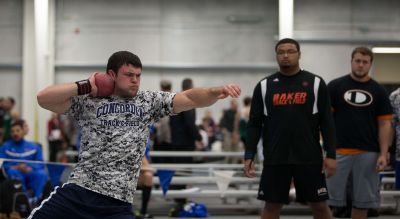 Fourteen Bulldogs scheduled to compete at Drake Relays
SEWARD, Neb. – Fourteen standout athletes will represent the top-five nationally-ranked Concordia University track and field programs at the prestigious Drake Relays held at Drake University in Des Moines, Iowa, April 22-26. Bulldog athletes will compete Friday and Saturday (view the schedule at bottom). Of those 14, six are throwers and the other eight will compete as part of relay teams.
Two Concordia competitors set to compete at the Drake Relays top NAIA leaderboards. Sophomore Zach Lurz, the 2015 indoor shot put national champion, leads the NAIA with his shot put mark of 56' 5 ¼." Meanwhile, Boellstorff outpaces other NAIA hammer throwers by more than 15 feet with his school record measurement of 205' 8."
Defending javelin national champion Liz King and other All-American throwers in Josh Slechta (2015 weight throw national champion) and Kali Robb will also showcase their throwing talents. In addition, sophomore Katricia Svoboda (top 10 nationally in the discus and javelin) will make her first appearance at Drake.
On the track, Both the men's 4x400 meter relay and women's 4x400 meter relay will look to breakthrough with national qualifying times. The Concordia women's quartet features junior Kim Wood (national qualifier in the 800 and 1,500 meter runs) and senior Erika Schroeder (national qualifier in the steeplechase).
For additional details on the Drake Relays, check out the "Relays Central" page HERE.
Friday, April 24
1 p.m. – Women's discus (Katricia Svoboda)
1 p.m. – Women's javelin (Liz King)
2:31 p.m. – Men's 4x400 meter relay prelims (Jaap van Gaalen, Tai Pleasant, Matthew Chapa, CJ Muller)
Saturday, April 25
9 a.m. – Men's discus (Zach Lurz)
9 a.m. – Women's hammer throw (Liz King, Kali Robb)
11:05 a.m. – Women's 4x800 meter relay prelims (Randi Janzen, Kim Wood, Erika Schroeder, Marti Vlasin)
12 p.m. – Men's hammer throw (Cody Boellstorff, Josh Slechta)
1:30 p.m. – Men's shot put (Zach Lurz)