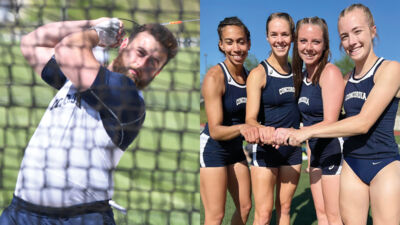 SEWARD, Neb. – More than 30 colleges and universities sent athletes to the annual Concordia Twilight Meet in hopes of capitalizing on one of the final pre-nationals track meets in the nation. The season long toil proved worth it on Friday (May 13) for three hammer throwers and one relay for Concordia University Track & Field. The program's newest national qualifiers include the women's 4x100 meter relay and throwers Andy Amos, Abby Gerber and Alli Owings in the hammer. Collectively, Bulldog athletes combined for 11 performances that met the 'A' standard on Friday.
This will be the final weekend of action prior to the 2022 NAIA Outdoor Track & Field National Championships (May 25-27). Taking into account last week's impressive returns at the conference championships, GPAC Women's Coach of the Year Matt Beisel sees things coming together at the right time.
"There's been a snowball effect of great things happening and more great things happening," Beisel said. "Sometimes you just want one more week to see what else you can get in. Today was a great cap to our season with our women's 4x1 running a fantastic automatic qualifying time and then with what Amy Richert, Andy Amos, Abby Gerber and Alli Owings were able to accomplish. We also saw some personal bests with Rylee (Haecker) and Camden (Sesna) knocking off big PR's in the 1,500. The energy was awesome and we had beautiful weather today. Everyone cheered each other one – and it was just a lot of fun. For some of the kids this was their last meet of the season. We'll take a few more to Kearney to try to get some more automatic standards, or improve our seed marks, and then we'll make our final decisions on Monday as to who ends up going. At that point we're all in on getting ready for nationals."
Concordia had already entered the meet with the top-rated men's and women's hammer throw groups in the NAIA. The gap likely got wider on Friday as Chris Wren (190' 9") and Amos (185' 1") on the men's side and Sarah Ragland (174' 11"), Owings (168' 2"), Morgan De Jong (167' 7") and Gerber (167' 7") on the women's side all hit the 'A' standard in the event at the Twilight Meet. For the GPAC champion Ragland and conference runner up Wren, the 'A' standard has become a regular achievement. For others like Amos, he had to stick with it mentally and trust that he would get there eventually. Amos won the "College" division of the hammer, discus and shot put competitions on Friday.
"It's a huge mental battle, especially in track and field" Amos said. "It's a game of inches. You mess one thing up in a throw and it's hard to recover from that. Coach McLaughlin and I try to break it down into small things and concentrate on those things each week and improve on those. Then you see what happens at the meet. We were able to do that throughout the whole year and fortunately it came together at this last Twilight Meet."
Another breakthrough came for a women's 4x1 that had previously held a 'B' standard time of 48.19. They shaved that time down to 47.82 at the Twilight while placing fourth in a loaded field of competitors. Concordia's 4x1 group featured Rachel Battershell, Brittney Aitken, Sarah Lewis and Cora Olson. Between men and women, the Bulldogs now have qualified four relays for nationals as the women's 4x1 joins the men's 4x4, women's 4x4 and women's 4x8 in that category.
Speaking of the men's 4x4, the Bulldogs entered their top four into the Twilight and emerged with a season best of 3:14.81. Based on the leaderboard entering the day, that time would rank inside the top 10 nationally. With Jacob Jennings, Cade Kleckner, Colton Meyer and Xavier Ross all in the fold, Concordia will expect to contend for All-America honors in a couple of weeks.
The pole vault fields were light in terms of quantity of athletes, but the competition is always worth watching when Josie Puelz is involved. She again cleared 13 feet (13' 1 ½") and took a shot at a season best while coming up short. Puelz continues to lead the nation in the event. Amira Cummings was the Twilight Meet runner up with a 'B' standard (11' 7 ¾") that just might put her in the national meet. Meanwhile, Chase Berry returned to form and vaulted the 'A' standard of 15' 9" on the men's side (second place).
Ranked outside of the top 16 in the heptathlon entering the meet, Amy Richert was determined to improve her positioning for a hopeful bid to nationals. The native of Gresham, Neb., did just that by totaling 4,541 points in Friday's heptathlon competition. Based on the current NAIA national list, that performance would push Richert all the way up to No. 11 (top 16 get invited to nationals). Richert was an All-American in the event a year ago.
It was a relatively light day for freshman Jordan Koepke, an individual national qualifier in the 100 and 400 hurdles. A week after breaking the GPAC meet record in the 400 hurdles, Koepke gave the 800 meters a try and won her heat in a time of 2:16.99. The native of Gulf Breeze, Fla., will be happy to get back to running hurdles and competing for more All-America awards later this month.
"I didn't know at all (that I could do that)," Koepke said in reaction to last week's record. "My open 400 PR is barely 58, so I had no idea I could do that in the 400 hurdles. It was exciting, but I didn't believe it at first. It was really fun."
In the 1,500 meter races, Concordia was agonizingly close to claiming two more 'A' standards. On the men's side, 5,000 meter GPAC champion Camden Sesna ran the 1,500 in a personal best of 3:54.23 at the Twilight – a hair shy of the 'A' standard of 3:53.50. It was a similar story for Rylee Haecker on the women's side. She finished in 4:38.18 and placed second at the Twilight. The PR was a mere .68 seconds off the 'A' standard of 4:37.50. Also in the 1,500, Calvin Rohde ran 3:58.56 and Kylahn Heritage strode to a time of 4:47.53.
Though it wasn't a PR, Lewis again achieved the automatic qualifying standard in the 400 hurdles by running the race in 1:03.13. She placed fourth out of a field of nine, including several athletes from NCAA Division II schools. Elsewhere on the track, Kleckner placed second in the 200 meters (21.61) and three Bulldogs on the women's side ran the 400 in under a minute: Jenna Esch (58.13), Keri Bauer (58.58) and Battershell (58.87). In the 400 hurdles on the men's side, Mark Cooke ran them in 55.54.
In the jumps, Concordia athletes are still working towards qualifying for nationals, although Wyatt Loga appears to be in a good position as he's currently ranked 13th in the NAIA in the high jump (6' 8 ¾"). Loga and Jacob Glines both cleared 6' 2 ¾" on Friday. On the women's side of the high jump, Hannah Newton got over the bar at 5' 2 ½." Other noteworthy marks were turned in by Joel Rathe in the long jump (22' 4 ½") and Olson in the long jump (17' 5 ¼").
In other throwing events, Sara Huss placed third in the elite division of the discus with a mark of 142' 6." Olivia Buschow was the winner of the college division discus grouping. Josh Taylor was the only Bulldog to throw the javelin (143') on Friday.
For select Bulldogs, an active weekend will continue on Saturday at the Loper Twilight hosted by the University of Nebraska-Kearney. The meet is slated to get underway with field events at 3 p.m. CT. The meet schedule can be found HERE. Live results will be available HERE.
Automatic National Qualifying Marks Achieved at Concordia Twilight
· *Women's 4x100m Relay (47.82) – Battershell, Aitken, Lewis, Olson
· Men's 4x400m Relay (3:14.81) – Jennings, Kleckner, Meyer, Ross
· Andy Amos – *Hammer (185' 1")
· Chase Berry – Pole Vault (15' 9")
· Morgan De Jong – Hammer (167' 7")
· Abby Gerber – *Hammer (167' 7")
· Sarah Lewis – 400 Hurdles (1:03.13)
· Alli Owings – *Hammer (168' 2")
· Josie Puelz – Pole Vault (13' 1 ½")
· Sarah Ragland – Hammer (174' 11")
· Chris Wren – Hammer (190' 9")
--Amy Richert scored 4,541 points in the heptathlon, tentatively putting her at No. 11 on the NAIA national list (top 16 earn bids to nationals).
*Fresh 'A' standard