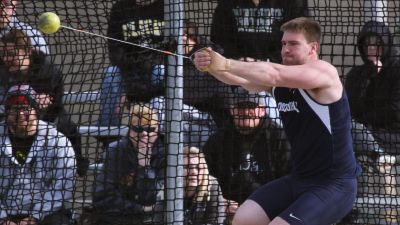 FREMONT, Neb. – Three different Bulldog athletes combined to win four individual GPAC titles on the first day of the outdoor conference championships, held Friday at Midland in Fremont, Neb. With six events scored on both sides, the women are in first place with 69 points. Meanwhile, the men sit second with 57 points.
From an overall perspective, head coach Matt Beisel believes his teams have put themselves in position to compete for championships on Saturday.
"We lost some points in some events, but then we had some people really step up huge to cover it," Beisel said. "That's what being a team is all about. In any given meet, there are going to be some people who have bad days. That's why being a team is so important. We have many athletes who can step up beyond their projections and surpass expectations. I think that's what we have to do tomorrow. We have guys and girls ready to do it."
Shining senior Lucas Wiechman again looks like a strong candidate for men's performer of the meet after he took first in the pole vault (16' 4 ¾") and then won a surprise conference championship in the long jump (22' 9 ¼"). He is also one of the favorite in both hurdles events. However, teammate Ben Hulett has the lead in the 110-meter hurdles after the prelims. He raced to a fresh automatic qualifying time of 14.73.
In a dominant showing, Concordia's group of women's hammer throwers placed first, second, fourth and seventh. Nursing a knee injury, Kali Robb still managed to win the event with her throw of 173' 3." Sydney Meyer (171' 11") was the runner up while Tricia Svoboda (163' 3") finished fourth and Samantha Liermann (158' 10") seventh.
National hammer throw leader Cody Boellstorff was upset by his own teammate. Zach Lurz pulled off the GPAC men's hammer throw title with a toss of 202' 1." Boellstorff settled for runner up with his mark of 200 feet even. Philip Kreutzer and JC Cornelio placed seventh and eighth in the event.
The streak of six-straight Bulldog conference titles in the women's pole vault was halted on Friday. Anna Megenhardt of Hastings cleared 12' 8 ¾" and beat out Allie Brooks (12' 1 ½") and McKenzie Gravo (11' 9 ¾"). Brooks and Gravo placed second and third, respectively. Tristen Mosier came in seventh in the pole vault.
Two new 'A' standard marks came in the women's javelin courtesy of Jazzy Eickhoff (134' 5") and Svoboda (134' 3"). They were the fourth and fifth place finishers. Concordia raked in a total of 12 team points from the event. Jake Rodgers and Nathan Elbet scored in the javelin on the men's side.
On the track, the Bulldog men's 4x800 meter relay made a run at a national qualifying time and fell just short at 7:45.69. In the women's 10,000 meter race, Taylor Grove (40:56.94) and Emily Sievert (41:17.41) clocked in fourth and fifth, respectively.
In the multi events, Concordia has three athletes currently in the top eight in the heptathlon (Sophia Hoelz, Jessica Deterding and Anna Beune). Jake Rodgers (second) and Thomas Matik (sixth) are in position for all-conference placements in the decathlon.
The championship meet will wrap up on Saturday in Fremont. Multi events will get started in the morning while the bulk of the meet picks up in the afternoon. Live results can be followed HERE.