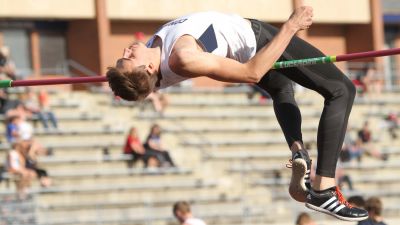 SEWARD, Neb. – The Concordia University track and field programs picked an opportune time for a late addition to the outdoor schedule. The recently added Bulldog Blizzard Buster accomplished exactly what the coaching staff had hoped for. While taking advantage of beautiful sunny and mild weather, Leah Larson, Johanna Ragland, Carley Skorepa and Cody Williams all turned in fresh automatic national qualifying marks on Saturday (April 28).
Head coach Matt Beisel's programs have racked up a combined 17 'A' standard marks so far this outdoor season. Two meets remain before the national championships in late May. Said Beisel, "I think a lot of our kids can feel really good about what they did, not just today but over the last three days."
If it wasn't already obvious, Williams (Imperial, Neb.) is a budding star. A national qualifier during indoor season, Williams will get his first taste of outdoor nationals next month. He already held a top five national mark in the decathlon and now has locked up a spot in the pole vault thanks to his personal best of 15' 5" on Saturday. He wound up winning the high jump (PR of 6' 5 ½") and placing second in the 110 meter hurdles (15.00) in a small-ish meet that put Concordia up against rivals Doane and Hastings.
Williams is part of one of the top men's pole vault groups in the nation. Fellow freshman Tucker Platt also cleared 15' 5," meeting the 'A' standard for the second time this season. The likes of Sam Sisco (14' 7 ¼"), Dalton Berry (14' 7 ¼") and Simon Brummond (14' 7 ¼") give the Bulldogs plenty of depth in the event.
A junior from Norfolk, Neb., Larson has been flirting with the 'A' mark in the triple jump all year. At long last, Larson went over 38 feet while punching a ticket to nationals and winning the competition that included Concordia athletes exclusively. Jessica Deterding (37' 7 ¼") wasn't far behind. Deterding also turned in a PR in the 100 meter hurdles.
In the throws, Ragland and Skorepa added marks to the qualifying field with their efforts in the hammer. Two days earlier, Skorepa qualified for nationals in the discus at the Prairie Wolf Invite. Skorepa (165' 2") and Ragland (164' 10") placed third and fourth, respectively, in the hammer. In the same event, national shot put leader Samantha Liermann popped off a personal best of 172' 11." That mark could move her into the top five on the NAIA national list.
This was the third day in a row that Concordia athletes competed in a meet. Select members of the team were also at the Drake Relays in Des Moines, Iowa, on Friday. The Bulldog men's 4x800 meter relay quartet of Christian Van Cleave, Thomas Taylor, Nathan Matters and Josiah McAllister clocked a 'B' standard of 7:45.84 on the blue oval. Concordia also entered a women's 4x400 meter relay that finished in 4:00.88 (Kennedy Mogul, Miranda Rathjen, Tori Beran and Jamie Nikodym).
All of those athletes returned to action on Saturday. Matters (50.14) and McAllister (50.15) were neck-and-neck for the top two spots in the 400 meters. Also on the track, Taylor won the 800 meter race with a time of 1:56.54.
There were plenty of other noteworthy efforts. Adrianna Shaw turned in a PR in the discus (155' 7") and took first place. Sarah Allen had a personal best in the triple jump (34' 1 ½"). Jodi Fry achieved a PR in the hammer throw and an outdoor PR in the shot put. Bethany Shaw again eclipsed the 'A' standard in the discus and had a PR in the hammer. Tyrell Reichert alleviated some of his disappointment in the pole vault with a personal best in the triple jump.
The GPAC outdoor championships are coming up next week (May 4-5). They will be hosted in Sioux City, Iowa, by Morningside. More information about the meet can be found HERE.