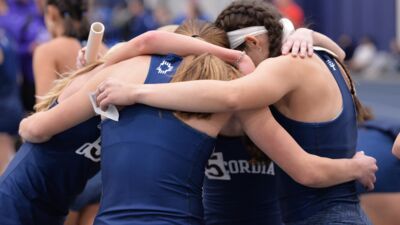 SEWARD, Neb. – It's back to action for the Concordia University Track & Field programs. The Bulldogs welcomed competitors from eight opposing institutions to the Fieldhouse this weekend (Dec. 9-10) for the Concordia Bulldog Early Bird Meet. The highlights for Concordia included 14 event championships, four automatic national qualifying marks and 10 performances that met the threshold for a 'B' national qualifying standard. The meet included pentathlon and heptathlon competitions that began on Friday.
This marks the start of year seven as head coach of his alma mater for Matt Beisel. The 'A' standards for his squads were delivered at the Early Bird by Chase Berry and Josie Puelz in the pole vault, Adrianna Rodencal in the 60 meter hurdles and Chris Wren in the weight throw. In addition, Amy Richert racked up a point total in the pentathlon that currently leads the NAIA.
"We always go into this meet with anticipation because it's been months that our speed and power athletes have been training," Beisel said. "We finally had a chance to cut them loose and see what they could do – that's always fun. You want to see how freshmen are going to do in their first college track meet. It also gives the returners a chance to test the waters and see where they're at. We always hope we can achieve some automatic marks and some 'B' standards at this meet, and we accomplished that today."
The haul of 10 'B' standard marks came courtesy of the women's 4x800 meter relay, Jenna Esch in the 600 meters, Abby Gerber in the weight throw, Rylee Haecker in the 1,000 meters, Alli Owings in the weight throw, Hannah Newton in the high jump, Maddie Robinson in the shot put and weight throw, Myles Sadd in the high jump and Abi Wohlgemuth in the weight throw. In her debut outing as a Bulldog, Robinson won the weight throw competition (53' 11 ¼") and placed second in the shot put. Of the names mentioned, each of them has prior experience at nationals with the exception of the freshman Sadd.
Based on her high school career that included four individual state titles as a senior, Rodencal entered the program with high expectations. The Lincoln Lutheran grad did not disappoint while clocking in a first-place time of 8.97 in the 60 hurdles. Rodencal also was a winner in the 200 meters (26.11) and as part of the 4x400 meter relay (4:06.26).
Said Rodencal, "I was really happy with it. There were a few hiccups here and there, but it being my first college meet and my first meet in about six months, I'm really happy about it. I had a lot of amazing friends cheering me on. Just being able to carry on from high school and what I learned into this, being trained by other people, it's definitely what I love doing."
Puelz is just getting warmed up. The Lincoln Lutheran alum owns school pole vault records of 13' 5 ¼" for indoor and 13' 7 ¼" for outdoor. Puelz came up short of the 13-foot mark on Saturday, but she managed to clear 12' 6 ¼" and beat out all other Early Bird competitors by a foot-and-a-half or more. On the women's side of things, three Bulldogs cleared 11' ¾": Erin Boggs, Amira Cummings and Kayla Svoboda.
A two-time NAIA All-American, Berry will be headed back to nationals for a fifth time in his career. The Seward High School product cleared 15' 7" and was a winner on the men's side of the pole vault. The Concordia crew also wound up with the second and third place finishers in Zach Zohner (15' 1") and Evan Hill (13' 1 ½").
A native of Fair Oaks, Calif., Wren is most certainly the leader of the men's throws crew. The three-time All-American accomplished one of his goals this weekend by hitting the auto mark in the weight throw with his toss of 61' 10 ½." He was a fourth-place finisher in the shot put at the Early Bird. Also in the weight throw, Dagne' Buck, Ben Moll, Darien Semedo and Josiah Edwards placed six through eight, respectively. Semedo was the shot put runner up.
Said Wren, "We have a lot of freshmen that came in. Some of them are doing better than I did my freshman year, so that's intimidating. You have to make sure you set the bar high for them when they get to where you are. The teammates that have been with me the whole four years – I have to push them and they're pushing me. We're helping each other get to where we need to be."
On the women's side of the throws, Robinson is going to be a boost. The three-time All-American highlighted the group which came away with four 'B' standards in the weight throw. Robinson, Wohlgemuth and Owings placed 1-2-3 in the event at the Early Bird.
There were some strong early outings from athletes coached by assistant Ben Hinckfoot. Richert made a run at her own school record in the pentathlon and won the event with a total of 3,465 at the Early Bird. In the high jump, sophomore Hannah Newton won on the women's side with a 'B' standard and Sadd placed as a runner up on the men's side. Elsewhere in the jumps, Concordia's top performers included the likes of Joel Rathe and Kellie Rhodes in the long jump and Josi Noble and Aaron Spivey in the triple jump.
Beisel's distance crew should be well-equipped to contribute conference points this season. Distance event champions at the Early Bird included Haecker in the 1,000 meters as well as Julie McIntyre and Calvin Rohde in their respective 3,000 meter races. Hannah Beintema and Keegan Beisel placed second and third, respectively, in the 3,000. There were encouraging signs even as two top distance runners, Kylahn Freiberg and Camden Sesna, were held back from competition.
As for the relays, not everything has come together just yet. With Freiberg held out, the 4x8 of Haecker, Rhaya Kaschinske, Beintema and McIntyre placed first in a time of 9:46.64, which converted to a 'B' standard. The women's top 4x4 featured Esch, Rodencal, Trinity Tuls and Emily Loseke. They combined to run a time of 4:06.26. Meanwhile, Tuls also ran a 59.96 in the open 400 meters (second place). In the men's 4x4, Colton Meyer ran the anchor after following three freshmen: Liam Fagan, Gage Fries and Kameron Farmer. They ran 3:28.2 and placed second. Meyer ran 50.20 in the open 400 meters (second place).
Added Beisel, "There were a lot of solid performances and some disappointments, as always, but we have to remind them to keep it in context. It doesn't always go the way you want. If you look at personal bests, we had almost too many to count. Even when they get personal bests, most of our kids aren't completely satisfied. They'll say, 'Well I wanted to do better.' Overall, I'm happy with how it ran. We got to test out some new technology and it worked the way we wanted it to."
Also notable, past stars on the track such as Rachel Battershell and Jordan Koepke got their seasons started. Battershell placed third in the 60 hurdles (9.25) and Koepke placed sixth in the 600 meters (1:42.79). It was simply a starting point for both All-Americans.
The Bulldogs will take a break as the first semester comes to a close at Concordia. The indoor season will resume on the weekend of Jan. 13-14 when Bulldog athletes will compete at both the Graduate Classic hosted by the University of Nebraska and the Scott Nisely Memorial Classic hosted by Doane. The next home meet on the slate is the Concordia Polar Dog Invite set for Jan. 21.
Automatic National Qualifiers
· Chase Berry – Pole Vault (15' 7")
· Josie Puelz – Pole Vault (12' 6 ¼")
· Adrianna Rodencal – 60m Hurdles (8.97)
· Chris Wren – Weight Throw (61' 10 ½")
Early Bird Event Champions
· Women's 4x400m Relay (4:06.26); Esch, Rodencal, Tuls, Loseke
· Men's 4x800m Relay (8:17.82); Rohde, Willweber, Pennekamp, Ideus
· Women's 4x800m Relay (9:46.64); Haecker, Kaschinske, Beintema, McIntyre
· Chase Berry – Pole Vault (15' 7")
· Rylee Haecker – 1,000 Meters (3:01.97)
· Julie McIntyre – 3,000 Meters (11:24.40)
· Hannah Newton – High Jump (5' 4 ½")
· Josie Puelz – Pole Vault (12' 6 ¼")
· *Amy Richert – Pentathlon (3,465)
· Maddie Robinson – Weight Throw (53' 11 ¼")
· Adrianna Rodencal – 60m Hurdles (8.97); 200 Meters (26.11)
· Calvin Rohde – 3,000 Meters (8:52.07)
· Chris Wren – Weight Throw (61' 10 ½")
*Met the minimum national qualifying standard