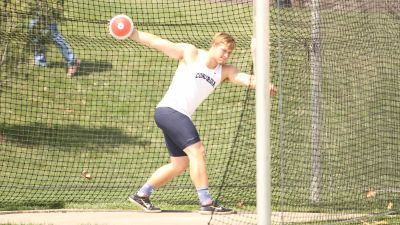 Forty-six Bulldog track athletes officially named all-conference; Einspahr honored
SEWARD, Neb. – A combined total of 46 Concordia University track and field athletes were officially recognized on Wednesday as all-conference honorees based on their performances at the 2015 GPAC Outdoor Track and Field Championships (May 1-2) hosted by Dordt College. The GPAC awards all-conference accolades to the top eight finishers in each event (see Concordia list at bottom).
In addition, 23rd-year head coach Kregg Einspahr garnered coach of the year honors on the men's side after guiding the Bulldogs to their third GPAC title in the past two years. In recent years Einspahr has been named 2008, 2009 and 2012 GPAC Men's Cross Country Coach of the Year, 2009 and 2010 GPAC Women's Indoor Track & Field Coach of the Year, 2009, 2014 GPAC Indoor Track & Field Coach of the Year, 2014 GPAC Men's Outdoor Track & Field Coach of the Year and 2009, 2010 and 2012 GPAC Women's Outdoor Track & Field Coach of the Year. He has been named a conference or regional coach of the year more than 30 times during his career at Concordia.
The GPAC champion men totaled 38 all-conference performances from 24 different individuals. The list includes conference champions in Cody Boellstorff (hammer throw), Zach Lurz (shot put) and Tai Pleasant (400 meter hurdles). Fourteen Bulldogs notched all-GPAC laurels in two or more events. In addition to his title in the shot put, Lurz placed runner up in both the discus and hammer throw. Lurz was one of six Bulldog male throwers to collect all-conference honors in two or more events.
On the women's side, Concordia placed 22 athletes in all-conference territory. They combined on 28 total all-GPAC performances. Liz King highlighted the meet with conference titles in both the hammer throw (meet record) and javelin. Thirteen Bulldog females were all-conference in two or more events. Track standout Kim Wood placed runner up in two individual events and collaborated on two all-conference relays.
Concordia will host its annual Twilight Meet on Friday in its final outing prior to the NAIA Outdoor Track and Field National Championships (May 21-23).
MEN (24)
Josh Allwardt (seventh in 10,000 meter run)
Trey Barnes (fourth in discus; seventh in shot put)
Cody Boellstorff (first in hammer throw; fifth in shot put)
Trevor Bresson (third in 400 hurdles; seventh in 4x100 meter relay)
Matthew Chapa (fourth in 4x400 meter relay; fifth in 800 meter run; fifth in 4x800 meter relay)
Trey Farmer (third in shot put; fifth in hammer throw)
Thomas Hinrichs (fifth in 110 hurdles)
Jacob Kettner (seventh in triple jump)
Philip Kreutzer (sixth in hammer throw)
Zach Lurz (first in shot put; second in discus; second in hammer throw)
Chris Mosely-Hendricks (seventh in 4x100 meter relay)
CJ Muller (fourth in 200 meter dash and 400 meter dash; fourth in 4x400 meter relay; fifth in 4x800 meter relay; seventh in 4x100 meter relay)
Tai Pleasant (first in 400 hurdles; fourth in 4x400 meter relay; seventh in 200 meter dash; seventh in 4x100 meter relay)
Jordan Potrzeba (second in 10,000 meter run; fourth in 5,000 meter run)
Brandon Ramos (sixth in decathlon; seventh in pole vault)
Jose Rojas (second in shot put; fourth in hammer throw; fifth in discus)
Austin Schafer (sixth in pole vault)
Benjamin Schulteis (eighth in hammer throw)
Chris Shelton (second in 3,000 meter steeplechase)
Josh Slechta (third in hammer throw; seventh in discus; seventh in javelin)
Zachary Spresser (eighth in triple jump)
Jaap van Gaalen (fourth in 4x400 meter relay; fifth in 4x800 meter relay)
Lucas Wiechman (second in 110 hurdles; second in decathlon)
Patrick Wortmann (fifth in 4x800 meter relay)
WOMEN (22)
Anna Beune (fifth in 4x100 meter relay)
Kattie Cleveland (first in discus; sixth in hammer throw)
Stephanie Coley (second in shot put)
Alayna Daberkow (sixth in 400 meter hurdles)
Brittany Erdmann (sixth in shot put)
Ericka Fischer (eighth in heptathlon)
Randi Janzen (third in 4x800 meter relay; fourth in 4x400 meter relay; fifth in 4x100 meter relay)
Liz King (first in hammer throw; first in javelin)
Cynthia Mick (third in pole vault)
Nicole Perry (eighth in hammer throw)
Marielle Plunk (fourth in 4x400 meter relay; fifth in 4x100 meter relay; eighth in 400 meter dash)
Kali Robb (third in hammer throw; fourth in discus; seventh in shot put)
Erika Schroeder (third in 3,000 meter steeplechase; third in 4x800 meter relay)
Jill Schroeder (fifth in 4x100 meter relay; eighth in triple jump)
Karissa Segelke (fifth in heptathlon)
Katelyn Shoup (third in triple jump; eighth in long jump)
Emily Sievert (fourth in 5,000 meter run; fifth in 10,000 meter run)
Cassie Starks (first in pole vault)
Shelby Stolze (third in 400 meter hurdles; fourth in 100 meter hurdles)
Katricia Svoboda (fifth in discus; fifth in javelin)
Marti Vlasin (third in 4x800 meter relay; fourth in 4x400 meter relay)
Kim Wood (second in 800 meter run and 1,500 meter run; third in 4x800 meter relay; fourth in 4x400 meter relay)