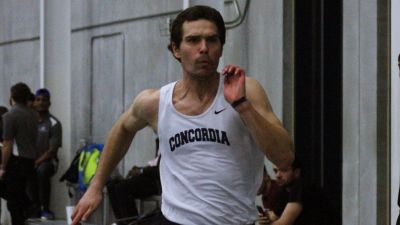 SEWARD, Neb. – A total of 45 Concordia University track and field athletes were officially named indoor track and field all-conference athletes by the GPAC on Thursday (Feb. 23). Individually, the highest honors have been awarded to senior Lucas Wiechman. The native of Pilger, Neb., scored 37.5 points at last week's conference championship meet, allowing him to claim the Men's Hauff Mid-America Sports GPAC Indoor Track and Field Outstanding Athlete of the Year award. Additionally, Wiechman reeled in the Men's Field Performance of the Meet honor (voted on by GPAC coaches) for his winning effort in the heptathlon.
In sum, 21 all-GPAC Bulldog male athletes combined for a total of 29 all-conference performances while 24 all-conference female athletes combined for 25 all-conference efforts. The list of All-GPAC honorees includes six individual titlists and one GPAC championship-winning relay for first-year head coach Matt Beisel. All-conference accolades were awarded for top-eight finishes at the 2017 GPAC Indoor Track and Field Championships.
Eleven Concordia men's athletes were named all-conference in more than one event. The group is headlined by Wiechman, who garnered GPAC Men's Most Outstanding Athlete of the Meet honors after winning three individual conference titles and one as part of the 4x400 meter relay. Other men's individual champions were Cody Boellstorff (weight throw), Zach Lurz (shot put) and CJ Muller (600 meters). As a team, the Bulldog men finished second in a tight race at the top.
On the women's side, seven athletes collected multiple All-GPAC awards, including conference champions Allie Brooks (pole vault) and Kali Robb (shot put). Robb also turned in a runner-up finish in the weight throw. Additional second-place finishers were Jessica Deterding (triple jump) and Adrianna Shaw (shot put). The women placed fourth as a team at the conference meet.
All that remains on the indoor schedule are the 2017 NAIA Indoor Track & Field National Championships. The grand event will play out March 2-4 at David E. Walker Track at Gentry Field in Johnson City, Tenn. Official national qualifiers will be announced by the NAIA on Friday.
2017 Concordia GPAC Indoor All-Conference performers
MEN
Taylor Beck (7th in triple jump)
Cody Boellstorff (1st in weight throw)
Samuel Ferguson (6th in 4x800 meter relay; 8th in 800 meters)
Ryan Gross (8th in pole vault)
Ben Hulett (3rd in 55 hurdles)
Scott Johnson (3rd in long jump; 5th in triple jump)
Philip Kreutzer (6th in shot put; 8th in weight throw)
Zach Lurz (1st in shot put; 5th in weight throw)
Thomas Matik (7th in heptathlon)
Nathan Matters (1st in 4x400 meter relay; 3rd in 600 meters)
Josiah McAllister (5th in 1,000 meters; 6th in 4x800 meter relay)
Chris Mosely-Hendricks (6th in 55 meters)
CJ Muller (1st in 600 meters; 1st in 4x400 meter relay; 2nd in 800 meters)
Ryan Olson (1st in 4x400 meter relay; 8th in 600 meters)
Tyrell Reichert (4th in triple jump)
Jake Rodgers (3rd in 400 meters; 4th in 200 meters)
Austin Schafer (7th in pole vault)
Chris Shelton (8th in 1,000 meters)
Thomas Taylor (6th in 4x800 meter relay; 7th in one mile)
Lucas Wiechman (1st in 55 hurdles; 1st in heptathlon; 1st in pole vault; 1st in 4x400 meter relay; 4th in long jump)
Patrick Wortmann (6th in 4x800 meter relay)
WOMEN
Andrea Anderson (3rd in pole vault)
Anna Beune (8th in long jump; 8th in pentathlon)
Christy Beune (6th in 4x400 meter relay; 8th in 55 meters)
Allie Brooks (1st in pole vault; 4th in high jump)
Alayna Daberkow (6th in 4x400 meter relay)
Jessica Deterding (2nd in triple jump; 5th in pentathlon)
Taylor Grove (7th in 5,000 meters)
Shelbi Hackbart (8th in one mile; 8th in 3,000 meters)
Bri Hallmark (7th in 4x800 meter relay)
Rebekah Hinrichs (7th in 4x800 meter relay)
Leah Larson (5th in triple jump)
Samantha Liermann (6th in shot put)
Sydney Meyer (4th in weight throw)
Tristen Mosier (6th in pole vault)
Jamie Nikodym (5th in 55 meter hurdles)
Marielle Plunk (6th in 4x400 meter relay)
Johanna Ragland (7th in shot put)
Miranda Rathjen (7th in 4x800 meter relay)
Kali Robb (1st in shot put; 2nd in weight throw)
Adrianna Shaw (2nd in shot put)
Emily Sievert (4th in 5,000 meters)
Tricia Svoboda (7th in weight throw)
Marti Vlasin (4th in 600 meters; 6th in 4x400 meter relay)
Emily Writebol (7th in 4x800 meter relay)