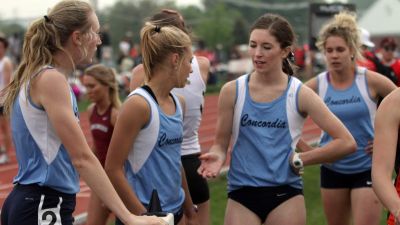 SEWARD, Neb. – Forty-five members of the Concordia University track and field program have officially been recognized as all-conference honorees (full list below) based on their performances at the 2016 GPAC Outdoor Track and Field Championships. Athletes earn all-conference recognition by placing in the top eight of an event. Both of 24th-year head coach Kregg Einspahr's squads finished second at last week's conference meet in Hastings, Neb.
The list of men's award winners includes 24 athletes. Three of them combined to win five conference championships. Josh Slechta (discus and hammer) and Lucas Wiechman (decathlon and 110 hurdles) claimed two event titles apiece. Wiechman racked up 30 points alone by garnering all-conference accolades in four individual events. A dozen Bulldog men's athletes were awarded all-conference laurels in multiple events. Throwers accounted for 15 total all-conference placements on the men's side.
GPAC titlists McKenzie Gravo (pole vault), Liz King (hammer, javelin), Kali Robb (shot put) and Kim Wood (800 meters, 1,500 meters) headline the group of 21 women's all-conference athletes. Fourteen received all-GPAC accolades in multiple events. Fifteen total all-conference honors came from throwers. King and Wood were Concordia's individual leading point scorers with 20 apiece. Wood has now won 12 GPAC titles in her career.
The Bulldogs will compete in one additional meet before the 2016 NAIA Outdoor Track and Field National Championships take place May 26-28. Next up is the Prairie Wolf Invitational hosted by Nebraska Wesleyan on Friday. The event schedule can be viewed HERE.
MEN (24)
Adam Aschenbrenner (eighth in hammer)
Trey Barnes (third in shot put; fourth in discus)
Trevor Bresson (second in 400 meter hurdles; second in 4x400 meter relay)
Ryan Gross (eighth in pole vault)
Chris Hendricks (sixth in 4x100 meter relay)
Scott Johnson (sixth in triple jump; eighth in long jump)
Jacob Kettner (first in triple jump)
Philip Kreutzer (third in hammer; seventh in shot put)
Zach Lurz (second in hammer; second in discus; fourth in shot put)
Thomas Matik (seventh in decathlon)
Nathan Matters (second in 4x400 meter relay; fourth in 4x800 meter relay)
Cameron Moes (sixth in 3,000 meter steeplechase)
CJ Muller (second in 400 meter dash; second in 4x400 meter relay; third in 200 meter dash; fourth in 4x800 meter relay; sixth in 4x100 meter relay)
Jordan Potrzeba (eighth in 10,000 meter run)
Tyrell Reichert (seventh in pole vault; eighth in triple jump)
Jose Rojas (second in shot put; fourth in hammer; sixth in discus)
Aivery Scheffer (sixth in 4x100 meter relay)
Ben Schulteis (seventh in hammer)
Chris Shelton (fifth in 3,000 meter steeplechase)
Josh Slechta (first in discus; first in hammer; seventh in javelin)
Jaap van Gaalen (second in 4x400 meter relay; fourth in 4x800 meter relay)
Josh Wendland (sixth in 110 meter hurdles)
Lucas Wiechman (first in decathlon; first in 110 meter hurdles; third in pole vault; fifth in 400 meter hurdles; sixth in 4x100 meter relay)
Pat Wortmann (fourth in 4x800 meter relay)
WOMEN (21)
Anna Beune (fourth in 4x100 meter relay)
Christy Beune (fourth in 4x100 meter relay; seventh in 100 meter dash; seventh in 200 meter dash)
Allison Brooks (third in pole vault)
Kattie Cleveland (second in discus; second in hammer)
Stephanie Coley (third in shot put; third in hammer; fifth in discus)
Tallie Elbert (fifth in 4x400 meter relay; fifth in 4x800 meter relay)
McKenzie Gravo (first in pole vault; fifth in long jump)
Melanie Jochimsen (fourth in 4x100 meter relay)
Liz King (first in hammer; first in javelin)
Leah Larson (sixth in triple jump; eighth in long jump)
Samantha Liermann (fourth in shot put)
Sydney Meyer (fifth in hammer; seventh in javelin)
Beth Rasmussen (fifth in 4x800 meter relay)
Kali Robb (first in shot put; fourth in hammer; seventh in discus)
Jill Schroeder (fourth in 4x100 meter relay; seventh in long jump; eighth in triple jump)
Katelyn Shoup (fourth in triple jump)
Emily Sievert (seventh in 5,000 meter run)
Katricia Svoboda (second in javelin; fourth in discus)
Marti Vlasin (fifth in 4x400 meter relay; fifth in 4x800 meter relay)
Kim Wood (first in 800 meter run; first in 1,500 meter run; fifth in 4x400 meter relay)
Quinn Wragge (fifth in 4x400 meter relay; fifth in 4x800 meter relay)