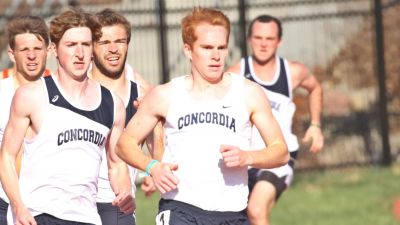 SEWARD, Neb. – Forty members of the Concordia University track and field programs have officially been named All-GPAC performers based on their top-eight place finishes at last week's GPAC Outdoor Track & Field Championships in Sioux City, Iowa. The list includes 22 women and 18 women who each contributed to point totals of 131.5 on the women's side and 71 on the men's side at the conference championship meet. The Bulldog women placed third while the men finished sixth.
Among the all-conference honorees for head coach Matt Beisel's squads are GPAC champions Taylor Grove (10,000 meters), Samantha Liermann (shot put) and Cody Williams (decathlon). Eleven Bulldogs turned in All-GPAC placements in multiple individual events: Mika Brees, Jacob Cornelio, Morgan De Jong, Jessica Deterding, Jazzy Eickhoff, Liermann, Kennedy Mogul, Johanna Ragland, Adrianna Shaw, Carley Skorepa and Williams.
The highest point scorers were Liermann (16 points) for the women and Williams (11 points) for the men. Liermann has now won three GPAC shot titles in her well credentialed career. Meanwhile, both Grove and Williams were crowned GPAC champions for the first time. Simon Brummond (pole vault), Josiah McAllister (800 meters) and Skorepa (hammer throw) achieved a GPAC runner-up finish. Liermann and the throwers were especially impressive, producing a combined 50 points and 13 total all-conference finishes. Adrianna Shaw racked up 12 points courtesy of three top-six placements in the throws.
New GPAC outdoor meet records were set by both Mogul and Williams. Mogul broke a GPAC record in heptathlon 800 meter race with a time of 2:23.08. Additionally, Williams set a new conference standard in the decathlon 110 meter hurdles by clocking in at 15.05.
The Bulldogs are getting set to host the annual Concordia Twilight Meet on Friday. It will be the last chance for competitors to qualify for nationals or improve already existing 'A' standard marks. The complete national qualifying field will be announced next week by the NAIA. The 2018 NAIA Outdoor Track & Field National Championships will be held in Gulf Shores, Ala., May 24-26.
2018 Concordia GPAC Outdoor All-Conference performers
MEN
Blake Becher (3rd in decathlon; 5th in 4x100 meter relay)
Simon Brummond (2nd in pole vault)
Jacob Cornelio (4th in hammer throw; 8th in discus)
Kohlton Gabehart (7th in steeplechase)
Jacob Dack (6th in shot put)
Daniel Hakes (5th in 4x100 meter relay)
Michael Leapley (7th in 4x400 meter relay)
Nathan Matters (4th in 4x800 meter relay)
Josiah McAllister (2nd in 800 meters; 4th in 4x800 meter relay; 7th in 4x400 meter relay)
Cameron Moes (6th in steeplechase)
Tucker Platt (5th in pole vault)
Jeremiah Reeser (5th in 4x100 meter relay)
Henry Reimer (7th in 4x400 meter relay)
Jake Rodgers (5th in 4x100 meter relay; 7th in javelin)
Ryan Sanchez (6th in shot put)
Thomas Taylor (4th in 4x800 meter relay; 5th in 1,500 meters)
Christian Van Cleave (4th in 4x800 meter relay)
Cody Williams (*1st in decathlon; 8th in 110 meter hurdles)
WOMEN
Tori Beran (3rd in 4x400 meter relay; 4th in 400 meter hurdles)
McKayla Besel (8th in heptathlon)
Mika Brees (3rd in 4x400 meter relay; 5th in 100 meters; 5th in 4x100 meter relay; 7th in 200 meters)
Lydia Cook (6th in 4x800 meter relay)
Morgan De Jong (7th in discus; 7th in javelin)
Jessica Deterding (3rd in triple jump; 4th in heptathlon; 6th in long jump)
Jazzy Eickhoff (4th in javelin; 8th in shot put)
Alyssa Fye (6th in 4x800 meter relay)
Taylor Grove (*1st in 10,000 meters)
Rebeka Hinrichs (6th in 4x800 meter relay; 8th in 1,500 meters)
Sophie Hoelz (7th in 100 meter hurdles)
Leah Larson (5th in triple jump)
Samantha Liermann (*1st in shot put; 3rd in hammer throw)
Emily Loy (5th in 4x100 meter relay; 6th in heptathlon)
Kennedy Mogul (3rd in 400 meter hurdles; 3rd in heptathlon)
Jamie Nikodym (3rd in 4x400 meter relay; 6th in 100 meter hurdles)
Johanna Ragland (4th in hammer throw; 7th in shot put)
Miranda Rathjen (3rd in 4x400 meter relay; 5th in 4x100 meter relay; 6th in 4x800 meter relay)
Adrianna Shaw (3rd in discus; 6th in shot put; 6th in hammer throw)
Carley Skorepa (2nd in hammer throw; 5th in discus)
Kara Stark (7th in high jump)
Hayley Stazak (5th in 4x100 meter relay)