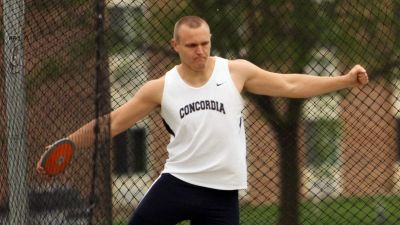 At 6-foot-6 and possessing considerable strength, Josh Slechta is the type of athlete that can roll off the bus and hurl implements preposterous distances. Case in point: the 2016 GPAC Outdoor Track and Field Championships. The second and final day of the conference meet coincided with Slechta's graduation at Concordia. He walked across the stage, got his diploma and then raced out to Hastings with two of his teammates.
In Home Alone fashion, they made it just in time to begin warmups prior to the first flight of the discus, which included Slechta. The native of Kennard, Neb., entered the meet as the conference leader, but nothing is a given in a sport that requires you to be the best on that given day, no matter the circumstances. All Slechta did was pop off a school record toss of 180' 4" while winning his second conference title in as many days.
Leading into next week's national championships, Slechta has enjoyed a historically great outdoor season, even for a program that produces All-American throwers with nearly the same frequency as Donald Trump jokes fly on late-night talk shows (OK, maybe not that much). You get the idea. Slechta is a late bloomer who now owns a national title in the weight throw, two conference championships and a GPAC meet record to his credit.
"The national championship was pretty surreal. I wasn't expecting to place that high," Slechta said. "Once I threw that first mark out there it was kind of an eye opener. It made me realize that I can really do something. Then at this year's GPAC meet I only really had expectations for the hammer throw. Discus was anyone's game. It was pretty crazy coming out on top in both of those, but I had teammates right behind me in those events."
Slechta's collegiate success blows away his high school achievements by a country mile. He played baseball, basketball and football at Creighton Prep in Omaha, but he didn't even start throwing until his junior year of high school. It was awkward at first. It took time to get the technical aspects down. He was still learning when he arrived in Seward.
Even after marginal prep accomplishments (one state championships appearance), Slechta knew he wanted to continue competing. He desired to play football and to throw somewhere in college. He was recruited heavily by Concordia as a tight end in football and it wasn't a hard sell for throws coach Ed McLaughlin, who was tantalized by Slechta's height alone. The football staff asked McLaughlin if there was also room for Slechta on the track team. "When they told me he was 6-6, I said, 'we have room for him.' You don't turn down height."
Added McLaughlin, "I thought, 'this kid could really turn into something with as tall and as strong as he is.' He was looked at as a little bit of a project, but you knew with his size and strength that something could click for him."
It took time for things to click, but part of that was simply due to the fact that Slechta was also a starting tight end, who put intense focus into football in both the fall and spring. Plus there were significant challenges on the injury front. He faced setbacks due to a broken collarbone as a junior and then missed more than half of his senior football season due to a severely torn left pectoral muscle. Through his dedication, Slechta made it back to the ring quicker than doctors anticipated.
"It's really crazy to think about it when you go back and realize that he didn't start throwing until February," McLaughlin said. "Everyone else is throwing in the fall and doing stuff over Christmas break. Josh wasn't allowed to put anything in his left hand until the last week of January. He wasn't allowed to throw anything until the second week of February. Rep-wise he is still months and months behind everybody else. The fact that he got back from his injury in time for indoor is the most amazing part."
At his very first indoor meet, Slechta qualified for nationals in the weight throw. Not yet fully recovered, he repeated as an All-American in the event in kick-starting an astounding senior campaign that's gotten better with age. With a personal best of 154 feet in the discus as a junior, Slechta wasn't supposed to be able to challenge Corbin Jones' program record of 178' 8" in the event.
"The first three years I never really got the concept of it," Slechta said. "I would always rush through my turn and not really use my length or my legs with it. Coach forced me to keep my arm back and really drive through with my hips before I would release it. Once that clicked I had an idea of what I needed to do. We've been building on it ever since."
Once overshadowed by the likes of other national champions and current teammates in Cody Boellstorff and Zach Lurz, Slechta has risen to the front of the pack. He will enter next week's national championships ranked No. 2 in the NAIA in both the hammer and the discus. If things break right, Slechta could end up walking away with more glitzy hardware.
Slechta isn't going to bloviate about his surprise 2015 national title, any of his records or other individual achievements, but it's clear his mental game has advanced. Says McLaughlin, "The biggest difference with him now is that he's more confident than he's ever been."
The humble Slechta has a lot of people to thank for his rapid development that has seen him emerge from the nation's best and deepest group of throwers. Late starts. Injuries. Same-day graduation. Two-sport commitment. Nothing has stopped him. "Honestly, I wouldn't want to be anywhere else," Slechta said. "This is a great team-oriented environment with great people and a great coach. It's everything I could ask for."