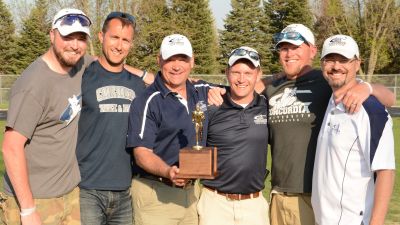 SEWARD, Neb. – Concordia head track and field coach Kregg Einspahr has raked in another coaching honor after guiding the men's program to the first national title for any sport in school history. The 23-year veteran garnered Lincoln Journal Star State College Coach of the Year recognition along with Bulldog head women's basketball coach Drew Olson, as announced on Monday.
This season Einspahr has also received honors as GPAC men's outdoor coach of the year and NAIA men's outdoor national coach of the year. The NAIA and Concordia athletics hall of famer has piled up numerous coaching awards during an impressive career that now includes a national title in addition to 16 GPAC crowns (nine cross country, seven track and field) and six national runner-up finishes. In 1999 Einspahr garnered women's cross country national coach of the year accolades from the USTFCCCA.
Einspahr is now the first person to ever be named both a state college athlete and coach of the year. A six-time individual national champion on the track, Einspahr notched back-to-back State College Athlete of the Year awards in 1981 and 1982 while competing at Concordia.
Einspahr and Olson become the fifth and sixth Concordia coaches all-time to be honored by the Lincoln Journal Star. They are the first Bulldogs to claim the award since former women's basketball head coach Todd Voss did so in 2005. Kregg is married to former State College Athlete of the Year Suzanne (Weeder) Einspahr.
All-time Concordia state college coaches of the year
2015 – Kregg Einspahr (track and field) / Drew Olson (women's basketball)
2005 – Todd Voss (women's basketball)
1992 – Grant Schmidt (men's basketball)
1982 – Wayne Rasmussen
1971 – John Seevers