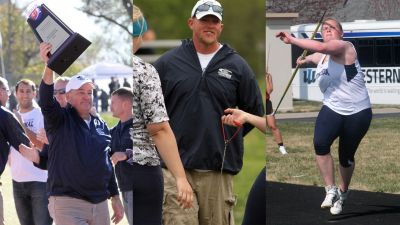 SEWARD, Neb. – Two Concordia coaches and one athlete garnered Midwest Region honors from the U.S. Track & Field and Cross Country Coaches Association (USTFCCCA) on Monday. Awarded by the USTFCCCA, 24th-year coach Kregg Einspahr collected NAIA Midwest Region Men's Outdoor Coach of the Year, Ed McLaughlin earned both men's and women's NAIA Midwest Region Outdoor Assistant Coach of the Year accolades and senior Liz King picked up NAIA Midwest Region Women's Outdoor Field Athlete of the Year billing.
A two-time NAIA national coach of the year, Einspahr owns a seemingly endless number of coaching honors in his astounding career. The 1982 Concordia graduate has been named GPAC coach of the year 19 combined times in either cross country or track and field. He has guided Bulldog teams to a combined 16 conference titles, one team national championship and six national runner-up finishes. Heading into this week's national championships, Einspahr's teams boast national ratings of second on the women's side and third on the men's side.
McLaughlin, in his 18th year assisting Einspahr as throws coach, has swept indoor and outdoor men's and women's NAIA Midwest Region coaching awards in 2016. This past indoor season the USTFCCCA also tabbed McLaughlin as the NAIA National Men's Indoor Assistant Coach of the Year. The Concordia alum helped Cody Boellstorff (weight throw) and Zach Lurz (shot put) to 2016 national titles. At the GPAC outdoor championships, King (hammer, javelin), Kali Robb (shot put) and Josh Slechta (hammer, discus) combined to win five throwing conference titles. A total of 16 Bulldog throwers are set to compete at the national championships.
King, the 2014 NAIA javelin national champion, currently ranks second nationally in the hammer (183' 9") and third in the javelin (154' 1"). This outdoor season the native of Billings, Mont., completed a run of four-straight GPAC titles in the javelin. She also won the conference hammer throw championship for the second-straight year. King is Concordia's school record in the javelin with a career best mark of 166' 11," achieved in 2014. She is a five-time All-American.
A group of 23 Concordia athletes are headed to Gulf Shores, Ala., to compete at the 2016 NAIA Outdoor Track & Field National Championships, which will unfold Thursday through Saturday at Mickey Miller Blackwell Stadium.