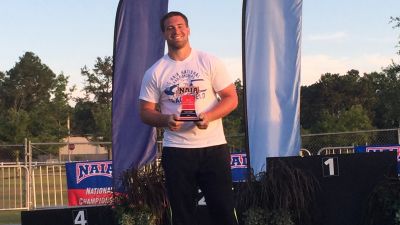 SEWARD, Neb. – Following a national title for the men and a top-five national finish for the women, 17 Concordia University track and field athletes were officially named NAIA All-Americans on Monday. In addition, head coach Kregg Einspahr garnered NAIA men's outdoor national coach of the year and sophomore Zach Lurz was named the men's most valuable performer of the 2015 NAIA Outdoor Track and Field National Championships.
Einspahr, also the 2015 GPAC men's outdoor coach of the year, has guided seven Concordia cross country/track and field teams to national runner-up finishes. The 2015 Bulldog men broke through with Concordia University's first-ever team national title by tallying 59 points in a three-day meet that came down to the very last event. In his 23-year coaching tenure at Concordia, Einspahr has 16 conference titles (nine cross country, seven track and field) to his credit.
With three All-America performances over the weekend, Lurz totaled 20 points all by himself. He placed runner up in both the hammer throw and shot put and fifth in the discus. A 2015 indoor shot put national champ, the native of Torrington, Wyo., is now a six-time All-American over two years as a Bulldog. He was named the 2014 GPAC outdoor track and field male athlete of the year. A key component of three conference championship teams the past two years, Lurz is a four-time GPAC titlist.
Of the 17 Concordia individual outdoor honorees, four were All-Americans in two or more events: Lurz, Stephanie Coley, Liz King and Lucas Wiechamn. Cody Boellstorff captured a national title in the hammer throw and the Bulldogs recorded six total national runner-up claims. Eight of the 17 All-Americans also posted at least one top-eight finish at the indoor national championships. Four of them are first-time All-Americans.
2015 Concordia outdoor All-Americans
Cody Boellstorff, junior
-Hammer throw (1st)
-Career All-America honors: 4
Matthew Chapa, senior
-4x400 meter relay (6th)
-Career All-America honors: 1
Stephanie Coley, junior
-Hammer throw (4th); shot put (6th)
-Career All-America honors: 6
Brandon Cook, sophomore
-Decathlon (8th)
-Career All-America honors: 2
Trey Farmer, senior
-Hammer throw (8th)
-Career All-America honors: 1
Liz King, junior
-Javelin (2nd); hammer throw (7th)
-Career All-America honors: 4
Zach Lurz, sophomore
-Shot put (2nd); hammer throw (2nd); discus (2nd)
-Career All-America honors: 6
Cynthia Mick, sophomore
-Pole vault (2nd)
-Career All-America honors: 1
CJ Muller, sophomore
-4x400 meter relay (6th)
-Career All-America honors: 3
Tai Pleasant, senior
-4x400 meter relay (6th)
-Career All-America honors: 2
Brandon Ramos, junior
-Pole vault (5th)
-Career All-America honors: 3
Kali Robb, sophomore
-Hammer throw (2nd)
-Career All-America honors: 2
Josh Slechta, junior
-Hammer throw (3rd)
-Career All-America honors: 2
Cassie Starks, senior
-Pole vault (5th)
-Career All-America honors: 2
Katricia Svoboda, sophomore
-Javelin (7th)
-Career All-America honors: 1
Jaap van Gaalen, sophomore
-4x400 meter relay (6th)
-Career All-America honors: 2
Lucas Wiechman, sophomore
-Decathlon (2nd); pole vault (3rd)
-Career All-America honors: 3