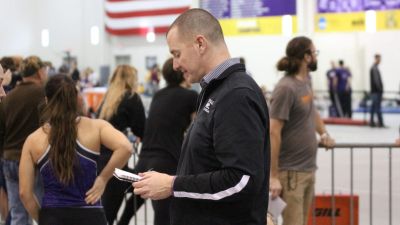 SEWARD, Neb. – Concordia University's nationally respected track and field programs will have a new full-time member of the assistant coaching staff beginning in 2017-18. Director of Athletics Devin Smith and Head Track and Field Coach Matt Beisel and the program announced the hiring of former University of Sioux Falls assistant coach Wayne Earney on Tuesday (June 13). A graduate of MidAmerica Nazarene University (Kan.), Earney will take the title of Assistant Track & Field Coach – Vertical and Horizontal Jumps/Director of Track & Field Fund Development.
After spending four seasons with the NCAA Division II Cougars, Earney is eager to hit the ground running at Concordia. His official start date is set for July 5.
Said Smith, "Coach Earney's decision to join the Bulldog track and field staff came at a perfect time. With our current staff doing an amazing job of recruiting during this past year, our roster will grow from 98 men and women to an anticipated 130+ student-athletes who will begin a new journey in the fall. Earney's diverse experiences in coaching and relationship building will help fulfill our vision of providing a first class student-athlete experience, not only for a specific position group, but as a valued member of the Bulldog Athletic Department. The addition of Earney also provides a point person on staff who can focus on fund-development specifically designed for our track and field program's growth. We are so pleased Coach Earney and his soon-to-be wife Karen will be joining the Bulldog family."
In a statement, Earney described why Concordia is the right opportunity for him.
"I'm tremendously excited about joining the track and field staff at Concordia," Earney said. "I cannot wait to be a part of a University that is so passionate and supportive of its track program. I'm hoping to complement an already national caliber team, by adding my experience in the long and triple jump. My fiancée and I were blown away by how welcoming the university and also the community of Seward were to us. We get married on June 17, and we are very eager to start our lives together in such a great neighborhood."
Beisel believes the addition of another full-time staff member will help grow programs that took home four more top-10 national finishes in 2017. The full-time assistant coaching staff now includes Earney in addition to Ed McLaughlin and Mark Samuels. Other assistants include Jason Berry and Craig Saalfeld.
"Wayne Earney is an absolute 'yes!' answer to many, many prayers for my staff and me," Beisel said. "As a passionate and highly-trained student of the speed and power development, mechanics, strength training – particularly in the jumps - he fills a huge need for the Concordia University track and field program. He has developed many NCAA D-II jumpers, multi-eventers and sprinters into all-conference and All-American athletes. Before that, he coached multiple high school state champions in the horizontal jumps. His Christ-centered, calm, relational approach is a great match for our athletes and team culture. He will profoundly impact the ability of our entire staff to provide a first class student-athlete experience and enhance the competitiveness of the entire program."
A native of Steelville, Mo., Earney actually began his professional career as a law enforcement officer in Gardner, Kan., before making a transition. He fell in love with the coaching profession, left law enforcement and spent the next nine years as an assistant track coach at Blue Valley School District in Overland Park, Kan. During his time in Overland Park, Earney helped mentor athletes that won 22 state medals and six state championships.
Earney moved on to Sioux Falls in November 2013 and remained there through the 2017 seasons. In four seasons, Earney coached athletes to 21 all-conference awards, nine provisional national marks, three national qualifying marks, eight school records and two All-America honors. At Sioux Falls, Earney was responsible for all aspects of training, including technical, physical and mental development.
Earney possesses many professional certifications both in coaching and strength and conditioning. He holds a Jumps Specialist Certification and a Track and Field Technical Certification from the U.S. Track & Field and Cross Country Coaches Association. He also owns a Level 1 Coach certification from USA Track & Field.
A national qualifier and two-time all-conference performer in the long jump as a collegiate athlete, Earney received his degree in criminal justice from MidAmerica Nazarene. He earned a master's degree in exercise science and health promotion from California University of Pennsylvania.