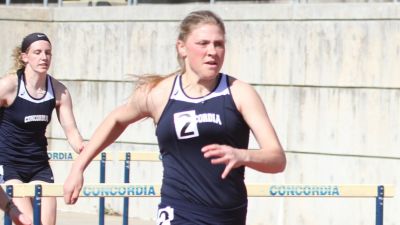 CRETE, Neb. – The only action to take place at the Jim Dutcher Memorial on Monday (April 23) came in the multi-events, which are shaping up to be a significant strength for the Concordia University track and field programs. Jessica Deterding and Cody Williams capped off wins in performances that rank them among the top 10 athletes in the NAIA in their respective events.
A sophomore from Eustis, Neb., Deterding has essentially locked up a spot at the NAIA outdoor national championships courtesy of her efforts that had head coach Matt Beisel beaming with pride. Williams also appears to stand a great chance of making his way to Gulf Shores, Ala., at the end of May. A day earlier, Taylor Grove (marathon) and Tucker Platt (pole vault) clinched national championships berths.
Deterding finished the heptathlon with 4,392 points (No. 3 on the national leaderboard) to hold off runner up Maitlyn Thomsen from Doane. Deterding went over 18 feet in the long jump while also turning in solid marks in the javelin and the 800 meters on Monday. Meanwhile, teammate Kennedy Mogul finished third at the Dutcher Memorial with 4,185 points. Mogul's total meets the minimum standard required to be placed on the national leaderboard (currently No. 16).
A 2018 indoor national qualifier, Williams piled up 6,317 points in the decathlon while outperforming six competitors in the field. He now ranks ninth in the nationally in the event. A fourth-place finisher at the Dutcher Memorial, freshman Blake Becher checks in at No. 14 nationally in the decathlon (6,146 points).
Several meets are listed on this week's schedule. Select Bulldogs will be at the prestigious Drake Relays (April 26-28) in Des Moines, Iowa. Other upcoming meets are the Nebraska Wesleyan Invite (April 26) and the recently added Concordia Blizzard Buster (April 28). The Blizzard Buster will be a small meet with two other institutions joining the Bulldogs on Saturday.