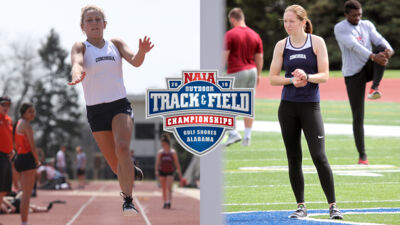 The last time Claire Cornell and Mackenzie Koepke appeared at a national championship event, they celebrated alongside their women's basketball teammates, engulfed by confetti in one of those surreal moments that very few athletes ever experience. Three years after the Concordia track and field program claimed the first women's team national title in school history, the women's basketball program finally reached that same mountain top.
And to think, Cornell and Koepke are just freshmen, both with bright futures as members of the basketball and track programs. The present is already quite good for two athletes bound for another national showcase. Not only did Cornell and Koepke play for a national champion basketball team, they are national qualifiers for a women's track team ranked No. 3 in the NAIA.
Says Cornell, "I couldn't ask for a better group of athletes for both sports to represent Concordia with. It's been an absolute blast on both spectrums and to see that everyone works just as hard as the next person, makes for an exciting journey."
Accomplished high school performers in the state of Nebraska, Cornell (long jump) and Koepke (high jump) are on their way to Gulf Shores, Ala., for the NAIA outdoor national championship meet. Cornell will compete on Thursday while Koepke will have to wait until Saturday to display her talents. After finishing basketball, Cornell and Koepke made the transition to track with impressive results. On the school's all-time outdoor lists, Koepke is No. 2 in the high jump (5' 5 ¾") while Cornell is No. 3 in the long jump (18' 10 ¾").
An alum of Lincoln Lutheran High School (which just won a girls' state title in track), Koepke is a sniper on the court with a 6-foot-1 frame that allows her to rearrange shots and passes. If there is one photo that illustrates Koepke's athleticism, it's the one that appeared on the GPAC website on March 11 that showed Koepke skying incredibly high to block the shot of a Northwestern player. Even with that natural athleticism, Koepke has had to adjust to the rigors that come with being a college student-athlete.
"I think the biggest adjustment has been the training and the different types of workouts we do that focus on specific muscle groups," Koepke said. "For high jump specifically we do a lot of plyometrics and work on being more explosive and not as much running compared to other events. In basketball, a lot of our conditioning comes from drills we do in practice."
A former three-time all-class state long jump champion and Nebraska state record holder for Elm Creek High School, Cornell expressed similar comments on the demands of shifting from basketball to track. Added Cornell, "The training is a huge difference from basketball lifting of heavy sets to track where you focus on your certain muscle groups for the events you compete in. It does a lot on the body at first until you get used to it."
Of course, Cornell and Koepke are taking on a load that isn't without precedent. In recent years, Trey Barnes earned All-America honors for the Bulldogs in both football and track (shot put). Within the GPAC itself, Northwestern's Kassidy De Jong will be running on a Red Raider 4x800 meter relay team at nationals this weekend, not long after playing against Concordia in the basketball national semifinals.
The unique aspect of this dynamic for Cornell and Koepke is their opportunity to contribute to two elite teams in two separate sports. They went from winning GPAC and national championships in basketball to helping the track team seize the conference outdoor title and potentially a team trophy finish this weekend in Alabama. Cornell says she's trying to soak it all in and not take it for granted. Both seem to have an awareness of their unique and historic place in time at Concordia.
"It has been an amazing opportunity to work with coaches who care about their athletes and just want to see them succeed," Koepke said. "Coach (Drew) Olson, Coach (Wayne) Earney and Coach (Matt) Beisel have all put in time to help me become a better competitor in these sports. I am so lucky to be able to attend a school where the administration, the faculty, the students and the community support athletics at Concordia."
Cornell also lavishes praise upon those who surround her, saying, "I still have a ways to go, but there's three more years for that. I'm just extremely proud of how quick I have been able to improve my jumps in such a short amount of time. The coaches have been very helpful with the short transitions and have trained me very wisely because of that, so a lot of credit goes to them as well."
When the action gets going in Alabama, Cornell and Koepke will already have a level of understanding of what it feels like to compete against the best in the NAIA. Koepke points out that track can sometimes create more inner pressure because of the individualized nature of the sport. Mental and physical preparation has been a bit different for this weekend, but Cornell and Koepke are two freshmen who have proven to belong on elite teams.
Could there be more team national title celebrations to come for Cornell and Koepke? It's not out of question at Concordia, where three big, red national championship banners already reside.