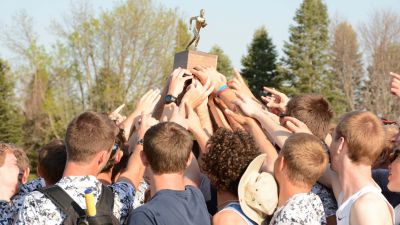 SEWARD, Neb. – Back in Seward after winning the first team national title in the history of Concordia University athletics, Bulldog men's track and field is soaking up media attention. On Tuesday head coach Kregg Einspahr and four different athletes answered questions from a KLKN-TV (Lincoln ABC affiliate) news reporter inside the Walz Fieldhouse.
Even with the national championship trophy resting close by, Einspahr admitted, "Whether it has sunk in yet, I don't think it has."
On the TV news story, with Einspahr shown walking away with the hardware nestled by his right arm, the thoughts of sophomore CJ Muller played over the top. Said Muller, "I just couldn't believe we had done this. Fifteen guys from Nebraska had just won a national championship."
Muller, national championship meet most valuable performer Zach Lurz, national titlist Cody Boellstorff and All-American Lucas Wiechman all took turns in front of the cameras on Tuesday. Each of the four members of the coaching staff that traveled to Alabama were also on hand. In addition, Einspahr has fielded calls from several news outlets.
In a column that appeared in the Omaha World-Herald on Tuesday morning, Einspahr talked about the desire to win a national championship. He has guided six different Bulldog cross country/track and field teams to national runner-up finishes. "I think anybody who's been coaching for a long time, it's an unspoken dream that you'd like to win a national championship,'' Einspahr told the World-Herald.
What made this national championship all the more sweet was how unexpected it was by most associated with the team. Concordia entered the meet ranked No. 3 by the US Track and Field and Cross Country Coaches Association, but a lot of things had to go right for the Bulldogs to come out on top. Concordia even caught a break on the final race (4x400 meter relay) when fellow national title contender Indiana Tech suffered an injury on its anchor leg.
The turn of events allowed Muller to speed by and clinch the team title. "It's an honor and an incredible experience to be part of Concordia's first national championship team," Muller said.
The finish to the 4x4 set off a jubilant celebration among Concordia athletes and coaches. Many have used words such as shocked, disbelief, joy and pride in an effort to try to make some sense of the moment.
Said pole vault coach Jason Berry, "Without doubt it is one of the most significant team experiences of my life."
Added assistant coach Mark Samuels, "To watch that final lap play out was a full range of emotions. Shock and utter disbelief turned to joy, excitement and jubilation. To be able to share those emotions with our coaching staff brought out shear raw emotion. I would call our coaching staff my best friends and reaching the pinnacle of our sport with them was truly memorable."
As the media attention fades and things settle down, eventually it will sink in. The glitzy trophy and the oversized, vibrantly red national championship banner are there to remind members of the Concordia track and field team, dreams do come true.
MEDIA COVERAGE