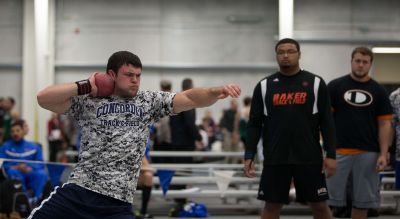 Concordia star throwers ready to make waves on national stage
By Jake Knabel, Sports Information Director
Sophomore Liz King and freshman Zach Lurz have both attained feats never done before in the history of Concordia University track and field. Even in a conference loaded with tremendous throwers, King and Lurz have themselves breathing in rarified air.
A native of Torrington, Wyo., Lurz became the first Bulldog ever to qualify for nationals in each of the discus, shot put and weight throw events. Lurz also broke the school record in the shot put (57' 3") and won GPAC outdoor titles in the shot and discus in leading Concordia to another conference team championship.
Lurz clearly made tremendous use of his redshirt season in 2012-13. The GPAC outdoor track and field men's performer of the meet ranks in the top six of the NAIA in all three of his events.
"I never thought I'd be where I'm at right now," Lurz said. "I was maybe hoping to be in the top five of GPAC, not in the whole nation. It's been a fantastic season and I just have to work to make sure that I don't get caught up in the hype."
The 6-foot-2 Lurz possesses an impressive muscular physique. With ideal size and strength, the indoor shot put All-American makes it look easy. Even as an inexperienced hammer thrower, Lurz has excelled.
He's a quick study who's had little trouble picking up on the fine points from throws coach Ed McLaughlin.
"Throwing is definitely completely different than I thought when I came into Concordia," Lurz said. "It is 90% with your body and not the arm. Also as a thrower you must stay relaxed and use the correct leverage to get the distance. You don't just get super jacked up and force everything, especially with the college implements."
The secondary education major has been the most prominent performer among Bulldog men's throwers, and that's saying something. Concordia male throwers have totaled nine automatic national qualifying marks and seven have collaborated on a combined 12 all-conference performances. Lurz was the only one to earn all-conference in three events.
Considering where Lurz sits on the national lists, it could be a big Memorial Day weekend at the outdoor national championships for a young man that can reasonably be regarded as the top thrower in the GPAC.
"I don't like to think about rewards," Lurz said. "But being an All-American or national champion is something I have been working for the last two years. Outdoor is the main point of what we do, and I just want to compete to the best of my ability. My job is to go down and set new personal bests in all my events against tough competition. All I can ask of myself is to preform my best and hopefully this can earn me a place on the stand."
King, who hails from Billings, Mont., will also be expected to reach the medal stand in Gulf Shores, Ala., site of the national championships. Ranked No. 1 in the NAIA in the javelin, King is an obvious national title contender. And she's used to winning having taken first place in the javelin in six different outings this season.
She broke the GPAC meet record by more than 16 feet with her toss of 157' 8" at the GPAC championships. Then she surprised even McLaughlin by taking it to another level with her ridiculous hurl of 166' 11" – tops in the NAIA by more than six-and-a-half feet.
"In javelin the difference between a good and bad throw can happen anywhere," King said. "For me the difference in a throw is how I start the run. I felt myself going faster than usual, but when it left my hands it just felt effortless (at the GPAC meet). Coach Ed always says that if the throw is a good one, than it should feel easy."
Things have appeared easy for King, who makes 150 feet-plus throws look routine. A year ago her personal best was 144' 6" at the national championships (fourth place – All-America). She has surpassed that figure in all but one of the seven meets she's competed at this year.
How has she improved so dramatically from a freshman season that already placed in her elite territory?
"As far as leading up to the season, we did a lot of drills and worked on technique during the offseason," King said. "We would throw things inside and work on running. But overall our team just worked very hard to try and get faster and stronger both during fall track and winter. We lifted and worked out together and pushed each other to go heavier or faster."
That work should give King a chance to climb the national ladder in the javelin. Of the three competitors who finished higher at last year's outdoor national championships, two were seniors who have moved on and one is current Baker University senior Stephanie Nelson, who ranks second behind King with a mark of 160' 2."
But as King points out, anything can happen on a given day. The national championships are unpredictable and often come with plenty of surprises.
King likes to use a specific analogy.
"Competition can bring out the best in people, but it can also bring out the worst," King said. "My high school coach has this story about nerves and anticipation. He compared state or nationals with going to the big high school dance. The guy asks the girl to the dance. You're out on the dance floor. What are you going to do? Row the boat – the classic dance move that will always work, and anyone can do?"
The way things are going, King could go with the sprinkler, the lawn mower or even the dice move and it may not matter. She's that good.
If King and Lurz simply continue to produce the way they have all season, Concordia may just have its first individual national champions since Chris Tegtmeier won the 3,000 meter race walk at the 2011 indoor national championships.
The 'big dance' is set to take place May 22-24 at Mickey Miller Blackwell Stadium in Gulf Shores, Ala.