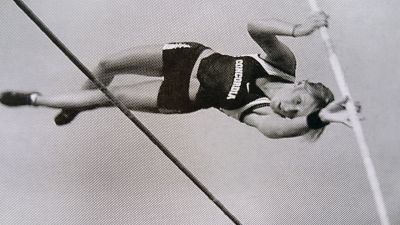 Stephanie Tietjen (maiden name Beberniss) made pole vaulting a thing for female athletes at Concordia. The 2003-04 Concordia female senior athlete of the year broke out as the school's first female superstar in an event that was just becoming popular among women in the early 2000s when Tietjen wore Bulldog blue.
"Stephanie and her teammate Katie Andreason were pioneers for women's pole vault at Concordia," said former Bulldog pole vault coach and five-time individual national champion Gene Brooks. "They were the foundation layers and they were so competitive. It was unreal. Stephanie is an awesome person. She's got this toughness and tenacity. She's just a strong person and that came out in the way she competed."
Tietjen and three other individuals were announced as Concordia Athletic Hall of Fame class of 2017 inductees in late June. It really was simply a matter of time before Tietjen made her way into the elite grouping. Tietjen remains the only female in school history to win a national title in the pole vault. She accomplished that feat in 2003 when she vaulted to national championships at both the indoor and outdoor meets. That same year she captured GPAC indoor and outdoor titles as part of an incredible run of success.
"I just feel humbled and honored by it," Tietjen said of her inclusion in the Hall of Fame. "I had great teammates and coaches back when I competed that made this possible. It's just a big honor."
A 2004 graduate, Tietjen didn't even begin pole vaulting until her junior year of high school. The Grand Island native committed late in the game, waiting until after state track as a high school senior to decide to attend Concordia. She chose Concordia after weighing options like Hastings and a walk-on opportunity at the University of Nebraska.
With the help of Brooks' coaching, Tietjen blossomed at Concordia. Her utter dominance in 2003 made her Hall of Fame selection inevitable. It was a legendary capsule in time that deserves its proper due.
"That was just pure domination," Brooks said. "I'm not sure that's ever been duplicated by any athlete here. In the pole vault, little things can throw you off. For her to be able to pull that off was really impressive."
Brooks likes to rehash the moments before Tietjen won her first national championship. She had been on this stage before, but the nerves seemed to be getting to her on that day. "I'm like, 'She's got to settle down,'" Brooks recalls. Overcome by jitters, Tietjen even vomited in a trash can before vaulting in Johnson City, Tenn. "It's over. She's done," Brooks thought. When the competition began, she snapped into focus, jumped a school record 12' 6" and took the title.
"2003 was a little bit of a whirlwind for me," Tietjen said. "It was a shock. The indoor meet was kind of a bummer. I did well, but I had a couple teammates that no-heighted. They were neck-and-neck with me and really pushed me. Winning the national championship was awesome because I didn't expect it. I went in with one of the top heights, but I know there were some other women up there. Pole vault is unpredictable. Anything can happen."
To truly appreciate the level that Tietjen ascended to requires some perspective. Ironically, Tietjen's former school records have been broken by Gene's daughter Allie Brooks. However, Tietjen's competitive greatness was especially impressive when comparing her to other female pole vaulters of the early 2000s. After funneling most of her athletic energy into gymnastics in her youth, Tietjen made an incredibly smooth transition. Jumping over 12 feet placed Tietjen among the very best women's pole vaulters at any level of collegiate athletics.
"To have gone 12-6 in 2003 was big time," Brooks said. "That was Division I level. Because the sport was so new to women, going 12-6 then is about the equivalent of going 14-6 today, I would say."
Tietjen's lasting legacy is more than just about athletics. Concordia served as a venue for her to "come into her faith." It's the place where she met her future husband Eric, then a member of the football team, and soaked up life lessons from Brooks and many others.
"That was huge for me," Tietjen said. "Gene was like my dad away from home. We spent a lot of time and a lot of hours practicing. I don't think it was until I had a family that I fully appreciated his sacrifices as a mentor and coach for young people. We had numerous conversations about faith. I'll never forget them."
Those conversations helped build up Tietjen, who became a big winner in the pole vault and in life. Mental toughness and intense training hours allowed her to develop into a champion.
"You spend the time with them and you know the sacrifices they make," Brooks said. "There are countless repetitions and drills and countless setbacks, heartbreaks, failures and disappointments. To continue on and for it to end in a way like it did for Stephanie – it's the best. It's so, so thrilling."
A trailblazer for Concordia women's pole vault, Tietjen becomes even more admirable when considering how well she puts aspects of life into their proper perspective.
Says Tietjen, "Though the awards were big honors, that's not what I remember. It's the people and the relationships that were formed. It was influential in the rest of my life."