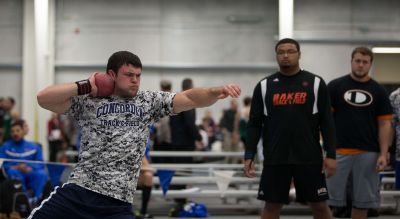 Concordia hosts GPAC indoor track championships Friday and Saturday
SEWARD, Neb. – For the first time ever, the Concordia University track and field program will host the complete GPAC indoor track and field championships when the 2015 conference meet gets underway Friday afternoon with multi events in the Walz Fieldhouse. Head coach Kregg Einspahr's nationally-ranked squads both placed inside the top two at last year's indoor championships hosted by rival Doane. The Bulldog men are the defending GPAC champs.
The Concordia Sports Network will produce a live stream during the entirety of the meet. Due to the positioning of webcast equipment, some events will be featured more prominently than others. For the schedule of events, click HERE.
With a meet that features 11 combined men's and women's teams ranked in the U.S. Track and Field and Cross Country Coaches Association NAIA computer rankings, the GPAC championships will again display some of the finest athletes in the nation. According to the USTFCCCA ratings, the GPAC is the top men's NAIA track and field conference in the nation and the second best on the women's side.
Nationally-ranked GPAC teams
*According to USTFCCCA computer rankings released on Feb. 18
MEN
No. 2 Doane
No. 4 Concordia
No. 9 Briar Cliff
No. 13 Northwestern
No. 16 Morningside
WOMEN
No. 2 Doane
No. 7 Concordia
No. 14 Hastings
No. 19 Northwestern
No. 21 Nebraska Wesleyan (NCAA DIII)
No. 24 Dordt
"There's more depth than there ever has been," Einspahr said. "Overall the conference has improved top to bottom. We've always had one to three teams that could finish in the top 25 at the national championships. Right now I think there's probably five or six. The overall quality of the conference has improved. Again, I would contend that this may be the top small college track and field conference in the country."
Concordia would love a repeat of last season when it produced 46 all-conference athletes at the GPAC indoor meet. A pair of individuals will attempt to defend conference titles won in 2014: Jaap van Gaalen (600 meter run) and Kim Wood (1,000 meter and one mile runs). The Bulldog men's 4x400 meter relay also took the top spot a year ago. In addition, returnees CJ Muller and Ben Sievert both earned all-conference recognition in three different events in 2014.
Concordia enters the GPAC championships with a total of 22 marks that rank within the top four amongst conference competitors:
No. 1
Zach Lurz – shot put (56' 3 ¼")
Kali Robb – weight throw (60' 5")
Cassie Starks – pole vault (12' 5 ½")
Kim Wood – 800 meters (2:12.55)
Kim Wood – 1 mile (5:04.88)
No. 2
Kali Robb – shot put (47' 5")
Lucas Wiechman – heptathlon (4,932 points)
Kim Wood – 600 meters (1:35.98)
Kim Wood – 1,000 meters (2:59.00)
No. 3
Men's 4x400 meter relay (3:21.24)
Stephanie Coley – shot put (46' 8")
Stephanie Coley – weight throw (57' 11")
Cynthia Mick – pole vault (11' 10 ¾")
Josh Slechta – weight throw (58' 11 ½")
Lucas Wiechman – pole vault (15' 11")
No. 4
Trey Farmer – shot put (52' 7 ¼")
Zach Lurz – weight throw (56' 4 ¾")
Brandon Ramos – 60 meter hurdles (8.43)
Brandon Ramos – heptathlon (4,752 points)
Ben Sievert – 5,000 meters (15:43.85)
Emily Sievert – 3,000 meters (10:33.56)
Emily Sievert – 5,000 meters (18:15.81)
Wood ranks first or second among GPAC athletes in four events. Meanwhile, Zach Lurz leads not just conference, but the entire nation in the shot put (56' 3 ¼"). Seven of Concordia's top-four GPAC marks come from its talented crew of throwers led by the likes of Lurz and reigning GPAC women's field athlete of the week Kali Robb, who broke the program indoor shot put record at the Concordia Indoor Invite.
With star power at the top, and depth on both sides, Einspahr expects his teams will again position themselves among the GPAC's elite.
"I think we'll be in the hunt for the top three spots, men and women," Einspahr said. "Being at home will be an advantage. We have some areas on the men's side where we can probably score more points than what we're projected. We'll see how that plays out.
"Doane is probably the favorite for men and women, but it will be interesting to see how teams respond on our track and in our field. It's a different ballgame than if other teams were at home or at the Devaney Center. I think that's an advantage for us."
Other than an obvious strength in the throws, the Bulldogs boast two of the GPAC's top three women's pole vaulters in Cassie Starks (first) and Cynthia Mick (third) – both of whom have already qualified for the national championships. Starks' new personal best at last week's Concordia Invite is just a half-inch short of the school record.
On the men's side, Concordia has a pair of standout heptathletes in Brandon Ramos and Lucas Weichman. They own excellent marks in the pole vault and provide the potential for points across multiple events. In addition, Einspahr sees the possibility for athletes such as Muller and van Gaalen to outperform their current conference standings. Einspahr calls both "tremendous competitors."
For Wood, Concordia's leader in number of automatic national qualifying marks, the question is how much of a workload she can handle.
"She's a year further along and a better runner this year than she was last year," Einspahr said. "She has more confidence and is further along in her foot speed and fitness and is just an overall stronger runner."
Last year's GPAC indoor title for the Concordia men broke a run of seven-straight conference championships for Doane. Since 2009, the Bulldog men have four runner-up finishes and one GPAC title. On the other hand, the Concordia women last won the indoor conference championship in 2010. They placed second in 2009 and 2014. The Doane women have won the last four GPAC indoor titles.