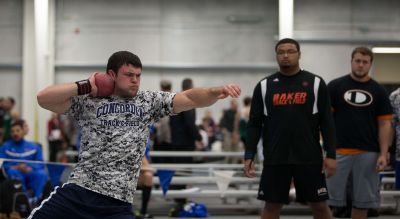 Concordia Classic produces more automatic national marks
By Taylor Mueller, Athletic Communications Assistant
It was a busy, exciting and action packed day in the Bulldog Fieldhouse as Saturday concluded Concordia's first home indoor meet. There was no shortage of exceptional performances as nine more Bulldogs hit national qualifying marks in a total of 10 events.
"We had a very good meet this weekend," head coach Kregg Einspahr said. "I thought that overall, we competed very well."
Junior Kim Wood headlined a list of four Bulldog women who punched their tickets to the national meet. Wood raced to a first place finish in the mile run with a time of 5:07 and a second place finish in the 1000 meter run in 2:59. Both of these feats were automatic qualifying times.
Junior Cynthia Mick will join Wood in Geneva, OH as she cleared 11'05" in the pole vault competition to claim fourth place. In the throwing ring, juniors Stephanie Coley and Kattie Cleveland hit qualifying marks as well in the weight throw with tosses of 57'01 1/2" and 54'09 1/2 that were good for second and fifth place respectively.
Several other Bulldog athletes had notable performances as well, a couple of whom are on the cusp of hitting national qualifying marks.
Senior Cassie Starks continued her phenomenal season with a clearance of 11'10 3/4" in the pole vault which landed her in a three-way tie for first. Sophomore Randi Janzen took third in the 600 meter run with a time of 1:40 while freshman standout Emily Sievert missed qualifying for the national meet in the 3000 meter run with her time of 10:33, just three seconds off the "A" standard.
The 4x400 meter relay team of sophomores Marielle Plunk, Christy Beune, Marti Vlasin and Randi Janzen took third in 4:04 while junior Katelyn Shoup flew through the sand pit to finish third in the triple jump with a landing that marked 35'09." Back in the ring, sophomore Kali Robb continued to build her exceptional season with a toss of 46'00 3/4" in the shot put, taking second place.
The men had a few solid performances of their own.
Racing for the first time this season, and seemingly not having missed a beat, senior Ben Sievert gutted his way to a third place finish in the 3000 meter run with a time of 8:49.
"We got Ben Sievert on track," Einspahr said. "He really had a surprisingly good race today. He's coming off some sore Achilles from after cross country so it was great to see him getting going."
Sophomore CJ Muller and junior Jaap Van Gaalen went 1-2 in the 600 meter run, dashing to final times of 3:22 respectively. Senior Tai Pleasant placed third in the 400 meter run with a time of 50.44 and then joined up with Van Gaalen and Muller as well as senior Matt Chapa to take second in the highly anticipated 4x400 meter relay. The four man squad missed the national qualifying mark by one second with their time of 3:22.
In the ring, the men took three of the top four places in the shot put competition, as sophomore Zach Lurz took first with his toss of 55'02 1/4." Senior Trey Farmer and junior Jose Rojas tacked their names onto the national qualifying travel list with throws of 52'07 1/4" and 51'09" that earned them third and fourth place respectively.
Each of Concordia's male heptathlon athletes qualified for national in the event as well. Sophomore Lucas Wiechman finished in second place with 4932 points, followed by senior Brandon Ramos who took fourth with 4752 points and sophomore Brandon Cook who finished in sixth with 4517 points.
"In the heptathlon, Lucas Wiechman had a really excellent two days," Einspahr said. "He looks like he's on track to get to the national meet and compete for All-American honors."
After the meet, Einspahr expressed gratitude for the help that the program received in putting on the meet.
"We had a very big meet today and we really want to thank all of our volunteer workers," Einspahr said. "They did a tremendous job. It takes anywhere from 40-60 volunteers to help run a big meet like this off. We certainly appreciate all the help we had from our student athletes that pitched in where they were needed."