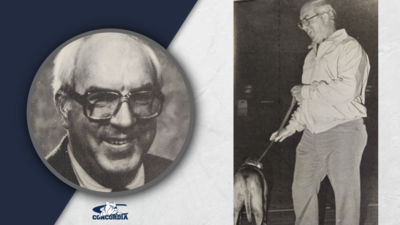 When John Knight arrived in Seward in 1978, he was tasked with making lemonade. The only problem? He didn't have any lemons. In those days, the athletic facilities at Concordia were merely a shell of what Bulldog athletes enjoy in the present day.
With only a cinder track (not suitable for hosting meets) and no dedicated indoor facilities, Coach Knight went to work building up the Concordia Cross Country and Track & Field programs. It took plenty of creativity for the Valparaiso University graduate and former coach at Linfield College (Oregon).
As Knight recalled, "We wound up getting the local high school to allow us to use their track for workouts. We did a lot of running on streets in Seward. Gosh, it was terrible, but our kids survived and did a good job. They built a reputation for our program and all of the sudden we had people coming that were incredible athletes."
Indeed, Knight helped change the culture and his dogged persistence eventually pushed Concordia to upgrade and modernize its facilities. From 1978 through 1989, Knight coached some of the very best athletes in the history of the school: eight-time national champion Carol Bailey, six-time national champion Kregg Einspahr, five-time national champion Gene Brooks and three-time national champion Patrick Gellens, to name a few. Bailey won NAIA titles in the 100 and 200 meters at the 1989 outdoor national championships and led the Bulldogs to a second-place team finish.
Quite simply, Knight brought credibility to Concordia. Not only did he convince top-flight athletes to attend an institution with limited facilities, he served roles such as President of the NAIA Track & Field Coaches Association and U.S. Olympic Development Committee member. Knight was also selected to serve as a coach and manager for four USA national teams. His many connections and professional relationships served Einspahr well as he burst onto the national scene and became one of the top steeplechasers in the entire country.
The recruitment of Einspahr stands out as a watershed moment for Knight and the program. Despite his parents and two older brothers having picked Concordia, Kregg felt the pull of a school closer to home out in the pacific northwest. He wanted to go somewhere that supported its track and cross country programs. A native of Portland, Ore., Kregg had actually enrolled in classes at Pacific Lutheran University in Tacoma, Washington. At the very last minute, Kregg had a change of heart after Knight had taken the Concordia head coaching job late in the summer of '78. Coincidentally, Knight was in the process of moving his family from Oregon to Nebraska. John and his wife Susanna had recently watched Kregg play in Oregon's shrine all-star football game.
"Somehow John got ahold of me in Baker, Oregon," Einspahr said. "I remember talking to him at a phone booth outside the campus center at Eastern Oregon State University. I really liked what he had to say. He had big ideas and I bought into that. He was very motivational. We worked together really well down the road."
A well-rounded athlete, Einspahr initially played football at Concordia (under head coach Larry Oetting) before suffering a hit that put him in the hospital for two weeks with a bleeding kidney. At that point, Einspahr made the decision to focus on his running. It was a good choice for someone who would go on to compete at three separate Olympic Trials and would travel the country, testing himself in some of the most significant meets held in the United States. As Knight says, "He's probably the finest athlete we've ever had at Concordia. He drilled everybody in our conference … I had a little bit to do with (him coming to Concordia)."
As John's wife Susanna stated, "Because of Kregg's success, John was able to recruit other kids to come." Suddenly, Concordia was on the map and Knight began crisscrossing the globe as an Olympic coach and a mover and shaker within the world of track and field. Knight's travels introduced him to Patrick Gellens in the mid-1980s. Knight had been given permission by Concordia administration to accompany the U.S. National Team to France.
As John explained, "I went to France with the U.S. team and I met a kid over there who came up to me at lunch. His name was Patrick Gellens. He asked, 'Is it possible to go to school in your country?' And I said, 'Do you have any money?' He said, 'Well, I don't but my dad George does.' As it turned out, Patrick came to Concordia and did very well as an athlete and as a student. He was a national champion in the pole vault and the decathlon. He was quite an athlete."
Not only a three-time NAIA national champion, Gellens won Drake Relays and World University Games decathlon competitions and continues to own the Concordia school record in the decathlon with a point total of 7,699 (achieved at the 1985 Drake Relays). Gellens went on to become a French National Team coach following his days as a Bulldog.
The success came as Knight oversaw what Einspahr likes to refer to as "adaptive track and field." There were ways for runners to train by hitting trails around town, but things weren't so easy for other athletes, especially during the cold Nebraska winters. In the mid-1980s, Knight wanted to get pole vaulting off the ground at Concordia. He managed to secure a donation of $5,000 from Seward Motor Freight, which was operated by Wayne Tanderup. That money went towards pole vault poles and paved the way for Patrick Gellens and Gene Brooks in the coming years.
Coming from the panhandle of Texas, Brooks may have had eyes for nearby Abilene Christian University (where he attended vaulting camps), but he took a chance on Knight and Concordia. While pushed by teammate Don Kitzmann, Brooks developed into a school record 18-foot vaulter and NAIA national champion. Without the commitment of Knight to the event – and the arrival of Brooks – the pole vault wouldn't be what it is today at Concordia.
About that same time, Carol Bailey landed at Concordia thanks to a connection back in her home country of Jamaica. Knight picked Bailey up from the airport in Lincoln, Nebraska, the very first time Bailey had ever stepped foot in Nebraska. As Bailey said of that experience, "It wasn't hard for Coach Knight to pick me out. I went from St. Louis to Lincoln to Seward. I remember getting to Seward and thinking, 'When are we going to get to town?'"
Bailey accomplished an astounding feat in winning four 100-meter outdoor national titles in a row at Concordia. In addition to winning eight total individual national titles, Bailey claimed 22 All-America awards. Her efforts would lead to induction into the NAIA Hall of Fame. Said Knight, "She showed up and started winning all kinds of national championships. She made me famous as well. She made me look like one heck of a coach."
Standard for the time, Knight wore many hats. As part of his tenure at Concordia, Knight also served as Athletics Director and Dean of Students. He joked that it was what allowed his family, including children Jennifer and Lawson, to eat. While Knight emerged as an important figure in Concordia's athletics history, his wife Susanna opened and operated the Second Closet, a clothing store in downtown Seward. Though John and his wife have since retired back in Oregon, they still find opportunities to return to Seward and relive some of their best memories.
"All kinds of people are thrilled to have had the opportunity to be at that institution – academically and everything about it is awesome," John said. "We were very happy to be there and have our children going to school across the street. Our children love Seward."
Knight left Concordia in 1989. Soon after, much-needed upgrades came in the form of a stadium and outdoor track. The impact of Knight lived on as Einspahr became head coach of the cross country and track programs in 1992. Like Knight, Einspahr would also campaign for facility enhancements, particularly an indoor track (which came to fruition in 2010). Einspahr remains grateful for how Knight helped open doors for him. Einspahr went from accepting a $300 football scholarship at Concordia to making waves on the national landscape.
Said Einspahr, "John did a very good job with limited resources in terms of scholarships and facilities. There wasn't a winning culture at that time. He did a great job in bringing some great athletes here and making things work with our facilities. I think we might have had one home meet in the four years I was here. John was also a tremendous facilitator in opening doors for me as a small college athlete. He got me into a big meet in Wichita after my sophomore year that allowed me to qualify for the Olympic trials."
Like a magician, Knight pulled rabbits out of his hat. Knight was a trailblazer for Concordia athletics, pushing and prodding to make it the big time. Even when he faced opposition or long odds, he never wavered. As Susie Knight said, "What was really incredible is he was able to build a track program with no track."
"Things happened and things got done," John Knight said. "People started to support athletics and build facilities for athletics. I'm very proud of my time there and the opportunity I had and the people I got to meet and coach. There are people who own school records that will last for a lifetime and I'm very proud to have been their coach."