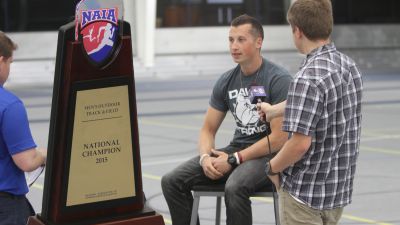 There had been many close calls and a series of national runner-up claims made by Concordia athletic teams in a variety of sports. On the morning of May 23, 2015, members of the Concordia men's track and field squad had positioned itself for its own run at a national championship. Zach Lurz and the throwers had done plenty of heavy lifting that weekend in Gulf Shores, Ala., but it all came down to the very last event – the 4x400 meter relay.
A sophomore at the time, CJ Muller and his 4x4 teammates knew what had to be done to win the title. They had to stave off a fleet-footed Indiana Tech group or this would be the latest example of a Bulldog team falling just short of the ultimate prize.
"Coach (Mark) Samuels had given us a rundown of what we needed to do (to win the title) and we knew it was a tall order," Muller said via a phone interview on May 18. "We had to beat Indiana Tech and when I got the baton Indiana Tech was way in front. On that back stretch when we ended up passing them, it was pretty surreal. I didn't believe it was happening. When we crossed the finish line, (former athletic trainer) Stay (Dahlkoetter) greeted me. I was like, 'Did we just win?' She shook her head and said, 'Yes.' Still I was in disbelief."
In a dramatic turn of events, Indiana Tech's anchor leg had pulled up with an apparent injury. It allowed Muller to easily stride past him. The Bulldogs placed sixth in the 4x4 with Indiana Tech having to settle for eighth. With all events in the books, the final team scoring looked like this:
1. Concordia – 59 points
2. Indiana Tech – 55
3. Wayland Baptist – 55
4. Oklahoma Baptist – 53
In a remarkably tight race at the top, Concordia had caught a break it never had in the past and capitalized. This was the first-ever team national championship in Bulldog athletics history. Said then head coach Kregg Einspahr afterwards, "I think for anybody who's been coaching for a long time, it's an unspoken dream that you'd like to win a national championship. It's always something in the back of your mind you'd like to accomplish. You never know if you are going to have the guns to do it."
It's only been five years, so the memories are still quite vivid for Muller, who has held onto the baton used in that title-clinching race. He remembers how that 24-hour bus ride back home to Seward was made much more enjoyable by the circumstances of that weekend. The team celebrated in muggy Gulf Shores by tossing each of its coaches into the steeplechase pit.
The first domino had fallen in a watershed moment. A year later, the women's track and field team captured a national title and women's basketball followed suit in 2019.
"It's a great sense of accomplishment and definitely school pride," Muller said. "We won the national championship in 2015 and the girls won in '16. It just started this whole thing of putting Concordia athletics on the national stage. With the girls (basketball team) winning last year, it just adds to the momentum that we started. Seeing that red banner hung in the Fieldhouse is definitely a great sense of pride and accomplishment."
Everything seemed to break right. Lurz in particular put together an incredible meet in which he placed as the national runner up in three separate events. Cody Boellstorff won the national title in the hammer throw and Lucas Wiechman turned in place finishes of second in the decathlon and third in the pole vault. Muller was joined on the 4x4 by Tai Pleasant, Jaap van Gaalen and Matthew Chapa.
It's easy to tell from Muller's enthusiastic tone, this was a moment he doesn't get tired of reliving. He has no problem admitting he's watched the 4x4 race many, many times. In the official NAIA broadcast of the race, the play-by-play announcer is heard stating, "Oh, no. Indiana Tech – it looks like their anchor leg pulled a hamstring."
So how many times has Muller actually re-watched this occurrence play out? "I've watched that race more than I can count," Muller joked. "Watching the finish obviously when we win is exciting. So is watching our teammates and coaches. Coach Ed (McLaughlin) just runs down to the fence cheering us on. I'm so thankful for that video because those moments are priceless – just to be able to re-watch that and someday show my kids. It'll be something we can cherish forever."
CJ's now wife Kim (Wood) Muller experienced the same type of euphoria a year later when the women's track team seized its own big red banner. As far as college athletic experiences go, it's hard to top that. It's the type of fairytale that dreams are made of.
Muller and his teammates lived it. The gravity of what was accomplished didn't sink in until months later. "I think it finally sunk in when we had the ceremony and got our rings. It was like, 'Wow, this is the real deal. We got our national championship rings.' When we got the banner hung it the field house, it was awesome as well."
Muller proudly wore his national championship ring when he graduated from PA school. Five years ago, Muller and company helped change the game at Concordia and prove that no achievement is out of reach. The 2015 men's track and field team will forever hold down a special place in the history of Concordia University.
Not long after being crowned a champion, Einspahr remarked, "I certainly did not project that we would have the lead going into the 4x4. Going into the meet I didn't think that we had much chance of winning the national title. We had a lot of things go our way. I have to give credit to our kids. They really had a good meet. It's a dream come true for myself, our coaches and our athletes."
2015 men's track & field outdoor national qualifiers
*All-American
Trey Barnes
*Cody Boellstorff
Brock Braniff
Matthew Chapa
*Brandon Cook
*Trey Farmer
Philip Kreutzer
*Zach Lurz (Most Valuable Performer of the Meet)
*CJ Muller
*Tai Pleasant
*Brandon Ramos
Jose Rojas
*Josh Slechta
*Jaap van Gaalen
*Lucas Wiechman
Coaches: Kregg Einspahr, Ed McLaughlin, Mark Samuels, Jason Berry, Nick Mann, Craig Saalfeld