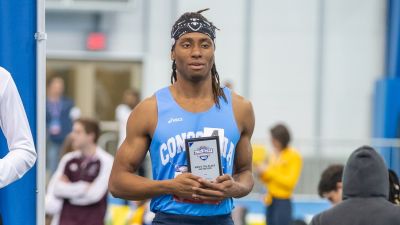 When Matt Beisel was named head coach of the Concordia University Track & Field and Cross Country programs in June 2016, he remembered a certain young, talented athlete he had coached in the Chicago area. Among the first potential recruits to be contacted by Beisel, Xavier Ross quickly began to learn about Concordia University, Nebraska.
As it turned out, there was a lot to like. Multiple visits to Concordia made a positive impression upon Ross, then a National Honor Society student at Timothy Christian High School.
"It is a long story," Ross said of what brought him to Concordia. "It goes back to middle school. Coach Beisel was my middle school track coach my eighth grade year. He taught me a lot of basics. It was about sophomore year (of high school) and he called me out of the blue one day and wanted me to come up for a visit. I came up here for a couple days, toured around and met the coaches and everything. I came up for two more visits and I noticed there was a lot of good people here and it was a place I could call home. I then made my decision to sign on."
In the time since then, the native of Melrose Park, Ill., has become a highly respected member of the Bulldogs. The man they call "X" was voted a team captain following his breakthrough 2020 indoor season. X rose to All-America status in the 400 meters while climbing up the program's all-time list in that event. At the 2020 NAIA indoor national championship meet, Ross flew around the track and finished the preliminary 400 meter race in 48.62 seconds. That put him at No. 3 in the program's indoor 400 meter record book.
Beisel may have had an idea that some of this was possible, having coached Ross years earlier. Formerly the head coach at Concordia University, Chicago, Beisel knew the landscape in Chicagoland. Beisel's children had previously attended Immanuel Lutheran Elementary School, the same school Xavier and his younger sister also attended.
"I got to know their family really well," Beisel said. "Xavier was a great sprinter and also a pretty good cross country runner for eighth grade. He went to the state junior high meet and placed in four events. He's a special kid. Fast forward to his junior year of high school. I took the position here and was like, 'Hey, would you be interested?' The rest was up to God. This was the right place for him. Xavier came and he's been a huge asset to us."
Just halfway through his college career, Ross may be scratching the surface of what he's capable of. X showed he could bounce back from a disappointment in 2020, as he did after placing seventh in the GPAC in the 400 meters. He regrouped and ran the aforementioned personal best time at the national meet. For the first time, Ross could call himself an All-American. "I just felt happiness," he said in recalling that moment.
There are still plenty of carrots out there for Ross to track down. He didn't hesitate when asked what has kept him motivated to train hard after earning an All-America award. Said Ross, "My goal is to break Coach Samuels' indoor 400 record. That is what I am motivated for and gunning for."
X says that a grueling fall training period has helped him get back in tip-top shape after having to get creative over the summer months. Ross took it upon himself to put the work in and ensure he would be ready this winter to take another step forward.
"Everything closed down (in Chicago)," Ross said. "So I would just go out for runs, jogs and do a lot of calisthenics. A lot of my buddies on our track team had gyms at home but for those of us who did not have access, it was just grinding it out ourselves. It was tough being from a bigger city like myself where we were not allowed to go outside most of the time because of COVID. I took that time to really get my body and my mind right."
Not only was Ross a 2020 All-American, he has competed as part of 4x400 meter relay squads at national championship meets three separate times. The biology major owns personal collegiate bests of 48.62 in the 400 meters, 7.37 in the 60 meters and 22.54 in the 200 meters. He has been an all-conference performer three times in the 400.
Ross is honored to be named a captain, a role he takes seriously. There's a lot to learn from the example that X sets. Already one of the top 400 meter runners in school history, Ross plans to be a key piece of a men's team hopeful of competing for GPAC titles like the women have done in recent years. The lack of a 2020 outdoor season has made him especially appreciative of the opportunity coming up this winter.
"It has really made me thankful," said Ross of the layoff. "I was devastated at first. At least we had half our season, but we were really excited about making it to nationals in Gulf Shores. We had a good squad and I was excited to go down there with our new group of freshmen. Not having that really put a damper on my spirits. It has given me a new appreciation for the season because you do not know when it will be taken away from you.
"Competition is my lifeline. I need it."