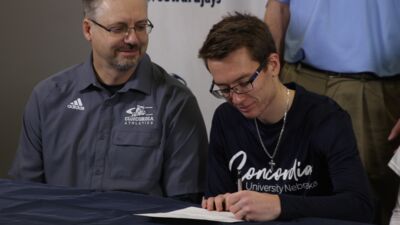 There Chase Berry grinned inside the library of Seward High School early on the morning of Dec. 6. Just after officially announcing his decision to pole vault at Concordia, he posed for a photo with two distinguished vaulters in the program's history. To Chase's right stood his father Jason, a three-time conference champion and current Bulldog pole vault coach. To his left stood Gene Brooks, a five-time national champion.
That brief moment was symbolic of the type of expectations that will follow the Seward High senior when he begins his college career. As a teenager, Chase has already had a lot thrown at him, an example being the time he suffered a skull fracture while pole vaulting in the summer of 2017.
"That was definitely rough," Chase said. "It took quite a while to come back and even then the number of jumps I would take was very limited because of the vertigo I had. If I took too many jumps the room would be spinning. I would be walking sideways I was so dizzy. I progressively started getting better. It's now finally this year that I'm not dizzy at all. It might come back and it might not. You never really know about that kind of thing."
Chase's resilience in the face of such circumstances seems to uniquely equip him to handle the expectations that soared when he won a Nebraska state pole vault championship as a high school sophomore. Considering his exploits athletically, his character and his mark of excellence as a student, Chase could have pursued a many number of collegiate options.
None of the options outside of 800 North Columbia Avenue felt like home. He could have been mesmerized by the pull of NCAA Division I, but he came to realize that everything he ever wanted was right here in his hometown. He did not need to go D-I to test his abilities against elite competition. He will get that chance at Concordia, plus so much more.
Says Chase, "I visited USD in South Dakota and thought about visiting down in Kansas City just to see where other top pole vault schools are at right now. Those places are nice, but I always had it in the back of my head the whole time that I was going to go to Concordia. I like the atmosphere and the size and the Christ-centered aspect is huge for me."
It will be a family affair for the Berrys. Chase's older brother Dalton is now a sophomore pole vaulter for the Bulldogs. Their continued close proximity means the friendly brotherly competition will carry on during practices sessions and meets inside the Fieldhouse, Bulldog Stadium, in venues like the University of Nebraska's Devaney Center and hopefully one day, at the NAIA national championships.
Wherever the journey takes him, Chase will carry with him the perspective that few athletes of his age possess. He's forever changed after the accident that occurred at the Cornhusker State Games in July 2017.
As his father explained in writing, "His pole stalled and got caught in the box collar. The pole re-bent and thrust him backwards. He hit the back of his head on concrete. This is where his life changed. Skull fracture. Internal bleeding. Shallow breathing. Unconscious and unresponsive. As his dad and his coach, I held his bleeding head asking God to bring him back. At that moment, his eyes moved and his breathing became regular."
In a stroke of good fortune, Chase's resulting internal bleeding went into his sinus cavity instead of his brain cavity. He avoided severe brain damage, but the road to recovery was just beginning. Jason says that Chase's faith grew during this time. His determination also became stronger. He knew he was going to pole vault again. He would get over the fear and the inevitable flashbacks to the Cornhusker State Games.
As Chase worded it, "God puts the best things in life on the other side of fear."
Coming off the life-altering accident, Chase returned to the state championships in 2018. He placed fourth, which will likely have him motivated for the next state meet. But the accomplishment is plenty remarkable considering his situation.
Whether looking at it as either a father or coach, Jason was plenty proud to see Chase pledge to Concordia. Jason wanted what was best for Chase. They went on recruiting visits together. Now here they are, giddy over the prospects of what the next several years have to offer. Chase will be counted upon to help lift up a blossoming Bulldog pole vault crew.
"During the process I took the coach's hat off to make sure I wore the dad's hat and tried not to influence the decision," Jason said. "It needed to be his decision. It's rare for a kid to voluntarily want to come compete for their dad. Most kids want to leave. When he let me know, it was one of those weight-off-your-chest kind of things. I think there was a high-five and a big hug involved."
The potential for Chase is tantalizing. He enters his senior season as one of the top 20 high school vaulters in the nation. His personal best stands at 15' 9." That would already qualify him for the NAIA national championships. The scary thing is that he's just scratching the surface. Even his father seems unafraid of uttering the word "national champion" when surveying his future. He's come a long way since the youngster who, while tagging along to practice with his dad, wielded a makeshift 6-foot pole.
In addressing the expectations, Chase remarked, "I just keep focusing on my training. I'm going to keep pushing myself. There's not much I can do besides keep pushing myself and striving for my goals."
Whatever the stakes, Chase has reason to believe no moment to be too big. He'll remind himself, "God puts the best things in life on the other side of fear."