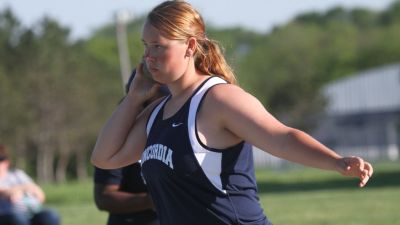 SEWARD, Neb. – The Twilight Meet returned after a year hiatus in 2016. The typically annual event took place Friday both inside and to the east of Bulldog Stadium with athletes representing 14 different institutions making up the field. As part of the highlights for the top 10 nationally-ranked Concordia University track and field squads, two throwers put forth new automatic qualifying marks and seven different athletes claimed event titles (counting events with five or more competitors).
The meet put a cap on another solid lead in to the outdoor national championships. For some Bulldog stars such as Kali Robb and Lucas Wiechman, this weekend was about resting up for the grand event that will soon arrive.
"With a meet like this you want to see if you can get more kids into nationals with an 'A' standard, which we did and we wanted to get an idea of where our 800 marks were," Beisel said. "We got some good information on that. We wanted to run off a meet for us and other teams that would be favorable to getting good marks and getting people into nationals. I think some other teams got that job done, too.
"It was a good meet. Now we just prepare for nationals and see what we can do."
In the loaded women's hammer division 2 competition, Samantha Liermann turned in a fresh automatic mark with a toss of 165' 1." Concordia's impressive throws group also now has seven women qualified for nationals in the discus after sophomore Carley Skopera came through with a mark of 144' 3" in an event won by teammate Bethany Shaw (153' 8"). Shaw's mark represented a personal best by nearly seven feet.
That wasn't it for female throwers. Liermann and Addie Shaw went off in the shot put. Liermann rose to No. 1 in the nation in the event with her mark of 49' 1" at the Twilight Meet. Shaw now ranks sixth at 47' 1.75." Both tosses were personal bests in performances that have become the norm for Bulldog throwers.
Sophomores Allie Brooks and McKenzie Gravo have put on a show all season long in the pole vault. Competing on a runway and pit placed in the center of Bulldog Stadium, they held down the top two spots in the event. Brooks went over 12' 5 ½" and came close on attempts at 13' 1." Gravo was the runner up with a clearance of 12' 1 ½." Freshman Tristen Mosier continues to come along. She hit the 'B' mark (11' 5 ¾") once again.
The day ended with a pair of wins in the 800 meter races. In his lone event of the day, senior CJ Muller clocked in first in the 800 in a time of 1:53.02. Muller has already secured a spot in the national championships in the event. Muller was one of five Concordia men to crack two minutes in the 800 (Josiah McAllister and Nathan Matters placed fifth and sixth, respectively, in the event). Right before Muller took the track, senior Marti Vlasin won the women's 800 by finishing in 2:20.44.
Senior Zach Lurz was narrowly beat out in the shot put Division 2 competition despite throwing a season best 58' 9 ¼." Lurz also placed first in discus (172' 11"). Lurz and teammate Cody Boellstorff gave the hammer throw a break.
An event not often seen at area track meets took place on Friday. Three runners finished the 5,000 meter race walk, including two from Concordia – Cameron Moes and Robbie Peterson. The race walk is not held at the GPAC championships but the event is an annual part of the outdoor national championships.
Thirteen days remain before the 2017 NAIA Outdoor Track and Field National Championships (May 25-27) get underway at Mickey Miller Blackwell Stadium in Gulf Shores, Ala.
Twilight winners (events with 5+ competitors)
Allie Brooks (pole vault)
Jazzy Eickhoff (shot put – Division I)
Zach Lurz (discus – Division 2)
CJ Muller (800 meters)
Bethany Shaw (discus – Division I)
Carley Skopera (hammer – Division I)
Marti Vlasin (800 meters)