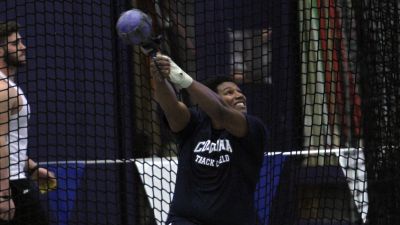 SEWARD, Neb. – While enjoying their first opportunity of the new year to compete in front of the home crowd, the Concordia University track and field squads took advantage by claiming 11 victories on Friday night (Jan. 19). A winner in the weight throw, sophomore Jacob Cornelio broke loose with a national qualifying mark as one of the day's highlight performances. Cornelio and company went up against competitors from three other schools: Friends University, MidAmerica Nazarene University and Sterling College.
This marked the second time out for head coach Matt Beisel's teams, which also took part in last week's Scott Nisely Memorial Classic at Doane. Through two weeks of indoor action, the Bulldogs have produced a total of six automatic national qualifying marks. McKenzie Gravo (pole vault) and Johanna Ragland (shot put) joined Cornelio with fresh 'A' standard performances.
"Almost everybody had improvements and some of them were pretty amazing improvements," Beisel said. "Others showed they had made progress mentally and physically in the last week. We ended up knocking off a few more national qualifiers and improved our times for conference seed marks. It was overall a nice day."
An outdoor national qualifier last season in the hammer throw, Cornelio is just beginning to realize his vast potential. The native of Elk Grove, Calif., Cornelio ensured himself a spot in the 2018 indoor national championships with his toss of 56' 6 ½" in the weight throw. He won the event by nearly five feet.
"It feels really good," Cornelio said. "Last year I was three feet off. It feels really good to have made it (to nationals) early on this year. Now I have more to reach for. The next step is 60 (feet). Right after I hit it, I was like, 'All right, the next one is 60.'"
Through two meets, junior Samantha Liermann has stolen the show. She again eclipsed two national qualifying marks while boosting her already top-ranked NAIA measurement in the shot put. She checked in at 46' 10 ¼" in her latest effort, barely holding off teammate Adrianna Shaw (46' 4 ¾"). Bulldogs landed in each of the top five spots in the women's shot put. Ragland ended up third with her automatic mark of 44' 3 ½."
It was simply a matter of time before Gravo qualified for nationals in the pole vault. She finished runner up in the event, vaulting 11' 6 ½." Gravo also produced a long jump of 17' 4 ¾" to beat out a field of 14 in the event. Also in the pole vault, the likes of Simon Brummond (14' 7 ¼"), Tristen Mosier (10' 10 ¾") and Tyrell Reichert (14' 7 ¼") were within striking distance of qualifying for nationals.
On the track, Beisel was happy to see the return of junior Taylor Grove, who sat out during cross country season. She won the 5,000 meter race by clocking in at 19:20.89, more than 25 seconds better than the next best competitor. Said Beisel, "That is proof that she is definitely on the comeback. She is getting back and we're so excited about that."
Seward High School product Mika Brees ran both the 60 (8.07) and 200 meter dashes (26.75), turning in place finishes of fifth and third, respectively. The early returns show that the freshman has an immediate opportunity to score points in a variety of events at the conference level. She relished the chance to run in a collegiate home meet for the first time, right in her hometown.
"I was super excited. It was such a blessing to run today," Brees said. "It's been kind of on and off for a while now. With the atmosphere here being able to run for a new school in my hometown was super awesome."
All Concordia event champions from Friday are listed at the bottom. That group includes junior Josiah McAllister, who was coming off a first-place claim in the 1,000 meters at last week's Nisely Classic. The Atkinson, Neb., native paced the field of 11 one-mile runners with his time of 4:28.92. Another top distance runner in the program, senior Emily Deschaine made her 2018 debut and placed seventh in the 5,000 meter race.
Beisel was pleased with the competition his athletes faced at the Polar Dog Invite. Said Beisel, "It was fun. All three of the head coaches have had a good relationship with our coaches over the years. We know them pretty well from the national level. They're really good people and do a great job with their teams. One of the connections was Jonathon Becker, who's been coaching at MidAmerica Nazarene. He's a valued alum – as is Kim Wood (also assists at MidAmerica Nazarene). It was fun to see them. It was a small meet, but it had some high caliber competition."
The indoor season will continue next week with another home meet for the Bulldogs, who will host the Concordia Classic, Jan. 26-27. Multi events will take place on the opening day of the meet. The Bulldogs are also scheduled to put on the Concordia Indoor Invitational on Feb. 10.
Polar Dog event champions
Tori Beran (600 meters)
Jacob Cornelio (weight throw)
Jacob Dack (shot put)
McKenzie Gravo (long jump)
Taylor Grove (5,000 meters)
Ben Hulett (60 meter hurdles)
Samantha Liermann (shot put; weight throw)
Josiah McAllister (one mile)
Kara Stark (high jump)
Thomas Taylor (800 meters)