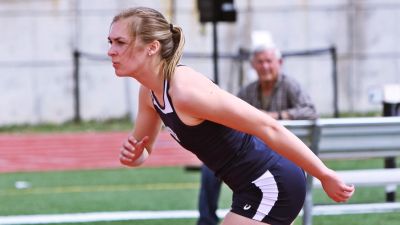 DES MOINES, Iowa – For the first time this outdoor season, the Concordia University track and field squads participated in a meet that scored out team points. While competing at the NAIA Midwest Quad hosted by Grand View University (Iowa) on a rainy and damp Friday, the Bulldogs swept team titles. Ranked second in the NAIA, the Concordia women piled up 209 points. Meanwhile, the third-ranked men accumulated 202.5 points.
Senior Cody Boellstorff accounted for 21 points himself as part of another record-breaking performance. The native of Waverly, Neb., added nearly five feet to his own school standard in the hammer throw with his toss of 216' 6" – a national best mark by exactly 10 feet.
The field of teams in the quad included Baker University (Kan.) (ranked 18th on the men's side), Grand View and St. Ambrose University (Iowa). St. Ambrose, a member of the Chicagoland Collegiate Athletic Conference, placed second on both sides. Only the top two individuals per team per event were scored.
"We had about half of the personal bests that we had last week at our home meet," said head coach Matt Beisel. "Our home meet was a huge mountaintop for our kids and it's hard to duplicate that level of emotion and energy two weeks in a row. The weather was a factor too. Though it was a scored meet, we did not do anything differently."
Boellstorff was one of four throwers to improve their already existing national qualifying marks on Friday. The others were Philip Kreutzer (hammer, 185' 11"), Samantha Liermann (shot put, 46' 8 ¾") and Tricia Svoboda (hammer, 170' 7"). Liermann won an event title for a women's shot put group that held down the top five place finishes. Headed by winner Zach Lurz, the Bulldogs also took three of the top four finishes in the men's shot put. In the men's hammer, Boellstorff and company went 1-2-3. Concordia throwers totaled five event champions, including Mariah Huneke (javelin) and Sydney Meyer (hammer).
Collectively, Bulldog athletes produced 11 event titles. In the pole vault, sophomore Allie Brooks continued her winning ways, jumping 12' 1 ½." The other not previously mentioned titlist in the field events was Sophia Hoelz in the high jump. On the track, both the men's and women's 4x800 meter relays came out on top while Jacy Johnston and Taylor Mueller were victorious in the 3,000 meter steeplechase races.
Nearly all of Concordia's headlining performers were in action. Senior CJ Muller teamed up on the winning 4x8 and finished as a runner up in the 400 meter dash (49.12). Jack-of-all-trades Lucas Wiechman placed second in the 110 meter hurdles (14.82), fourth in the long jump and also ran legs for the 4x100 meter relay (second) and the 4x400 meter relay (fourth).
There were additional highlights on Friday. On the women's side, notable personal bests were achieved by Huneke (javelin), Leah Larson (triple jump), Leah Mussell (javelin), Bethany Shaw (discus) Svoboda (hammer) and Quinn Wragge (400 meters). On the men's side, noteworthy new personal records were set by Evan Asche (5,000 meters), Boellstorff, Nathan Elbert (javelin), Phil Grothaus (javelin), Chris Mosely-Hendricks (100 meters) and Mueller (steeplechase).
As of Saturday, the Bulldogs continued to boast NAIA leading marks courtesy of Boellstorff (hammer), Lurz (shot put), Kali Robb (hammer and shot put) and Wiechman (pole vault).
The outdoor season carries on with the Jim Dutcher Memorial hosted by Doane next Friday and Saturday (April 21-22). The tentative event schedule can be viewed HERE.