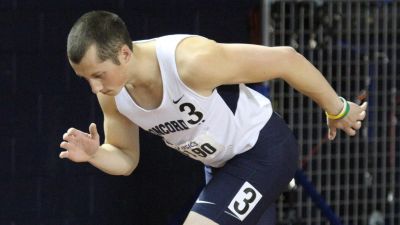 SEWARD, Neb. – In conjunction with the NAIA release of official national qualifiers, the Concordia University track and field programs have announced their list of 19 athletes who will make the journey to Johnson City, Tenn., for next week's 2017 NAIA Indoor Track and Field National Championships. The grand event will take place March 2-4 at David E. Walker Track at Gentry Field.
Head coach Matt Beisel's national qualifying field is headlined by a group of nine seniors, including past national champions Cody Boellstorff (one in the weight throw, one in the hammer throw) and Zach Lurz (three in the shot put). GPAC champion in the shot put, Lurz has 11 total All-America honors in his career. Collectively, Concordia's national qualifiers own a total of 42 All-America awards. Lurz is one of five Bulldogs with five or more career All-America plaques. The others are Kali Robb (seven), Lucas Wiechman (six), Boellstorff (five) and CJ Muller (five).
Assistant coach Ed McLaughlin's throws group produced three national qualifiers on the men's side and six on the women's side. Boellstorff and Lurz will both enter the national championships with NAIA national best marks. Adrianna Shaw is second in the shot put and Robb is third in both the shot and the weight throw.
Other top three marks include Lucas Wiechman in the heptathlon (first), Allie Brooks in the pole vault (second) and Muller in the 600 meters. Wiechman is also sitting fourth in both the 60 meter hurdles and the pole vault.
The Bulldogs are coming off of GPAC indoor championships finishes of second (men) and fourth (women). At the 2016 NAIA indoor national championships, Concordia turned in placements of third on the men's side and fifth on the women's side. In the latest national rankings released by the USTFCCCA, the Bulldog men checked in at No. 4 and the women at No. 9.
Stretch Internet, the NAIA's official video streaming company, will be broadcasting all sessions of the national championships. Packages can be purchased for $14.95. For more information, click here.
For the schedule of events, click here.
Men's Qualifiers - by School | click here
Men's Qualifiers - by Event | click here
Women's Qualifiers - by School | click here
Women's Qualifiers - by Event | click here
2017 Concordia indoor national qualifiers
*Current national ranking in parentheses
MEN
Cody Boellstorff, senior
-Weight throw (1st, 67' 2 ¼")
-Shot put (19th, 50' 5 ½")
Ben Hulett, junior
-60 meter hurdles (13th, 8.28)
Scott Johnson, sophomore
-Long jump (10th, 23' 5 ½")
Philip Kreutzer, senior
-Weight throw (13th, 58' 11 ¼")
-Shot put (19th, 50' 5 ½")
Zach Lurz, senior
-Shot put (1st, 58' 1")
-Weight throw (8th, 62' 1 ¾")
Nathan Matters, sophomore
-4x400 meter relay (6th, 3:20.37)
-600 meters (15th, 1:21.47)
CJ Muller, senior
-600 meters (3rd, 1:20.07)
-4x400 meter relay (6th, 3:20.37)
Tyrell Reichert, sophomore
-Pole vault (11th, 15' 5")
Jake Rodgers, junior
-4x400 meter relay (6th, 3:20.37)
Lucas Wiechman, senior
-Heptathlon (1st, 5,073)
-60 meter hurdles (4th, 8.18)
-Pole vault (4th, 16' 4 ¾")
-4x400 meter relay (6th, 3:20.37)
4x400 meter alternate: Ryan Olson
WOMEN
Allie Brooks, sophomore
-Pole vault (2nd, 12' 10 ¾")
-High jump (6th, 5' 7")
Samantha Liermann, sophomore
-Shot put (11th, 45' 3")
Sydney Meyer, senior
-Weight throw (6th, 57' 5 ¾")
Johanna Ragland, sophomore
-Shot put (16th, 44' 2")
Kali Robb, senior
-Shot put (3rd, 46' 9 ½")
-Weight throw (3rd, 59' 4")
Adrianna Shaw, freshman
-Shot put (2nd, 47' ¼")
Tricia Svoboda, senior
-Weight throw (24th, 52' 3 ¾")
Marti Vlasin, senior
-600 meters (32nd, 1:38.66)