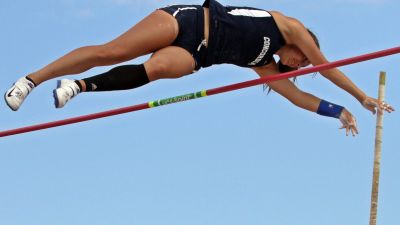 SEWARD, Neb. – The annual Concordia Outdoor Invitational is set to get underway on Friday as the Bulldog track and field program prepares to play the role of meet host for the first time this outdoor season. This marks week three of the outdoor season for head coach Matt Beisel's squads, which has also competed at the Wildcat Classic (March 25-26) and the Reiver Open (March 31 – April 1).
The Concordia Invite will allow for the largest number of participating Bulldog athletes since outdoor track got started in late March. Several athletes will be competing officially for the first time outdoors in 2017. The meet will get started at 4 p.m. CT on Friday with the hammer and javelin for both men and women. The bulk of the meet will take place on Saturday with events to fire off at 12 p.m.
Beisel's athletes have combined for 13 automatic national qualifying marks with 11 of them coming in the throws. Concordia throwers own five marks that lead the nation. Those No. 1 throws are held by Cody Boellstorff in the hammer (205' 7"), Zach Lurz in the shot put (57' 6 ½"), Kali Robb in the hammer (180' 2") and the shot put (46' 7 ¼") and Tricia Svoboda in the discus (152' 1"). Robb has qualified for nationals in three events and Lurz has qualified in two.
The Concordia Invite will provide many more opportunities for runners and, with an expected high temperature in the 70s, the weather should be the best it has been this spring. Among runners, sophomore Taylor Grove is the lone Bulldog with an automatic national qualifying mark. She finished the half marathon in 1:29:28 back in December to lock up her spot at nationals. Concordia relay teams still have not run at a meet during outdoor.
Only 12 Bulldog athletes competed last week after Hastings canceled the Bronco Open. Beisel and his staff scrambled to enter select athletes into the Reiver Open. Not only did Concordia take titles in four throwing events, it also won both 800 meter races. Marti Vlasin placed first on the women's side and CJ Muller won on the men's side. Making her first appearance on the track since finishing basketball season, Quinn Wragge finished as the runner up to Vlasin.
At the pole vault pit, the competition between Concordia teammates Allie Brooks and McKenzie Gravo should be an entertaining one. Brooks broke the program's outdoor school record at the Wildcat Classic while Gravo came up just short of an automatic national qualifying mark. Brooks and Gravo account for the last three GPAC pole vault titles and both have won All-America awards.
Competitors from a total of nine institutions will be represented at the Concordia Outdoor Invite (full list below). Athletes from NAIA, NCAA Division I, II and III will all be present at the meet.
Competing institutions at Concordia Outdoor Invite
*National rankings in parentheses
Creighton University
Concordia University (M: 13 | W: 4)
Doane University
Grand View University (W: 21)
Hastings College (W: 17)
Midland University (M: 18)
Nebraska Wesleyan University (W: 6)
Wayne State College (W: 21)
York College­