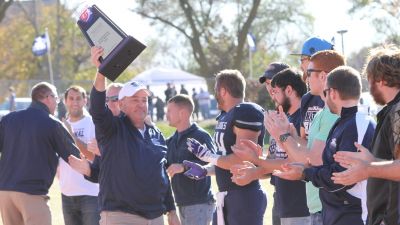 A massive red banner hangs on the east side of the Fieldhouse. Really, you can't miss it. The oversized cloth serves as a constant reminder of the events that unfolded nearly seven months ago. It doesn't feel like it's been that long. As assistant coach Ed McLaughlin admitted, "We're still all in shock that it happened."
The banner is proof that it really did happen. It reads, in all caps, "2015 NAIA MEN'S OUTDOOR TRACK AND FIELD NATIONAL CHAMPION."
Says junior Lucas Wiechman, "It's really cool. How many teams get to have one? That's the first in school history. It's kind of a big deal."
No argument here, Lucas. There's no downplaying the first team national championship achieved in the history of a school that was established in 1894. Everyone associated with that accomplishment still beams with pride when broached with the topic. But 2015 is nearly in the books and head coach Kregg Einspahr's program hasn't been resting in a hammock made of its own laurels.
"We're moving on and it's a new season," Einspahr said. "It's kind of like with investment companies. Past performances are no guarantee of future return. You have to get back on your horse and get after it."
OK Coach, but we're not quite ready to stop reminiscing about May 23, 2015, when everything broke right. Says McLaughlin, "God kind of shined down and said, 'we're going to split up everyone else's points and we're going to give you a shot' – and we took it." Zach Lurz and McLaughlin's stable of throwers came up huge and contributions were made by the likes of Wiechman and others in the pole vault and multi-events.
It also took a school record-breaking performance from CJ Muller and the 4x400 meter relay to crack the finals of event. Everything came up roses and led into a dramatic 4x4 race that had Einspahr, McLaughlin and the rest of the coaching staff hugging it out. That very moment will go down as one of the greatest in the history of Concordia athletics.
Soon after, the Bulldogs fielded congratulatory gestures from all comers – alums, fellow student-athletes and staff members as well as the local community and even the Nebraska State Legislature. KLKN-TV out of Lincoln also made its way to the Fieldhouse for a feature story meant to recapture a moment that continues to reverberate as the end of 2015 draws near.
"It's been real amazing," Muller said. "I don't know if it's ever completely sunk in. Just looking back there were so many things that went our way to help us get to the point of winning. It's been an awesome experience. All the recognition we've gotten and support from the school, the other teams and alumni has just been great. It's been surreal."
With the 2016 indoor season set to kick off Jan. 15-16, it's time to find out how that momentum carries over. How will the 2015 national title effect the future of Concordia track and field? Einspahr believes the Bulldog men's and women's teams have the potential to be even better in 2016.
"I think (the national title) solidifies the fact that we've had a very strong men's and women's track program over quite a number of years," Einspahr said. "We've got a great tradition going. We have great coaches and great facilities and a university we feel we can make a big contribution towards.
"How much it's going it's to help us in the next year, two or three we don't really have a good idea at this point. Clearly that brought some attention to the program and highlighted the strength and tradition of the program. That certainly is not going to hurt with recruiting."
The track and field national came during a historic 2014-15 Concordia athletics season that saw the Bulldogs win the GPAC all-sports trophy. There's a school-wide momentum that no one wants to see die. Says Wiechman, "There's a lot of excitement. It's really impacted the motivation for all the other sports at Concordia. It's been a domino effect."
Now the expectation is for both Bulldog track and field squads to again compete for conference titles. There's a swagger within the program.
"As a team we have a lot more confidence," Muller said. "I think we've cemented Concordia on the national track stage as a solid team that will come out and compete. We lost a few guys from last year who scored. The freshman class came in and it's a big class. They're excited. They saw what we did last year and they want to carry on that tradition."
While it may be time to move on from 2015, read the white lettering on that red banner and you'll be reminded that Concordia track and field really has no limits. Einspahr's Bulldogs proved it. Bring on 2016.