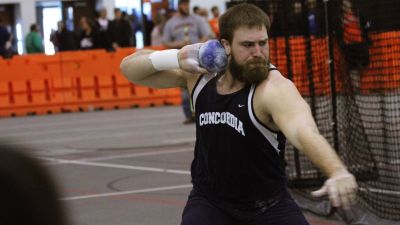 CRETE, Neb. – Three-time shot put national champion Zach Lurz and the Concordia University track and field programs opened up the 2017 indoor season on Saturday by winning five events and posting a total of nine automatic national qualifying marks at the Scott Nisely Memorial Classic hosted by Doane. A select few Bulldogs also competed at the University of Nebraska's Holiday Inn Invitational at the Devaney Center in Lincoln, where CJ Muller raced to an automatic time in the 600 meters and then helped a relay team to another national championships-clinching effort.
This weekend marked Matt Beisel's official debut as head track and field coach at Concordia. Beisel was pleased with how his athletes responded to a difficult stretch of training during the first week back from Christmas break.
"Everything kind of went along according to expectations," Beisel said. "I was pleased that we had several PR's. We worked our speed and power athletes really hard this week coming off of break. I could see that it was taking its toll as we got into the triple jump. I think the kids performed in the range of what we expected at this point in the season. The kids we expected to do well, did. Overall it was a great meet."
Lurz notched automatic national qualifying marks in both the shot put and the weight throw during Saturday's action inside the Fuhrer Field House on Doane's campus. The school record holder for both the indoor and outdoor shot put, Lurz placed second in the event at the Nisely Classic with his toss of 54' 10 ¼." He posted a weight throw mark of 59' 5 ¾," a measurement that put him in fourth. Teammate Cody Boellstorff, a two-time national champ, won the event with a mark of 63' 10 ¼."
Now a sophomore, Allie Brooks turned in a big morning that included automatic national qualifying marks in both the pole vault and the high jump. A qualifier in the pole vault as a freshman last year, Brooks vaulted 11' 10 ½", which gave her a new personal best for indoor and put her atop Saturday's leaderboard. Her jump of 5' 5" landed her in fourth place.
"She had one of the best all-around days of any of our athletes," Beisel said of Brooks. "She jumped 11-10 from a short approach. Coach (Jason) Berry is taking his time with his athletes to make sure they're ready to move up. She blew her indoor PR out of the water. I'm real pleased with how it went for her."
Muller will shoot for All-America honors in the 600 for the third-straight year. His time of 1:20.53 on the Devaney track put him just short of his personal best that ranks fourth on the program's all-time list. Later in the afternoon, Muller served as the anchor for the men's 4x400 meter relay that blazed to a time of 3:19.09, good for fourth place behind three NCAA Division I quartets. Jake Rodgers, Lucas Wiechman and Nathan Matters collaborated with Muller on the automatic time. Matters also ran the 600 in 1:23.75, putting him just shy of qualifying for nationals.
All other national qualifying marks were offered up by Bulldog throwers. In addition to three combined that came from Boellstorff and Lurz, Philip Kreutzer (weight throw), Sydney Meyer (weight throw), Kali Robb (shot put) and Adrianna Shaw (shot put) locked up trips to the national championships in March. It was the first collegiate outing for Shaw, a Bassett, Neb., native who won a state title in the shot put as a high school senior.
Concordia took first place in three events on the track courtesy of the performances by the men's 4x800 meter relay (8:20.36), Ben Hulett (60 meter hurdles) and Patrick Wortmann (1,000 meter run). In the women's 600, senior Marti Vlasin placed second, clocking in less than five seconds off an automatic time.
Beisel also made note of Scott Johnson and Shelbi Hackbart. Johnson took sixth in both the triple jump and long jump and 10th in the high jump. He's focusing solely on track this year after being a member of the basketball team a year ago. Meanwhile, Hackbart completed the 3,000 meter run in 11:20.17, finishing second.
The indoor season continues next week with a short venture over to the Devaney Center in Lincoln for the Nebraska Wesleyan Prairie Wolf Invite on Friday (Jan. 20). The Bulldogs will make their first home appearance on Sunday, Jan. 29 when they host the annual Concordia Indoor Classic.
Event titles at Scott Nisely Memorial Classic
Men's 4x800 meter relay (8:20.36)
Cody Boellstorff – weight throw (63' 10 ¼")
Allie Brooks – pole vault (11' 10 ½")
Ben Hulett – 60 meter hurdles (8.41)
Patrick Wortmann – 1,000 meter run (2:36.02)