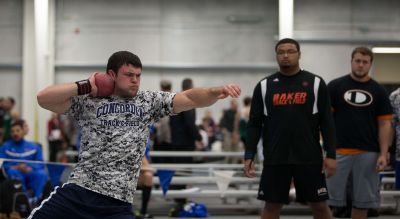 Bulldogs host annual Concordia Indoor Invite on Thursday
SEWARD, Neb. – Concordia University's nationally-ranked track and field programs return to action on Thursday when they host the annual Concordia Indoor Invitational inside the Walz Fieldhouse. As part of the final home meet prior to the GPAC championships (Feb. 20-21), the Bulldogs will honor their group of 25 seniors (listed below) during Thursday's proceedings. View the event schedule HERE (subject to change).
The 2015 Concordia Invite field includes Cloud County Community College, Concordia, Doane, Hastings, Fort Hays State University, Midland, University of Nebraska-Kearney, Northwest Missouri State, Wayne State College and York College. The Concordia Sports Network will provide a live webcast of the meet from 1 p.m. to 6 p.m.
Twenty-third year head coach Kregg Einspahr's fourth-ranked men are led by an impressive group of throwers. The headliner is Zach Lurz, who owns program records in the shot put for both indoor and outdoor. Lurz currently tops the NAIA in the shot put with last week's toss of 56' 3 ¼". Assistant coach Ed McLaughlin's bunch includes three others ranked in the top 15 nationally in the shot put (Trey Farmer – 8th, Jose Rojas – 9th, Trey Barnes – 15th) and a total of four of the top eight in the weight throw (Josh Slechta – 4th, Lurz – 6th, Farmer – 7th, Rojas – 8th).
On the women's side, Kim Wood owns three automatic national qualifying times (800, 1,000 and one-mile runs). At last week's Husker Invite, Wood broke a school record by clocking in at 2:12.55 in the 800 meter race at the Devaney Center. The native of Greeley, Neb., won 2014 GPAC indoor titles in the 1,000 meters and one mile.
Through five meets, Concordia athletes have produced a total of 18 automatic national qualifying marks (in addition to three top-nine point totals by Bulldog heptathletes). Wood's three automatic times on the track leads all Bulldogs. Throwers Stephanie Coley and Kali Robb have both qualified for nationals in the shot put and weight throw. Strong in the pole vault, the Bulldogs have qualified two men (Brandon Ramos and Lucas Wiechman) and two women (Cynthia Mick and Cassie Starks) for nationals in the event.
Seven stadium records still stand from last year's Concordia Invite when six records were set on the women's side. Concordia alum Sarah Kortze holds the Fieldhouse record in the 5,000 meter run (17:54.86). The 2012 Bulldog men's 4x800 meter relay (J. Hoffmann, M. Trampe, A. Prahlow, D. Eads) has retained the stadium standard with its time of 7:52.15.
Ranked teams at the Concordia Invite
*Rankings released the week of Feb. 2
MEN
No. 2 Doane (NAIA)
No. 4 Concordia (NAIA)
No. 22 Nebraska-Kearney (NCAA DII)
WOMEN
No. 2 Doane (NAIA)
No. 8 Concordia (NAIA)
No. 13 Hastings (NAIA)
No. 15 Wayne State (NCAA DII)
2014-15 track & field senior class
Joshua Allwardt (Frederick, Md.)
Tanel Baehr (Mesa, Ariz.)
Kierstyn Besel (Broomfield, Colo.)
Garrett Blomstedt (Sutherland, Neb.)
Charles Bloomfield (Blair, Neb.)
Matthew Chapa (Buffalo, Minn.)
Brittany Erdmann (Chanhassen, Minn.)
Trey Farmer (Seward, Neb.)
Ericka Fischer (Hartington, Neb.)
Rianne Gross (Riverside, Calif.)
Haley Harpham (McCook, Neb.)
Montana Hayes (Superior, Neb.)
Shelby Hohnholt (Saratoga, Wyo.)
Andrew Malan (Lincoln, Neb.)
Daniel Moore (Fruita, Colo.)
Taiheem Pleasant (Lincoln, Neb.)
Luke Riley (Hickman, Neb.)
Casey Roberts (Wamego, Kan.)
Erika Schroeder (Davenport, Neb.)
Ben Sievert (Frankenmuth, Mich.)
Cassie Starks (Haigler, Neb.)
Jenny Suing (Crofton, Neb.)
Timothy von Behren (Elk Creek, Neb.)
Matthias Wallberg (Kearney, Neb.)
Renee Williams (Lincoln, Neb.)