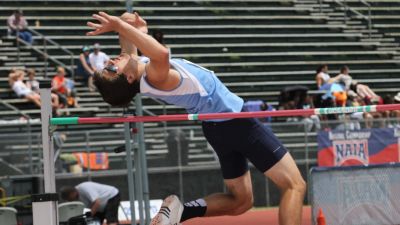 FREMONT, Neb. – Several members of the senior class continue to separate themselves as some of the most accomplished athletes to come through the Concordia University track and field programs. Their efforts this weekend helped pave the way for the Bulldogs to earn a second-place finish on the men's side (156.5 points) and third place on the women's side (148 points).
Bulldog athletes combined for a total of 10 GPAC titles over the two-day meet hosted by Midland in Fremont, Neb. It's been an incredible 2017 for Lucas Wiechman, the men's athlete of the meet at both the GPAC and NAIA indoor championships. He repeated that honor at the conference outdoor meet by claiming four more GPAC titles.
"The overall team effort was very, very good," said head coach Matt Beisel. "We did drop some points that we hoped for, but we also had some people step up and perform above expectations. I feel a huge sense of pride to be a Bulldog. Our women moved up from fourth indoor to third outdoor. At the same time, we have to continue to develop to make sure we can replace these phenomenal seniors."
In addition to Wiechman, the men's 4x400 meter relay, Samantha Liermann (shot put), Zach Lurz (discus, hammer throw), Kali Robb (hammer throw) and Tricia Svoboda (discus) all earned the right to call themselves 2017 GPAC outdoor champions. Concordia also had runner-up finishes by Cody Boellstorff (hammer), Allie Brooks (pole vault), CJ Muller (400 meters), Sydney Meyer (hammer) and Robb (shot put).
Wiechman, a 2017 national titlist in the heptathlon, produced marks of 16' 4 ¾" in the pole vault, 22' 9 ¼" in the long jump, 14.65 in the 110-meter hurdles and 53.98 in the 400-meter hurdles. He also ran the leadoff leg for the 4x400 meter relay that finished in 3:17.19, just .14 seconds faster than second place Dordt. In addition, Wiechman ran the second leg for the fourth-place 4x100 meter relay.
Female throwers were dominant in the hammer throw on Friday and then turned in another spectacular effort in the shot put on Saturday. Not only did Liermann (48' ¾") win it and Robb place second (47' 5 ¼"), Adrianna Shaw (44' 6 ¼") placed sixth and Jazzy Eickhoff (42' 10 ¼") eighth. Robb tallied 18 team points all by herself with her first and second place claims. The Bulldog women also claimed four of the top eight spots in the discus.
A four-time national champion in the shot put, Lurz may not have won the GPAC title in the event, but he upset teammate Cody Boellstorff in the hammer on Friday and then won the discus (172' 11") on Saturday. Lurz banked 25 team points with his efforts. Meanwhile, Boellstorff still had a solid meet. He placed second in hammer (200'), third in discus (160' 5") and seventh in shot put (51' 4 ¼").
A total of three fresh automatic national qualifying marks were recorded by Concordia athletes this weekend. All of those performances came on Friday. They were delivered by Eickhoff (134' 5," fourth place) and Svoboda (134' 3," fifth place) in the javelin and by Ben Hulett (14.73, third place) in the 110-meter hurdles.
In the long distances, junior Emily Sievert and sophomore Taylor Grove did their parts. Grove placed fourth in the 5,000 and 10,000 meter races while Sievert was right behind her in fifth in both races. In the men's 3,000 meter steeplechase, senior Taylor Mueller placed third.
During the GPAC era (2000-present), the Concordia men's program has now placed either first or second in the conference a total of 15 times with titles coming in 2014 (indoor and outdoor) and 2015 (outdoor). Beisel strongly believes his teams can rise to an even higher level. The most recent conference championship for the women came at the 2012 outdoor meet.
"There's a sense of desire of wanting more and knowing that we can get there," Beisel said. "There's no reason that we can't with the resources and the staff that we've got. It's a conviction that I have."
The 2017 outdoor season continues on Friday (May 12) when the Bulldogs host the Concordia Twilight Meet. The first action is set to get underway at 2 p.m. CT. View the complete schedule HERE. The season will conclude at the 2017 NAIA Outdoor National Championships May 25-27 in Gulf Shores, Ala.
Concordia GPAC champions
Men's 4x400 meter relay
Samantha Liermann – shot put
Zach Lurz – discus; hammer throw
Kali Robb – hammer throw
Tricia Svoboda – discus
Lucas Wiechman – 110 meter hurdles; 400 meter hurdles; long jump; pole vault