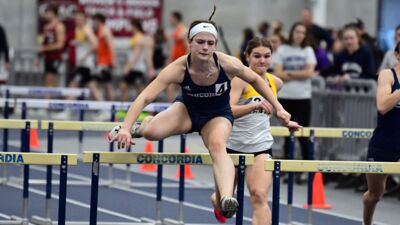 SEWARD, Neb. – The Concordia Invite (Feb. 10) represented one final chance for Concordia University Track & Field athletes to improve their positioning heading into the 2023 GPAC Indoor Track & Field Championships. The Bulldogs emerged from this season's fourth indoor home meet with five new automatic national qualifying marks, four fresh 'B' standards and 10 Concordia Invite event championships. The new auto marks came courtesy of Rachel Battershell (400 meters), Dagne' Buck (weight throw), Jenna Esch (600 meters), Hannah Newton (high jump) and Camden Sesna (mile). In addition, Adrianna Rodencal broke her own school record in the 60 meter hurdles.
Head Coach Matt Beisel's squads entered the weekend with NAIA national rankings of third on the women's side and 11th on the men's side (according to the USTFCCCA). The season tally of 'A' standards has moved to 25.
"There was a lot of good stuff that happened," Beisel said. "I'm very happy with the fact that we hit a bunch of new 'A' standards and added some 'B' standards. We had a lot of personal bests that are going to move us up higher in conference – and gives us evidence they can potentially score. Now we know that. It's always fun to win events. Some of these kids won events and hit their personal bests. Camden Sesna was an example of that. There are a lot of people who maybe aren't going to get the spotlight, but they showed us a lot today. I'm really proud of the efforts our athletes put out there."
The Lincoln Lutheran alum Rodencal continues to impress in her freshman season. She ran the 60 hurdle prelims in 8.93 on Friday before slashing her time down to 8.76 in the finals, allowing her to just barely eke out the win over Hastings' Nisa Thomas (8.77). Rodencal's previous school record in the event was the 8.80 she ran a week earlier at the Sevigne Husker Invitational. She didn't stop there. Rodencal also clocked a new personal best in the 200 meters (25.77) and was the event champion.
Three of the new automatic qualifiers came on the track. A 10-time NAIA All-American and two-time national champion, Battershell hit the 'A' standard in the 400 meters while winning the event in 57.81 (converted to 57.06 on the national list). A 4x4 teammate of Battershell, Esch had consistently run the 'B' standard in the 600 meters before knocking down a barrier and finishing the race in a first-place time of 1:37.09 (converted to 1:35.92 on the national list) on Friday. She fended off teammate Jordan Koepke, who placed second in 1:37.70. Then in the men's mile, Camden Sesna shrugged off the injuries he's dealt with this indoor season and took the Concordia Invite crown in a time of 4:17.76 (converted to 4:14.52 on the national list). Sesna joined teammate Calvin Rohde as a qualifier in the mile.
Said Esch, "It feels great. I've been working for it since the fall. I've had a few setbacks, but having a teammate like Jordan push me every day in practice and in every meet, I'm super grateful to have her by my side. I couldn't have hit the 'A' without her."
Added Sesna, "I was super excited and super happy. Praise God for that. This was the first time I've raced in about three weeks. I haven't been doing too much running thanks to a hamstring injury, but it felt good to get back on the track. The main goal was to get back on the track and get a time down for conference. I'm happy to come away with a national qualifying time."
Buck stood out as the breakthrough performer from a throws perspective. He punched his ticket to Brookings, S.D., thanks to a personal best toss of 57' 7 ¾" in the weight throw. The top five athletes in the event all hit the 'A' standard, including Concordia's Chris Wren, who placed third (60' 3"). The deep field of Bulldog men's weight throwers also turned in three 'B' standards, courtesy of Darien Semedo, Brady Klute and Ben Moll. On the women's side, Maddie Robinson achieved another 'A' standard (54' 3 ¼"; sixth place) and teammate Abi Wohlgemuth hit the 'B.' The top Concordia competitors in the shot put were Semedo (49' 2 ½"; fourth place) and Kamryn Pokorney (43' ¼"; fifth place).
It was an overall strong day in the jumps with Newton highlighting that group's efforts. The Crete, Neb., native took first in the high jump competition with her clearance of 5' 5 ¾." Teammate Kimberly Schropfer (5' ½") was the event's runner up. Most significant on the men's side, Joel Rathe attained a personal best and pushed his 'B' standard long jump to 23' 2 ¾" (second place). Additional event titles were delivered by Kellie Rhodes in the long jump (17' 6 ¾") and Aaron Spivey in the triple jump (45' 2 ¼"). Meanwhile Josi Noble was a runner up in the triple jump (35' 8 ¾").
In the pole vault, four Bulldogs repeated national qualifying performances. On the women's side, Josie Puelz (12' 10 ¼"), Erin Mapson (12' 4 ½") and Amira Cummings (11' 6 ½") placed two through four at the Concordia Invite. Erin Boggs and Kayla Svoboda tied for sixth. On the men's side, Zach Bennetts (15' 9") and Zach Zohner (15' 5") rose above 15 feet and landed in second and third place, respectively. The pole vault crew tally for national qualifiers remains at eight heading into the conference meet.
More Concordia Invite tiles on the track came via Hannah Beintema (mile) and Kylahn Freiberg (1,000 meters). Second place claims were turned in by Rhaya Kaschinske (800 meters), Julie McIntyre (3,000 meters) and Lauren Dawson (3,000 meter race walk). Dawson has been gaining major ground in the race walk. Also noteworthy was Trinity Tuls' 'B' standard of 58.88 (converted to 58.11) in the 400 meters. Freiberg's time of 3:03.63 (converted to 3:01.65) was also a 'B' standard. To cap off the evening, the Bulldogs' top men's 4x4 gave it a shot in trying to qualify for nationals. The group of Mark Cooke, Colby Sugden, Liam Fagan and Colton Meyer came up a bit short while finishing in 3:23.84.
Automatic National Qualifying Standards Achieved at Concordia Invite
· Rachel Battershell – *400 Meters (57.81)
· Zach Bennetts – Pole Vault (15' 9")
· Dagne' Buck – *Weight Throw (57' 7 ¾")
· Amira Cummings – Pole Vault (11' 6 ½")
· Jenna Esch – *600 Meters (1:37.09)
· Erin Mapson – Pole Vault (12' 4 ½")
· Hannah Newton – *High Jump (5' 5 ¾")
· Josie Puelz – Pole Vault (12' 10 ¼")
· Maddie Robinson – Weight Throw (54' 3 ¼")
· Adrianna Rodencal – 60 Hurdles (8.76)
· Camden Sesna – *Mile (4:17.76)
· Chris Wren – Weight Throw (60' 3")
*Fresh 'A' standard
Concordia Invite Event Champions
· Rachel Battershell – 400 Meters (57.81)
· Hannah Beintema – Mile (5:26.80)
· Jenna Esch – 600 Meters (1:37.09)
· Kylahn Freiberg – 1,000 Meters (3:03.63)
· Hannah Newton – High Jump (5' 7 ¾")
· Adrianna Rodencal – 60 Hurdles (8.76); 200 Meters (25.77)
· Kellie Rhodes – Long Jump (17' 6 ¾")
· Camden Sesna – Mile (4:17.76)
· Aaron Spivey – Triple Jump (45' 2 ¼")
Up next will be the GPAC Championships slated for next Friday and Saturday (Feb. 17-18). The Bulldogs will host the conference indoor meet for the first time since 2019. The full schedule of events can be found HERE.
Said Beisel, "I'm excited to see what conference brings us. We always love hosting. I feel like our women are positioned very well to win another conference title and our men are probably going to be battling it out with a few teams for those top three spots. God-willing, hopefully both teams are able to stay healthy this next week. We'll roll up our sleeves and see what we can get done next week against some of the best schools in the nation."