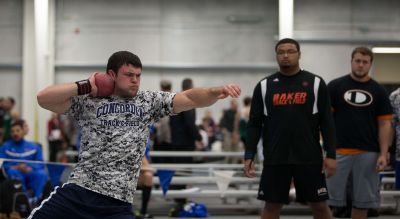 Bulldog track and field tops the nation in men's and women's scholar-athletes
M track & field scholar-athletes
W track & field scholar-athletes
SEWARD, Neb. – A total of 38 (20 women, 18 men) Concordia University track and field athletes have been named Daktronics-NAIA Scholar-Athletes, as announced by the NAIA on Friday. Seventeen of those honorees are repeat award winners (view complete list below). Both the Bulldog men and women led the nation in scholar-athletes.
In order to be nominated by an institution's head coach or sports information director, a student-athlete must maintain a minimum grade point average of 3.5 on a 4.0 scale and must have achieved a junior academic status.
Concordia ranks as the NAIA's all-time leader in number of Daktronics-NAIA Scholar-Athletes with 1,011 (first in the NAIA to reach 1,000 scholar-athletes) and counting. (This figure includes all 92 Concordia scholar-athletes announced so far for 2013-14). During the 2012-13 academic year, Concordia had 71 Scholar-Athletes and 17 NAIA Scholar-Teams.
A total of 233 NAIA men's track and field student-athletes across the nation were named 2013-14 scholar-athletes by the NAIA. On the women's side, 337 were named scholar-athletes.
Concordia University, Nebraska, founded in 1894, is a fully accredited, coeducational university located in Seward, Neb., that currently serves over 2,200 students. Concordia offers more than 50 professional and liberal arts programs in an excellent academic and Christ-centered community that equips men and women for lives of learning, service and leadership in the church and world.
2014 Concordia track and field Daktronics-NAIA Scholar-Athletes
MEN (18):
Joshua Allwardt ● Jr. ● Frederick, Md. ● Biology/Chemistry; Pre-Med
Beau Billings ● Sr. ● Valentine, Neb. ● Marketing
John Cartier ● Sr. ● Las Vegas, Nev. ● Pre-Law
Matthew Chapa ● Jr. ● Buffalo, Minn. ● Middle Level Education - Math & History
Trey Farmer ● Jr. ● Seward, Neb. ● Biology and Chemistry
Garrett Golke ● Sr. ● Gowan, Mich. ● Environmental Science
Benjamin Hinckfoot ● Sr. ● Colorado Springs, Colo. ● Secondary Education - History and ESL
Hayden Hohnholt ● Sr. ● Gillette, Wyo. ● Middle Level Education - Math and Health/Physical Ed.
Andrew Malan ● Sr. ● Lincoln, Neb. ● Marketing, Journalism and Graphic Design
Creighton Pearse ● Jr. ● Kearney, Neb. ● Secondary Education - Math and PE (Sports Management Minor)
Jacob Polk ● So. ● Clarkson, Neb. ● Elementary Education
Jacob Riefenrath ● Jr. ● Hartington, Neb. ● Biology
Casey Roberts ● Jr. ● Wamego, Kan. ● Director of Christian Education
Benjamin Schulteis ● So. ● Greenfield, Iowa ● Secondary Education
Benjamin Sievert ● Jr. ● Frankenmuth, Mich. ● Middle Level Education - History and Physical Education
Blake Vajgrt ● Jr. ● Seward, Neb. ● Exercise Science
Timothy von Behren ● Sr. ● Falls City, Neb. ● Biology, Chemistry and Exercise Science
Spencer Zysset ● Sr. ● Hastings, Neb. ● Middle Level Education
WOMEN (20):
Stephanie Aurich ● Sr. ● Mayer, Minn. ● Early Childhood Education
Tanel Baehr ● Jr. ● Mesa, Ariz. ● Community Health & Gerontology
Jamie Crouse ● Sr. ● Belgrade, Neb. ● Pre-Physical Therapy, Exercise Science
Brittany Erdmann ● Jr. ● Chanhassen, Minn. ● Secondary Education - Math and Theology
Kellie Fegter ● Sr. ● Holdredge, Neb. ● Exercise Science
Rianne Gross ● Jr. ● Riverside, Calif. ● Elementary Education
Montana Hayes ● Jr. ● Superior, Neb. ● Middle Level Education
Paige Hemmer ● Sr. ● Dell Rapids, S.D. ● TESOL; World and Intercultural Studies
Shelby Hohnholt ● Jr. ● Saratoga, Wyo. ● Health and Human Performance
Myria Knapp ● Jr. ● North Platte, Neb. ● Elementary Education - Special Education
Sarah Kortze ● Sr. ● Rockford, Ill. ● Biology and Physical Science; BSED in Secondary Education
Megan Letts ● Sr. ● Lakewood, Colo. ● Spanish
Tracy Peitz ● Jr. ● Hartington, Neb. ● Biology; Pre-Dentistry
Lydia Pomerenke ● Sr. ● Seward, Neb. ● Elementary Education
Jena Schwalenberg ● Sr. ● Columbus, Neb. ● Elementary Education
Theresa Staley ● Jr. ● Lincoln, Neb. ● Exercise Science; Pre-Physical Therapy
Cassandra Starks ● Jr. ● Haigler, Neb. ● Biology
Jenean Williams ● Sr. ● North Mankato, Minn. ● Elementary Education - Early Childhood
Renee Williams ● Jr. ● Lincoln, Neb. ● Elementary Education with Early Childhood and ESL
Shelby Yelden ● Sr. ● Seward, Neb. ● Middle Level Education - Math & Art