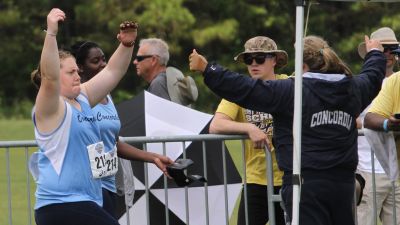 SEWARD, Neb. – Concordia throwers paved the way for the second team national title in as many seasons as the Bulldog women captured the banner at the 2016 outdoor national championships last month in Gulf Shores, Ala. Unsurprisingly, Concordia checked in at No. 1 on The Thrower's Page list of top throwing programs in the NAIA for the 2016 season. The Thrower's Page formula includes both the indoor and outdoor campaigns.
With a total of 1,422 points, Concordia throwers ranked No. 14 nationally in 2016 when including all levels of collegiate competition – NAIA as well as all NCAA divisions. The Bulldogs ranked two spots above the throws group from the University of Nebraska, giving Concordia the title of best throws group in the state.
Behind assistant coach Ed McLaughlin, awarded three national assistant coaching awards by the U.S. Track & Field and Cross Country Coaches Association in 2016, the Concordia throwing program has ranked inside the top five of the NAIA every year for which data is available on The Thrower's Page (2008 – present). After coming in at No. 2 in 2014, the Bulldogs have held down the top spot in both 2015 and 2016.
Since the start of 2014, Concordia throwers have claimed a total of eight individual national titles, including two or more from Cody Boellstorff (hammer throw, weight throw), Liz King (hammer throw, javelin) and Zach Lurz (shot put three times) and one from Josh Slechta (weight throw). The haul for Concordia throwers at the 2016 outdoor championships alone included two national titles, four national runner-up finishes, 20 total All-America plaques and a combined 110 team points. Lurz was named the 2016 USTFCCCA NAIA National Men's Indoor Field Athlete of the Year and King the 2016 USTFCCCA NAIA National Women's Field Athlete of the Year.
A year ago Concordia ranked 27th nationally, regardless of national affiliation. The No. 14 ranking among all collegiate institutions is the highest-ever ranking for Bulldog throwers.
How Bulldog throwers have ranked in the NAIA
2016 – 1st
2015 – 1st
2014 – 2nd
2013 – 4th
2012 – 4th
2011 – 5th
2010 – 5th
2009 – 3rd
2008 – 5th