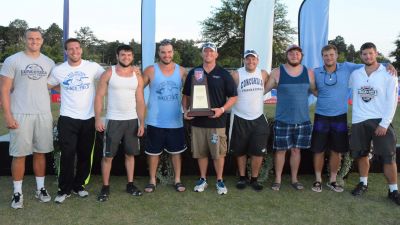 SEWARD, Neb. – According to a formula designed to rank all collegiate throwing programs, assistant coach Ed McLaughlin's group trumped every NAIA group of throwers in 2015. "The Thrower's Page" formula awarded Concordia 1,093 points, placing it 27th among all collegiate track and field throwing programs in the nation, including all levels of the NCAA.
Concordia male throwers earned a total of 541 points while the women garnered 552. Of the 1,093 points, 754 came during the outdoor season. The Bulldogs scored particularly big in the hammer throw, tallying 372 points from that event.
Those figures helped distance Concordia from rival throwing programs. Doane was the next highly ranked squad from the NAIA, checking in at 113th overall. Other in-state rivals on the list were NCAA Division II in-state opposition such as Wayne State College (72nd) and University of Nebraska-Kearney (199th). Additional NAIA schools to rank in the top 200 nationally were Concordia-Oregon (124th), Olivet Nazarene University (132nd), Grand View University (152nd), Siena Heights University (155th) and Bethel College (Ind.) (182nd).
Throwers played a starring role in the national title for Bulldog men's outdoor track and field. Zach Lurz piled up 20 points via three All-America performances and received most valuable performer honors for his work at the outdoor national championships. Lurz, also a 2015 indoor shot put national champion, led the way for a group of Concordia throwers that produced a total of three individual national titles, 17 All-America plaques, six GPAC titles, 40 all-conference performances, eight GPAC weekly honors and two NAIA national weekly awards in 2015.
The 2015 work of Concordia throwers continued a tradition of astounding success. Over the past three years, the Bulldogs have ranked fourth (2013), second (2014) and first (2015) in The Thrower's Page rankings.
According to The Thrower's Page, "the rankings are based on the final performance lists in each division prior to preliminary or national championships." The complete explanation of the formula can be found HERE.