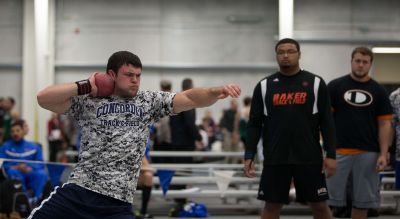 Bulldog men repeat as GPAC outdoor champions, women place second
SIOUX CENTER, Iowa – The floodgates have come pouring open for the Concordia University men's track and field program. The Bulldogs captured their third GPAC championship over the past two years by putting the paper projections through the shredder. An underdog to Doane, head coach Kregg Einspahr's men outscored the Tigers by a count of 184.5 – 159 at the 2015 conference meet hosted by Dordt College.
During Einspahr's tenure, Concordia has now won a combined seven conference track and field titles – four by the women, who placed runner up over this weekend's two-day meet. The Bulldog women finished with 156 points compared to 225 for Doane.
"Our guys came out after a little bit of disappointment and just put it together," Einspahr said. "Wow, they wanted it. They wanted to win this as a team. They put together a great meet up and down the line. We had events like the 200 and the 5,000 where we weren't projected to score.
"We just came out and had a very, very good meet. Today we had a lot of good things happen and not very many disappointments. It's a big day for us. This is a great track conference."
The feeling of winning a GPAC title proved especially overwhelming for senior Tai Pleasant, who won his first career individual title by clocking in at 53.70 in the 400 meter hurdles. Pleasant even asked Einspahr if he could borrow the trophy for a night.
"It's amazing to be able to win two years in a row," Pleasant said. "After last year, losing a lot of people, to win again and win a GPAC individual title in the 400 hurdles is just amazing. We have a great group of throwers and a great group of sprinters. We came together and won a championship."
After dominating the men's hammer throw with seven of the eight all-conference placements (including GPAC champion Cody Boellstorff) on Friday, the Bulldogs got another conference title from Zach Lurz in the shot put (55' 6 ½") on Saturday. Concordia racked up 30 points in the event by holding down the top three spots (Jose Rojas – second; Trey Farmer – third) as well as fifth and seventh place.
In the discus, Lurz led the way with his second-place mark (160' 7"). Bulldog teammates placed fourth, fifth and seventh, respectively (Trey Barnes, Rojas, Josh Slechta) in the same event.
In addition, several athletes emerged on the track for the Concordia men, such as Trevor Bresson (third in the 400 hurdles), Jordan Potrzeba (second in the 10,000 meters), Chris Shelton (second in the steeplechase) and Lucas Wiechman (second in the 110 hurdles). In addition, sophomore CJ Muller placed fourth in both the 200 and 400 meter dashes.
The men's relays finished fourth (4x400), fifth (4x800) and seventh (4x100) with several competitors who tested themselves with a heavy workload throughout the meet hosted by Dordt. Other notable all-conference efforts were put forth by Wiechman (second in decathlon), Brandon Ramos (sixth in decathlon) and freshman Austin Schafer (sixth in pole vault).
On the women's side, defending javelin national champion Liz King had Saturday off after a monster day on Friday. The native of Billings, Mont., piled up 20 points with first-place throws in the javelin (151') and hammer throw (189' 10"). She now owns GPAC meet records in both events.
"I was a little bit surprised," King said of her performance in the hammer. "Actually I was a lot surprised. The thing about hammer is you can't really tell how good it's going to be until you release it and see how far it goes."
Another surprise came about in the women's discus, where junior Kattie Cleveland outflanked her fourth-place conference ranking entering the weekend. She won the event with a throw of 146' 6." Sophomores Kali Robb and Katricia Svoboda put up fourth and fifth-place marks in the discus.
On the track, junior Kim Wood came up just short of conference titles in the 800 and 1,500 meter races. She placed runner up in both to Doane's Jess Sughroue. Wood began the weekend as the defending GPAC champ in the 1,500 meters. Freshman Emily Sievert came up with two individual all-conference times of her own (5,000 and 10,000 meters). A national qualifier already, senior Erika Schroeder finished third in the steeplechase.
Budding junior Shelby Stolze totaled 11 points thanks to top-four finishes in both the 100 and 400 meter hurdles. On Friday she broke the program record for the fastest 100 hurdles time by clocking in at 14.81 in the prelims.
In the relays, the Concordia women were third (4x800), fourth (4x400) and fifth (4x100). Another 13 points came from the women's shot put with Stephanie Coley headlining the group with her second-place claim (47' 2 ½").
"We had a good meet," Einspahr said of his women's team. "To finish second in this conference is excellent. It's a very good accomplishment. We didn't score out quite as well as we had hoped, but we had some really exciting things happen. Liz King had just a tremendous weekend with her double win in the hammer and javelin."
Concordia finished with a total of seven combined GPAC individual champions. Cassie Starks also notched her second GPAC title by clearing 12' 4 ½" in the pole vault.
Einspahr has now guided his programs to a combined 27 top-two conference finishes (all since 1998). Both Concordia squads entered the meet ranked third among all NAIA teams by the USTFCCCA.