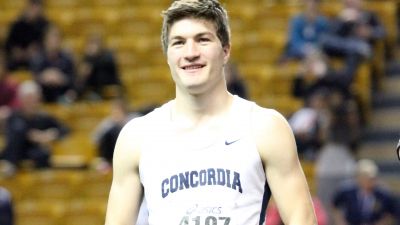 SIOUX CENTER, Iowa – The Concordia University men's track and field team made a strong push for a conference championship, but settled for second place in a meet that came down to the wire. On the women's side, the Bulldogs finished fourth. Concordia won conference titles in a total of nine events and collected 54 personal bests while competing in the 2017 GPAC Indoor Track and Field Championships hosted by Dordt in Sioux Center, Iowa.
It was Matt Beisel's first conference championship meet as head coach of the Bulldogs. From an individual perspective, senior Lucas Wiechman stole the spotlight with three individual GPAC titles (55 meter hurdles, heptathlon and pole vault) and one as part of the 4x400 meter relay. The native of Pilger, Neb., was named the Men's Most Outstanding Athlete of the Meet.
"The entire team worked together to produce tremendous efforts," Beisel said. "This was led by our seniors in most of the event areas. On the guys' side, we finished just short of Doane. We made a few mistakes where we dropped points in some things we probably shouldn't have. There were some injuries that factored in. It just is what it is.
"I'm excited that the level of effort was everything that we needed to get where we were. CJ Muller, Lucas Wiechman, Zach Lurz, Cody Boellstorff and some of the other throwers put huge numbers out there in multiple events. We had a really great meet."
The men emerged from the meet with seven GPAC titles and 150.5 total points (Doane finished with 162). Wiechman's performance was especially impressive. Not only was he part of four conference titles, he also placed fourth in the long jump (personal best 22' 7 ¼") in an exhausting day at the Recreation Center.
Though ranked fourth in the conference and fifth nationally in the shot put entering the meet, Zach Lurz rose to the occasion with a season best toss of 58' 1." The GPAC shot put meet record holder, Lurz has now won five career conference shot put titles. Throwers captured a total of 12 all-conference positions while winning three of the four GPAC titles. Cody Boellstorff (weight throw) and Kali Robb (shot put) joined Lurz as champions. Throwing runner ups were Addie Shaw (shot put) and Robb (weight throw). In the women's shot put Johanna Ragland turned in a fresh automatic national qualifying mark of 44' 2."
Concordia swept titles in the pole vault with sophomore Allie Brooks also winning on the women's side. She cleared 12' 4 ¾" while continuing a long line of Bulldog champions in the women's vault. She follows conference titlists McKenzie Gravo (2016 indoor/outdoor), Cassie Starks (2015 indoor/outdoor) and Shelby Yelden (2014 outdoor).
On the track, senior CJ Muller defended his 2016 GPAC indoor title in the 600 meter race by clocking in at 1:20.31. He was also a second place finisher in the 800 meters and collaborated on the winning 4x4. Additionally, sophomore Nathan Matters qualified for the national championships in the 600 with his time of 1:21.47. He placed third in the event.
Other top three finishers not previously mentioned were Andrea Anderson (third in pole vault), Jessica Deterding (second in triple jump), Ben Hulett (third in 55 meter hurdles), Scott Johnson (third in long jump) and Jake Rodgers (third in 400 meters).
Concordia came into the meet with hopes of winning the men's title and perhaps a runner-up claim on the women's side. All in all, Beisel felt like it was a solid weekend showing.
"We are of course disappointed that we didn't place higher, but we're looking forward to indoor nationals," Beisel said. "We're also excited about outdoor season where we're strong in a number of events that don't exist in indoor."
The 2017 NAIA Indoor Track & Field National Championships are set to play out March 2-4 at David E. Walker Track at Gentry Field in Johnson City, Tenn. At last year's indoor national championships, the Concordia men took third place and the women finished fifth.
2017 Concordia GPAC indoor champions
Men's 4x400 meter relay (Wiechman, Matters, Olson, Muller)
Cody Boellstorff (weight throw)
Allie Brooks (pole vault)
Zach Lurz (shot put)
CJ Muller (600 meters)
Kali Robb (shot put)
Lucas Wiechman (55 meter hurdles; heptathlon; pole vault)