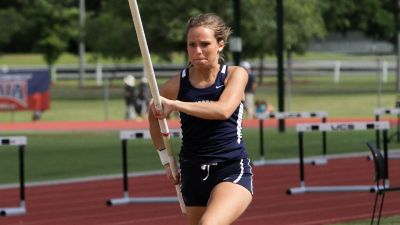 WAYNE, Neb. – While immersed in a chilly and damp spring day, the Concordia University track and field teams opened up the 2017 outdoor season on Saturday at the Wildcat Classic hosted by Wayne State College. Sophomore Allie Brooks kicked it off by breaking another school pole vault record and was one of two Bulldogs to claim event titles. Brooks and four of her teammates turned in automatic national qualifying marks. Collectively, Concordia busted out 31 personal bests.
It was a positive start for head coach Matt Beisel's squads, which last competed at the 2017 NAIA Indoor Track and Field National Championships, where the men finished as the national runner up and the women placed seventh.
"It was a pretty good meet," Beisel said. "The weather was not great and we knew that going in. It was about 38 degrees with blowing wind, cloudy and misty. It did effect our athletes a little bit, but we still managed to do some good things. We just wanted to get out in the 10K and run it as a workout. All four still ran big personal bests. It tells me they're poised for some big breakthroughs.
"This was a good early meet that got us some qualifying marks. For the runners, it gave us an evaluation of where they're at now that they've had time off from competition."
A third-place national finisher at the indoor championships, Brooks has now bumped Cassie Starks down to No. 2 on the program's indoor and outdoor all-time lists. Already owner of the school indoor pole vault standard of 12' 10 ¾, Brooks jumped 12' 8 ¾" on Saturday. Starks' former record was 12' 6 ¼." Brooks' mark also broke the Wildcat Classic meet record. In the same event, 2016 All-American McKenzie Gravo posted a 'B' standard clearance of 11' 5 ¾" and placed third. Gravo competed unattached during the indoor season.
It was also a solid day for the female throwers. Kali Robb continues to do her thing. She qualified for nationals in both the shot put (44' 8 ¼") and the discus (143' 8") while placing third and fifth, respectively, in those events. Bulldogs held down the three through five placements in the shot put with national marks also produced by Adrianna Shaw (44' 8 ¼") and Samantha Liermann (44' 5 ¼"). Tricia Svoboda was the team's highest finisher in the discus. She placed third with her automatic toss of 152' 1." Carley Skorepa (139' 7") and Amy Migl (139' 4") put up 'B' marks in the discus.
On the track, CJ Muller ran a personal best of 1:55.52 in the 800 meters and won the event. Second place runners were Evan Asche (10,000 meters), Alayna Daberkow (400 meter hurdles) and Taylor Grove (10,000 meters).
The Wildcat Classic will conclude on Sunday with the men's hammer throw and the women's javelin. Both events will get started at 12 p.m. CT. The outdoor season will continue next Saturday at the Bronco Open hosted by Hastings.
Automatic national qualifiers
Allie Brooks (pole vault)
Samantha Liermann (shot put)
Kali Robb (discus; shot put)
Adrianna Shaw (shot put)
Tricia Svoboda (discus)