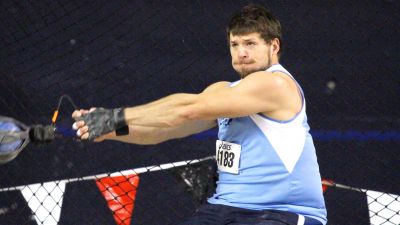 Second place was a foreign concept to junior Cody Boellstorff this indoor track and field season, specifically in the weight throw. The Concordia thrower not only placed atop the podium at every meet he competed in this season, including the NAIA Championships, but he also set a new personal best in all but one contest. This kind of improvement is something that Concordia hasn't seen before.
Boellstorff's coach Ed McLaughlin said, "We always tell kids we want them to improve every meet. The kids that normally do that are freshmen who are learning something new. For Cody to do this in his fourth year of throwing here is amazing. Some meets might have been just three centimeters, but it's still farther. Other weeks were bigger jumps."
However, the ease and confidence in the ring wasn't always something that Boellstorff possessed. Coming into his collegiate career he didn't even know what the weight and hammer throw was.
"The first time I experience that, it was ugly. Once I started picking up on it though, I started to enjoy it and I think that's what led to what we're seeing right now. It was different, I felt like I needed to keep working on it to get better," Boellstorff said.
Coach McLaughlin uses Boellstorff's first year struggles as a way to keep the junior humble, especially this year. His coach didn't think Boellstorff had a chance at becoming a successful weight thrower until the last week of fall practices. The naturally ability to throw far was there for Boellstorff, he just had to work on the technical side of things.
McLaughlin said, "There were actually three other kids his age who had it figured out weeks ahead of time compared to him. When I need to make him humble, I remind him of his freshman year when I used to have to count for him so he knew how many turns he was supposed to do in the ring. I've brought it up numerous times this season."
Fast forward to his junior season and Boellstorff is standing at the top of the NAIA Championship stand for weight throw with another personal and school record toss of 69' 9". When asked, the Bulldog thrower is still not overly impressed with himself. With a goal of 70' in the event, the Waverly, Neb. native claims he could be happier with his national title.
"At nationals, all I was competing with was that 70' line," Boellstorff said. "Yes I won, but I wasn't too thrilled because I didn't break the mark I was shooting for. It has kind of sunk in, but I could be a little bit more excited than I am."
Boellstorff also broke new ground for Concordia by receiving the Most Outstanding Performance award at the National Championships. This award has never been won by a Concordia track and field athlete despite many impressive performances by now head coach Kregg Einspahr in running events, multiple pole vaulters in the 80's and 90's and various others.
Looking ahead to the outdoor season, Boellstorff will likely be focusing his attention on the hammer throw. From what McLaughlin has seen over the past few months in the weight throw and the short couple of weeks of practicing the hammer throw, the coach is confident that Boellstorff can compete at a bigger stage in the hammer throw. The thrower has a new goal to annihilate his current mark of 205' 8" which is a school best in the event. He will take the confidence gained from this season and carry it into the upcoming outdoor season to help make that mark.
Also breaking new ground for Concordia throwers was Boellstorff's teammate Zach Lurz. The senior was able made history by becoming the first Bulldog thrower to repeat championship titles in the same event. The shot putter claimed the 2016 title with a throw of 57' 7 ¾". The heave wasn't a personal best but was good enough to reach the top of the podium for the second straight year. After coming up just short of the title at the outdoor meet in the 2015 season, Lurz is hoping to redeem himself and grab another title.
McLaughlin said, "The only downside was that he didn't throw that well (at indoor nationals). He'll tell you that. That's the problem when you have kids in multiple events. The ability to come back and be aggressive as you were on day one isn't a given."
The Concordia track and field outdoor season will kick off on Saturday, April 2 at the Hastings Bronco Invite. Boellstorff and Lurz are just two of several Bulldog throwers to pay attention to. With nearly half of the men's and women's throwing All-American titles going to Concordia throwers at indoor nationals, the outdoor season is shaping up to be another successful campaign for the Bulldogs.