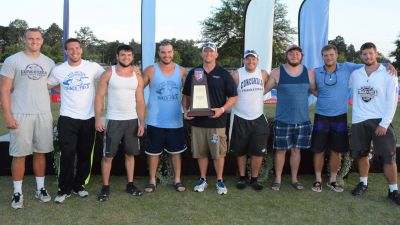 Boellstorff wins national title; seven Bulldog hammer throwers earn All-America status
GULF SHORES, Ala. – A historic year for Concordia University throwers continued on day one of the 2015 NAIA Outdoor Track and Field National Championships held at Mickey Blackwell Stadium on Thursday. Amidst steamy weather in Gulf Shores, Ala., Cody Boellstorff won his first career national title to headline another dominant performance by Bulldog hammer throwers, who combined for seven All-America placements on day one of the championship meet.
Several scheduled events did not finish on Thursday due to inclement weather that included lightning in the area. A revised schedule for Friday will be announced by the NAIA.
The especially impressive stable of men's hammer throwers placed first, second, third and eighth in the event, going beyond the expectations of even throws coach Ed McLaughlin.
"It's beyond amazing," McLaughlin said. "We haven't had too many times where we've gone into the meet with the national leader. To pull off the title is great. It's still indescribable with the way it happened. To put four in the final is one thing, it's another thing to go 1-2-3-8. This is what our guys have been working towards. This was the goal, you just don't expect it to actually happen."
Boellstorff (205' 7 ¼"), the school hammer throw record holder, and national runner-up Zach Lurz (196' 9") both nearly matched their personal bests. In third place, junior Josh Slechta (the indoor weight throw national champ) authored a significant PR of 196' 3." And for the first time, senior Trey Farmer became an All-American with his eighth-place mark of 174' 2 ¾."
Now a four-time All-American, Boellstorff relaxed and simply did what he's done all season long.
"Cody's been here and he's figured it out," McLaughlin said. "He wasn't warming up all that great, but he was still throwing farther than everyone except Zach. He knew he could relax a little and just get to the finals. He did that and then he put the nail in the coffin."
A trio of women's hammer throwers also earned spots on the medal stand. Sophomore Kali Robb nipped at the heels of the national champ and finished runner up with her throw of 179' 4 ¼." Junior Stephanie Coley hit a personal best and placed fourth with a mark of 176' 3 ½." In seventh place, junior Liz King recorded a toss of 166' 9 ½."
After five events complete in the men's decathlon, Concordia sophomore Lucas Wiechman sits in fourth place with 3,395 points. Wiechman placed in the top five of the 100 meters, long jump and 400 meters. Meanwhile, teammate Brandon Cook is in sixth place overall with 3,294 points. He finished second in the 400 meters and third in the shot put.
A total of 14 Bulldog throwers – seven men and seven women – competed in the hammer throw on Thursday. The others on the men's side were Jose Rojas (11th, 166' 4 ¾"), Philip Kreutzer (13th, 158' ¼") and Brock Braniff (14th, 153' 2 ½"). The additional female competitors were Kattie Cleveland (10th, 159' 4 ¾"), Sydney Meyer (14th, 156' ¾"), Brittany Erdmann (16th, 151' 6 ½") and Nicole Perry (18th, 147' 11 ¾").
In the final individual race of his Concordia career, senior Tai Pleasant ran a time of 54.74 in the 400 meter hurdles. He placed 18th overall out of 26 runners and did not make the finals. Pleasant will grace the track in Gulf Shores again on Friday when he competes as part of the 4x400 meter relay team.
King (javelin), Cynthia Mick (pole vault) and Cassie Starks (pole vault) all competed in events that were postponed in the middle of action on Thursday. In the preliminary rounds, King held a lead of roughly a meter with a season best mark. Both the women's javelin and pole vault will be completed on Friday.
In terms of team scoring, Concordia tops the nation for both men and women. The Bulldog men have 25 points and the women have 15. All of those points came from the hammer throw.
Several other of head coach Kregg Einspahr's Concordia athletes will be in action on day two as originally scheduled (see below). Both Bulldog relays (men's 4x4 and women's 4x8) will make their debuts at the 2015 national championships. As will four-time All-American Kim Wood, who is set to run in the relay and in the open 800 meters.
Concordia All-America tracker
Cody Boellstorff (hammer throw – 1st)
Stephanie Coley (hammer throw – 4th)
Trey Farmer (hammer throw – 8th)
Liz King (hammer throw – 7th)
Zach Lurz (hammer throw – 2nd)
Kali Robb (hammer throw – 2nd)
Josh Slechta (hammer throw – 3rd)
Original Friday, May 22 schedule (all times CT)
*NOTE: schedule will be altered due to weather postponements on Thursday
9:30 a.m. – decathlon (Brandon Cook, Lucas Wiechman)
1 p.m. – women's shot put (Stephanie Coley, Brittany Erdmann, Kali Robb)
1:30 p.m. – women's 100 meter hurdles trials (Shelby Stolze)
2 p.m. – women's 800 meter run (Kim Wood).
3:50 p.m. – men's 400 meter dash trials (CJ Muller)
5:30 p.m. – women's triple jump (Katelyn Shoup)
8:15 p.m. – Men's 4x400 meter relay trials (Chapa, Muller, Pleasant, van Gaalen)